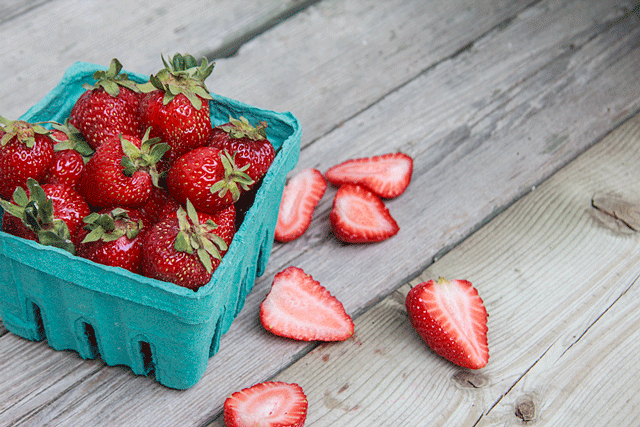 07 Jun

Pick-Your-Own Strawberries – My First Canadian Food Memory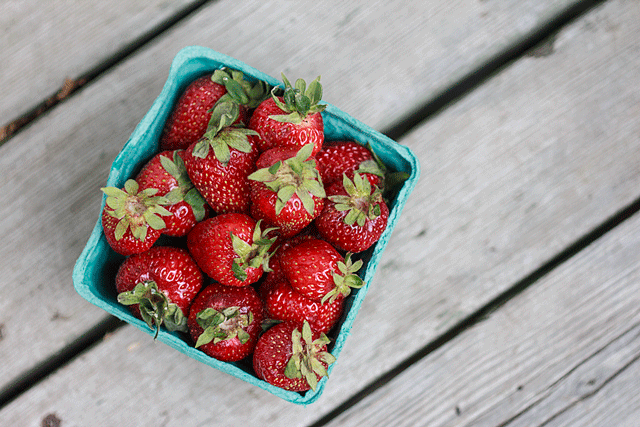 [box type="info" style="rounded" border="full"]
At the Food Bloggers of Canada conference in February 2013, Dana McCauley issued a call to action. In a follow-up post, she wrote, "If you celebrate what you find in front of you on the kitchen counter, you'll be helping to define Canadian cuisine by teaching the rest of the world about our wonderfully eclectic and regional food scene." In response, Valerie Lugonja of A Canadian Foodie launched The Canadian Food Experience Project. Today's post is the first of what will be monthly themed posts from 53 (and counting) bloggers across the country By sharing our personal stories and regional food experiences, we hope to answer the question, "Just what exactly is Canadian Cuisine?"
Read us. Talk to us. Join us. Then eat.
[/box]
The Strawberries of My Youth
Ignore the calendar and temperature. Summer arrives with strawberries. At least it used to. Long before giant, white-on-the-inside California strawberries made themselves at home in Canadian grocery stores, strawberries were an annual, limited-time event. According to my mother, they always arrived between June 20 and 25th, like clockwork. You had two, maybe three berry-stained weeks to pick, preserve and enjoy. Then they were gone, replaced by the next seasonal fruit.
We rarely ate strawberries from the grocery store. Instead, we drove to the pick-your-own farm. It seemed a world away, but was no more than 15 minutes outside of town. We'd go early in the morning before the sun was too hot. Never an early riser, I hauled myself out of bed almost willingly, knowing there would be berries after breakfast.
Before we left, Mom carefully calculated how many berries she'd need. She applied a complex algorithm involving freezer space, cash on hand, upcoming events and estimated physical stamina. "Thirty-six quarts!" she'd say. Or some other number that sounded impossibly big, yet was never big enough. She'd then head to the basement and count out the required number of baskets from the stack that lived beneath the fuse box. Some of the baskets were older than me. They were used again and again until their bottoms dissolved with berry juice or their handles snapped.
At the strawberry farm, stained baskets in hand, Mom delivered the "Don't Eat the Berries" schpeel as the farmer's helpers escorted us to our rows.
Why not?
Because it's stealing.
The statute of limitations is long passed. I admit I stole a berry. Okay, just a few. Several. Too many to count.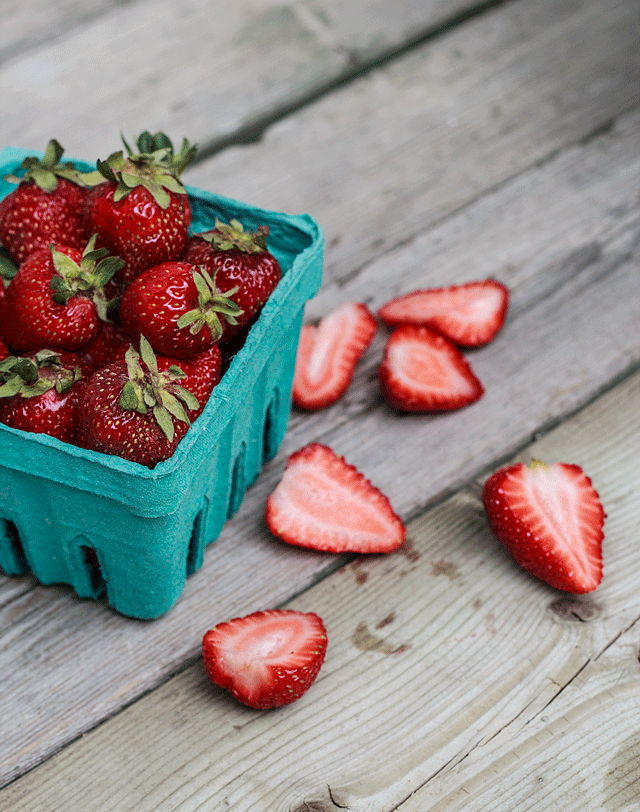 When our baskets couldn't hold another berry, we helped Mom load the trunk, sneaking one or two when we thought she wasn't looking. The car was now so hot, the vinyl seats burned our bare legs. Rocking from side to side until the vinyl no longer hurt, we rolled down the windows and stuck our faces into the wind as Mom drove the long, country roads home. While the wind whipped our hair, the vinyl seats and our legs quietly became one. Once home, I slowly pried my thighs free, stoically accepting the sting as punishment for my theft.
Rubbing the back of my legs, I waddled to the kitchen where Mom had already begun sorting berries. Before dinner she would sort, hull and process hundreds, thousands, maybe millions of berries. The beautiful ones we ate. The small ones she froze. The damaged ones were sliced for shortcake or made into jam. She sorted and hulled and swatted my hands away. I wanted to stop but couldn't. Not until the dreaded Strawberry Stomach Ache set in.
That'll teach you.
It didn't.
Today, I am attempting to grow my own strawberries. I bought an ever-bearing seedling, so I can have berries from June to September. I hope they will be as sweet, and red and flavourful as the berries from my childhood.  In all likelihood I will never know. Squirrels or birds will get to them first in karmic retribution for the strawberry sins of my youth. If they do, no matter. I'll go picking.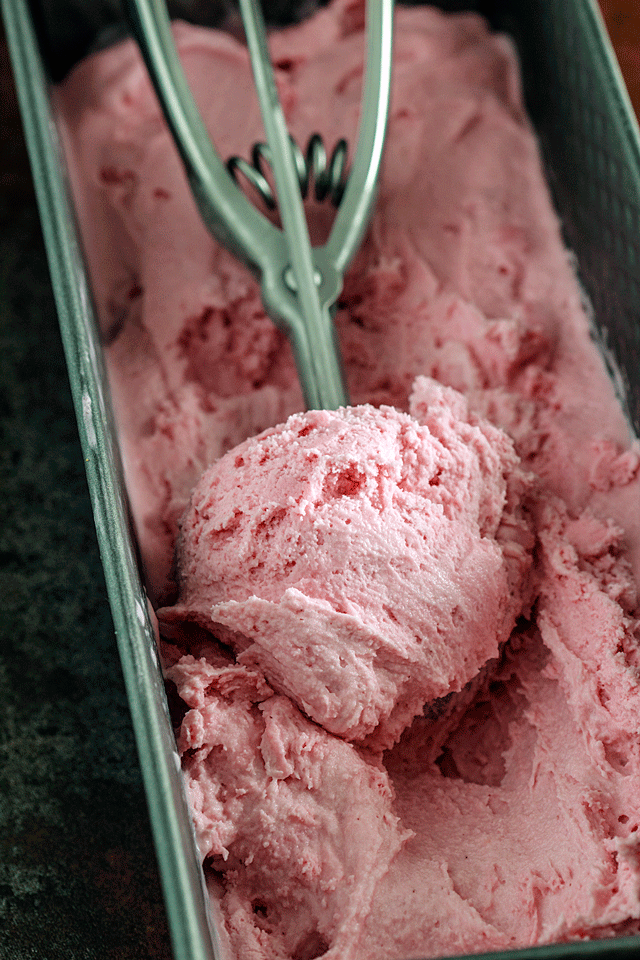 Strawberry Sour Cream Ice Cream
Author:
Charmian Christie
Prep / inactive time:
Total time:
Serves:
Makes about 1 litre
Strawberry and sour cream ice cream makes the most of a classic pairing. Smooth with a bit of tang, this is perfect eaten alone or on top of strawberry shortcake.
Ingredients
2 generous cups sliced, hulled strawberries
1 cup sugar
1 cup whipping cream (heavy cream - 35%)
1 cup sour cream (or Greek yogurt)
2 tablespoons fresh lemon juice
1 tablespoon pure vanilla extract
pinch fine sea salt
Instructions
In a blender or food processor, purée the strawberries and sugar until smooth. Press the strawberry mixture through a fine mesh sieve placed over a large bowl. Discard the strained seeds.
Whisk in the cream, sour cream, lemon juice, vanilla and salt. Cover and refrigerate at least 1 hour or until well chilled. If desired, transfer to the freezer 15 minutes before you are ready to churn.
Churn in an ice cream maker according to manufacturer's instructions. If the ice cream is still too soft, freeze for 2 hours until firm.
Notes
Eat this ice cream the day it's made. That shouldn't be too hard since you can enjoy it as is, scoop it on shortcakes, top with with more berries or drizzle it with a good quality balsamic vinegar.


This recipe is adapted from Lucious Berry Desserts by Lori Longbotham.