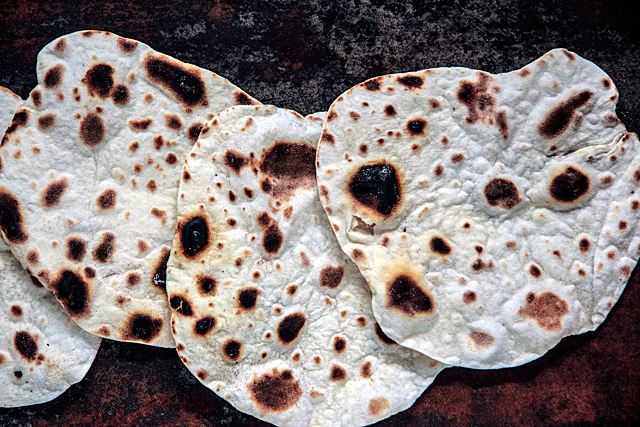 05 Jun

Dessert Piadinas – Anything Goes

The weather is chilly. Our gas barbecue is out of propane, and the empty tanks are so old they can't be refilled. Under these conditions, you'd think I couldn't share a grilling recipe. But you'd be wrong. In fact, it's the perfect time to showcase piadinas. Although you can cook this traditional, unleavened Italian flatbread outdoors on the grill, it's equally impressive when done indoors. I made these charred, lopsided beauties in my kitchen with nothing more elaborate than a rolling pin and a cast-iron frying pan.
In a recent round-up, I mentioned Grilled Pizzas and Piadinas by Craig W. Priebe with Dianne Jacob (DK Publishing ©2008). Based on the cover and title, I expected this book would turn me into a pizza addict, but the piadinas sidetracked me. And I blame Dianne. (If her name is familiar, Dianne is also the author of the popular and indispensable Will Write for Food.)
During our phone interview, Dianne piqued my curiosity about this new-to-me Italian flatbread. "They're like a flour tortilla," she said. "Only so much tastier than that."
Sold.
In the past month, I have made the dessert piadina recipe three times and the plain version once. Don't get me wrong, the pizzas recipes in the book are stellar. I've made grilled pizzas a couple times and plan on making more during the flower-wilting heat of the summer (if it ever comes). But despite Dianne's warning, piadinas caught me by surprise. Something resonated. I am hooked.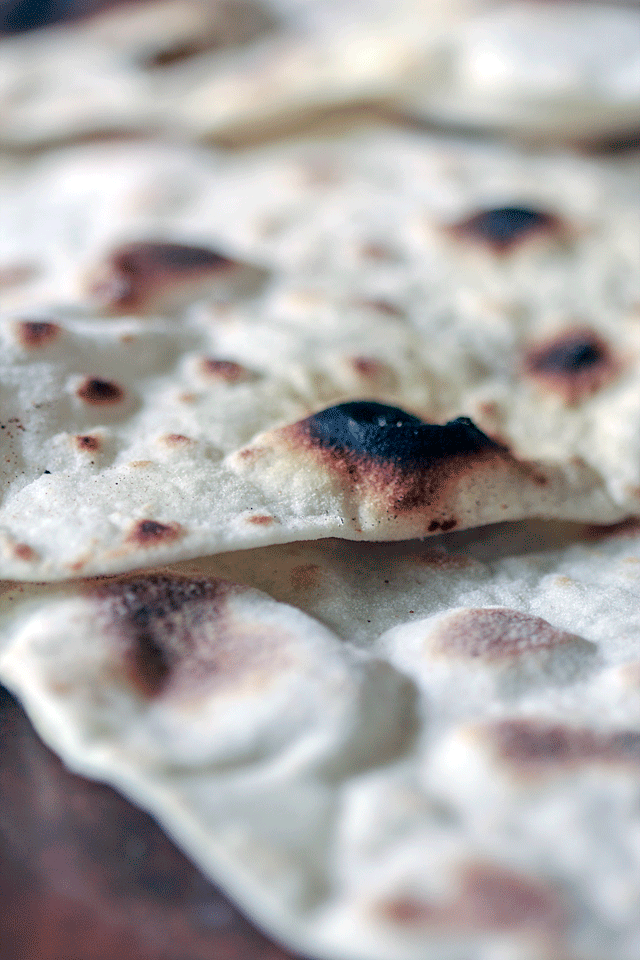 Why the piadina obsession? Was it the charred bubbled surface? Did my lazy, impetuous nature appreciate a dough that requires no rising time? Or did my ego like how they rolled so beautifully they simply can't be botched? Regardless, they taste like the best-ever flour tortilla you wish you could buy in the store but can't — and even then they're just a tiny bit better.
While talking to Dianne, I flipped through the book's recipes. The one with roasted pears, mascarpone and honey caught my eye. She pointed out that pears aren't in season right now. Could I improvise with homemade pear conserve? "Why not?!" Dianne said. So I did.
I spread my homemade pear and ginger conserve over slightly sweetened, vanilla-kissed mascarpone and topped it with a drizzle of honey and a few shreds of lemon zest. My mother, The Pear Snob, said it  was one of the best simple desserts she's had in ages. While my mother is kind and encouraging, she takes pears far too seriously to lie merely to save my feelings. If the piadina had been too much for the delicate tastes, she would have called me on it.
This passed. We're safe.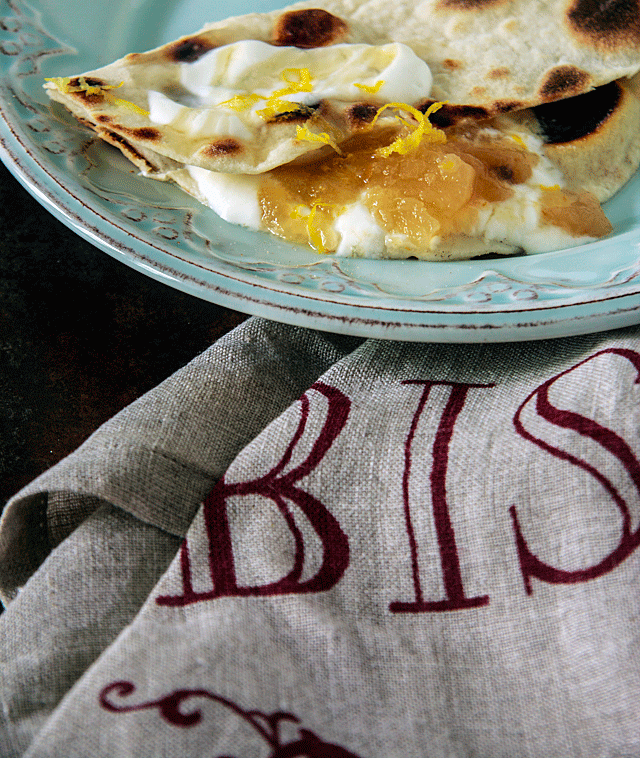 What do you do with dessert piadinas?
Take a note from Dianne Jacobs. Say, "Why not?!" and let your imagination fly. Treat them as a sturdy crêpe. Think of them as a sweet tortilla. Consider them a round canvas and paint them with flavours in every colour. Change the filling with the seasons, your mood, the appetite of your guests.
Still need some help? The book includes versions filled with lemon curd, blueberries and cream. Chef Priebe even created an easy homemade nougat studded with pecans and dried cranberries, all topped with caramel sauce. When I wasn't stuffing piadinas with sweet things, I cut them into wedges and used them in lieu of pita for homemade muhammara. As if that dip wasn't addictive enough.
Easy to make, versatile and delicious, piadinas are the perfect delivery system for your favourite flavours. The only drawback is you have to eat them the day you make them (dessert piadinas are best within a half hour of coming off the grill.) I can throw myself on that sword.
Have you ever made piadinas? If so, what do you fill them with? Got any secrets?

Dessert Piadinas
Prep / inactive time:
Cook / active time:
Total time:
Piadinas are flatbreads that can be made outside on the grill or inside on hot griddle or in a cast-iron frying pan. This dessert version is more tender than the traditional piadina and has a rich, buttery flavour.
Ingredients
¾ cups unbleached flour
¼ teaspoon salt
1 tablespoon sugar
¼ cup warm water
½ teaspoon lemon juice
2 tablespoons unsalted butter, melted
1 teaspoon extra virgin olive oil
Instructions
Add the flour, salt, and sugar to a 4- or 5-quart (4- or 5-liter) mixing bowl. Use the dough hook attachment on the lowest speed to combine the dry ingredients. Make a well in the center. Pour the warm water, lemon juice, and melted butter into the center and stir slowly until the dough becomes too thick to stir. Knead for 5 minutes at medium speed.
Use the plastic blade made especially for dough as the metal blade can tear the dough to pieces. Put the flour, salt, and sugar in the food processor. Pulse to combine. Add the warm water, lemon juice, and melt butter. Use a pulse action until the dough comes together. Continue to pulse the dough in quick bursts for about 3 minutes. This technique keeps the dough from overheating.
Put the flour, salt, and sugar in a large mixing bowl. Stir to combine the ingredients. Make a well in the center. Pour the water, lemon juice, and melted butter into the center and stir slowly until the dough comes together. Lightly flour a clean, dry countertop. Form a ball of dough and place it on the counter. Press down with the palm of your hand. Fold the dough over itself and press again. Continue to roll and press the dough. Knead for about 8 minutes, until the dough is smooth. You will feel it change as it softens and becomes more elastic. Add only enough flour to prevent it from sticking.
The dough should be soft and smooth. Put the olive oil in a medium bowl. Add the dough and turn it over several times until it is covered in oil. Wrap in plastic and let it rest for 30 minutes.
Place the dough on a floured countertop and cut it into 4 equal pieces. Use a rolling pin to flatten the pieces into 8-inch (20 cm) rounds.
Heat the cooking surface until it is extremely hot. Test with a drop of water, which will splatter across the surface and quickly disappear, and the surface will smoke lightly. Lay the dough rounds on the hot surface. If the surface is hot enough, the dough will not stick. If it does, remove the dough and spread the cooking surface lightly with vegetable oil, or moisten a crumpled paper towel with a drop of vegetable oil and wipe the surface of the grill.
Cook the dough for about 1 minute, or until bubbles form on the surface.
Lift the piadina with tongs to check its doneness. The cooked side should have charred little bubbles. Turn the piadina over, and cook for another minute, until the bottom is light brown.
Stacked the cooked piadinas on a clean towel and wrapped them so they stay warm. For best results, serve within 30 minutes of cooking.
Refrigerate extra piadinas for up to 3 days by wrapping them lately in plastic wrap and slipping them into a plastic bag. Avoid freezing, as they tended to dry out. To reheat, place in the microwave for about 10 seconds on high.
Notes
Dessert piadina dough is softer than regular piadina dough with a rich, buttery flavour. You can use traditional piadina dough for desserts if you wish. This recipe can be doubled.

This recipe is excerpted with permission from Grilled Pizzas & Piadinas by Craig W. Priebe with Dianne Jacob. Published by DK Publishing ©2008.