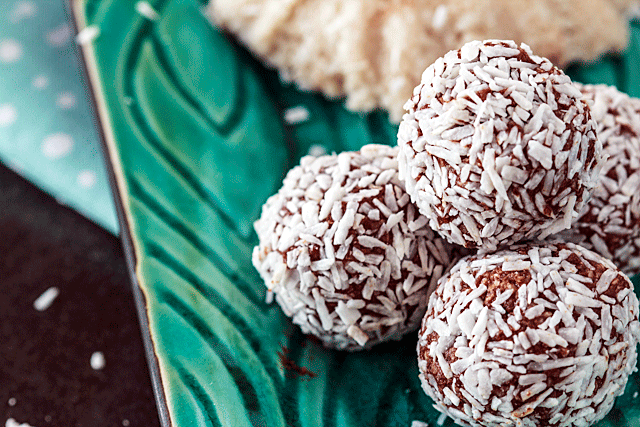 31 May

No-Bake Coconut Bars 3 Ways

Posted at 07:00h

in

Chocolate

,

Dairy-free

,

Desserts

,

Egg-free

,

Gluten-free

,

Healthy Choice

,

Original

,

Recipes

,

Snack

,

Sweet

,

Vegan

,

Vegetarian

6 Comments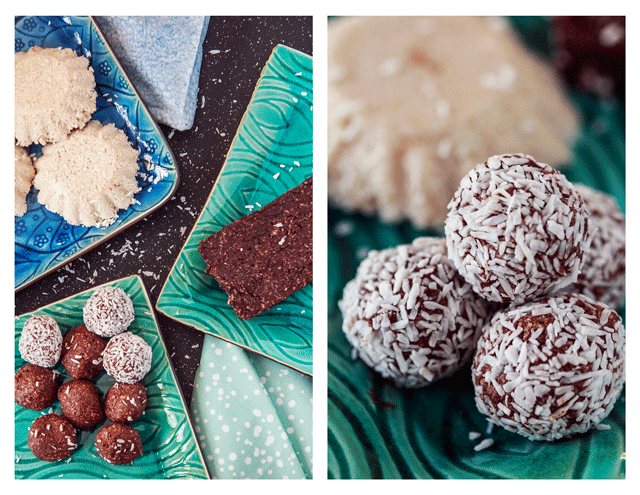 Bespoke. If you want to be a stickler, this term applies only to made-to-measure items you wear, such as tailored Savile Row suits or custom loafers. It draws a faint chalk line between high-end fashion and "built to order" non-wearables. In the worlds of fashion and engineering, the distinction is clear. In my kitchen, nothing is ever so neat and compartmentalized.
These no-bake coconut bars fall somewhere between bespoke and built to order.  They are so incredibly melty you end up wearing them — on your fingers, your cuffs, the corners of your mouth. The mixture — be it sweet, cocoay or hovering about in the middle —  can be molded into the form of your choosing and then finished off to your taste. In this respect, their custom construction definitely doesn't depend on knowing your inseam.
All three variations of these coconut bars evolved from a simple recipe I came across while looking for a dairy-, gluten-, grain-, and egg-free dessert for my sister. The originator, Chocolate Covered Katie, calls them "coconut crack." I call them endlessly versatile.
Coconut is one of my sister's few indulgences. I gave her the recipe and went on my merry way. My job was done. A few days later my sister showed up at the door with a pan of coconut bars and a spoon, demanding I give them a try. The so-called crack bars were delicious. They definitely tasted like more, and yet were a bit too sweet for me. They also proved problematic, dissolving in the heat of my hand before I could take a bite. Hence my sister's clever addition of the spoon.
"What if you rolled them in coconut?" I asked.
"Are you kidding me?" she said shoveling another spoonful into her mouth. "That's more work."
Not in my world. I'd rather roll a dozen balls while making dessert than wipe up a thousand greasy finger prints later.
So, willing to fix the issues that plagued only me, I began experimenting. By the time I'd made and sampled plain, chocolate and cocoa versions I no longer knew which I liked best. To determine the ultimate version, I put the variations to a vote.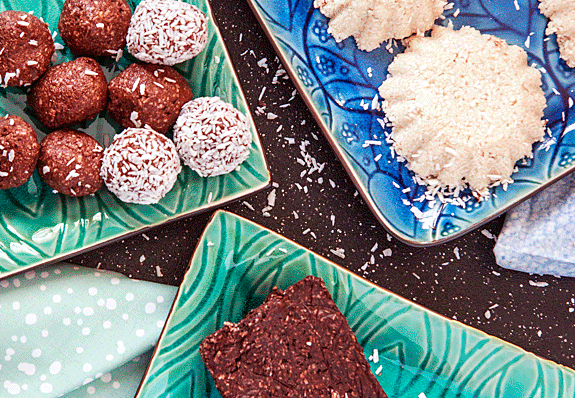 To make voting easier, I gave each flavour its own shape. I pressed plain ones into fluted molds, rolled the chocolate version into balls and sliced the dark cocoa variation like a loaf. Then I passed them around. Neighbours, friends and family members sampled. Each delivered a different verdict.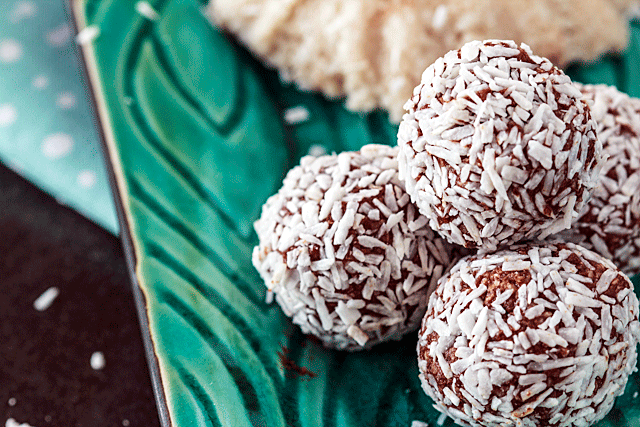 My brother-in-law, with a sweet tooth that puts mine to shame, liked the clean, sweet coconut version best. My sister preferred the rich tones of the cocoa powder. My neighbour thought the cocoa tasted a bit raw and chose the one made with melted chocolate.
So there you have it. Three people. Three opinions. Shape made no absolutely difference what so bloody well ever. Wish I'd known that before I hauled out the vintage molds.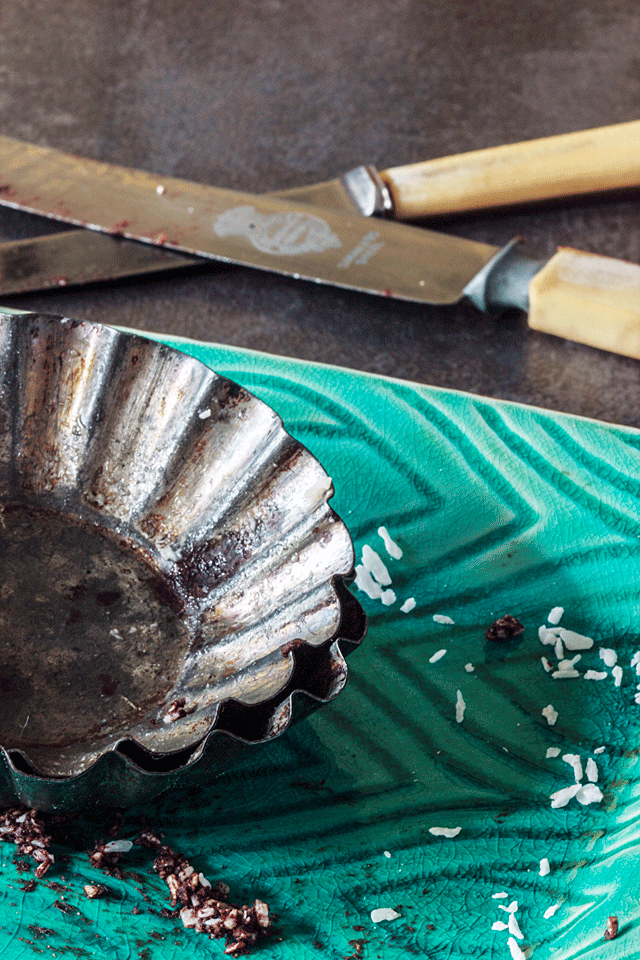 Feeling like a no-bake coconut treat? Select a flavour. Pick a form. Then make them your own. But be warned. Whether you consider these a simple built-to-order bar or a bespoke dessert, within seconds or handling, all versions will be ready-to-wear.

No-Bake Coconut Bars – Three Ways
Author:
Charmian Christie
Prep / inactive time:
Total time:
Serves:
8-12 bars or balls
With coconut oil and agave, these coconut bars are a healthier version of marcaroons. They're a bit sweet, so if you like things a little less intense, the chocolate version might be for you.
Ingredients
1 cup unsweetened shredded coconut
2 tablespoons coconut oil
¼ cup raw agave syrup (low GI)
½ teaspoon pure vanilla extract
⅛ teaspoon fine sea salt
1½oz bittersweet chocolate, chopped OR
4 tablespoons pure natural cocoa
shredded coconut, for rolling
Instructions
In the small bowl of a food processor fitted with a steel blade, place the shredded coconut, coconut oil, agave, salt and vanilla. Pulse to combine. The mixture will be a bit loose and the coconut should be broken down a bit but still gritty. You don't want a smooth paste.
Place a fine mesh sieve over the bowl of the food processor and sift the cocoa over the shredded cocnut to eliminate any lumps. Process as you would for the plain version.
Melt the chocolate it in a small bowl placed over hot water or in the microwave in 20-second burts. Pour the melted chocolate over the coconut mixture AFTER you have already combined the ingredients. Pulse again a few more times to thoroughly combine the chocolate.
Regardless of which version you make, simply spread the coconut mixture into a loaf pan and press firmly. Chill 30 minutes before slicing the coconut bars.
Let the coconut mixture set at room temperature for half an hour, or 10 minutes in the refrigerator. Using a 1-tablespoon cookie scoop, form the mixture into balls and roll in additional shredded coconut.
Spoon the coconut mixture into shaped mold and press firmly. Refrigerate until firm, about a half hour. Turn out of molds and sore in an airtight container in the refrigerator.