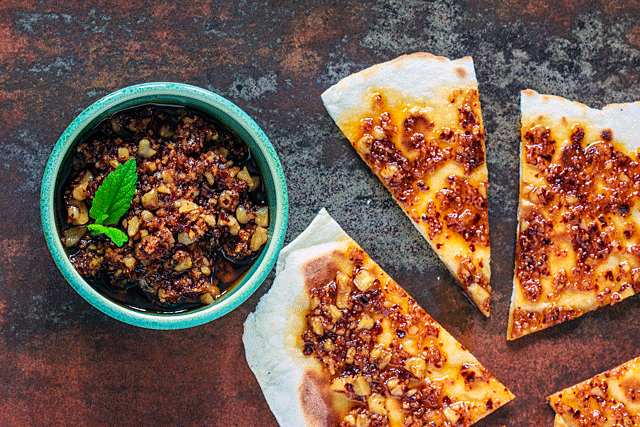 28 May

Muhammara – Walnut and Aleppo Pepper Dip

Posted at 18:00h

in

Appetizer

,

Condiments

,

Dairy-free

,

Egg-free

,

Gluten-free

,

Healthy Choice

,

Recipes

,

Savory

,

Snack

,

Vegan

,

Vegetarian

9 Comments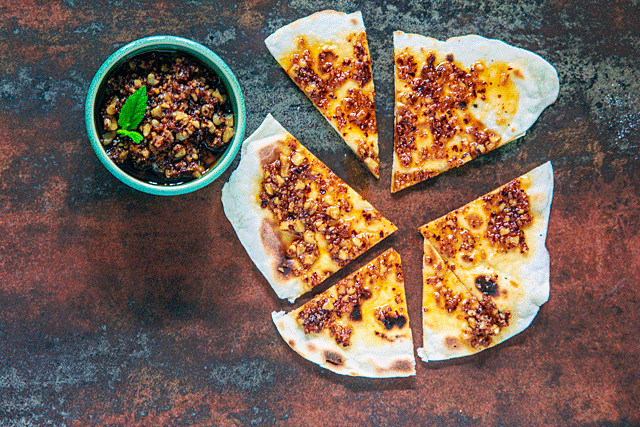 Muhammara (pronounced moo-hahm-MRAH) is a classic Mediterranean dish. It's a dip. It's a spread. It's addictive. You have been warned.
Pitas are the authentic accompaniment, but I've been gobbling muhammara on homemade piadinas to no ill effect. Don't let the simplicity of the dish fool you. It's as versatile as it is habit-forming. The nutty-hot flavour makes an unusual and fiery sandwich spread. Think ham or chicken or roasted eggplant. It's garlic-free, so you don't need to worry about offending co-workers. You can start your day with a heaping spoonful (or two) on your otherwise ho-hum morning eggs. Hold the breath mint. More combinations occur to me as I nibble. I'm now thinking pizza or fish. Or couscous.
This new obsession is all Jennifer Bain's fault. If her name's familiar, she's the food editor for the Toronto Star and the author of  Toronto Star Cookbook. If it's not, it should be. Her Cumin Carrots with Cilantro Vinaigrette changed my mind about newspaper recipes. I spent Sunday with her and 50 food lovers touring Bain's favourite Toronto shops and restaurants on the first ever Toronto Star Food Safari. During this day-long tour, she introduced me to the concept of muhammara and Aleppo peppers. And many other foods along the way.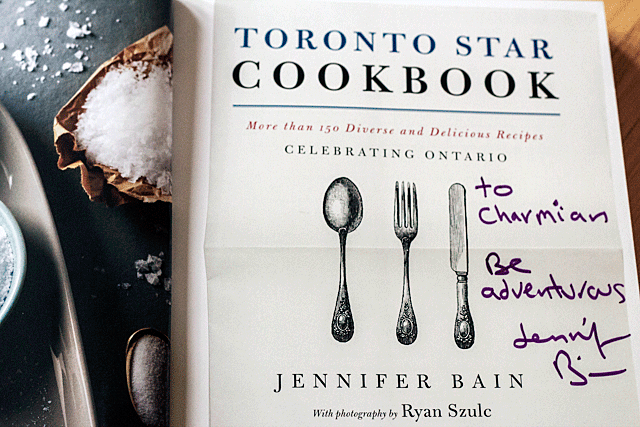 The first stop was Arz Fine Foods, a bakery/grocery store specializing in Mediterranean and Middle Eastern food. Unable to include their muhammara recipe in her book, Bain spread the word about the dish to the Food Safari attendees. Arz makes two versions in store, one with tahini, one without. Both use Aleppo pepper powder, a coarsely crushed, sun-dried Syrian chili. Because of the political situation in Syria, Arz no longer has enough to sell. Instead, they reserve their limited supply for their finished dishes.
With a good six hours to go on the tour, I didn't want to buy pre-made food. I quietly gave up on the quest for muhammara and focused on za'atar and sumac. But Toronto Star's intrepid food editor wasn't so easily put off. Bain not only found an alternative (hot scaled peppers), she hunted me down and handed me a jar as I stood in line clutching other hard-to-find ingredients — pomegranate molasses, za'atar, sumac and harissa.
Good thing I bought the pomegranate molasses. They're key to muhammara, too. The za'atar and sumac will just have to wait their turn. Harissa? Oh, I'll get to you yet, my pretty.
Once home, I hit the kitchen. Even with chopping the nuts, muhammara took less than 10 minutes to make. I misread the instructions and put in the pepper powder and paprika. It's still wonderful. And addictive.
The recipe says to adjust the spicing to suit your tastes. It doesn't say anything about sharing.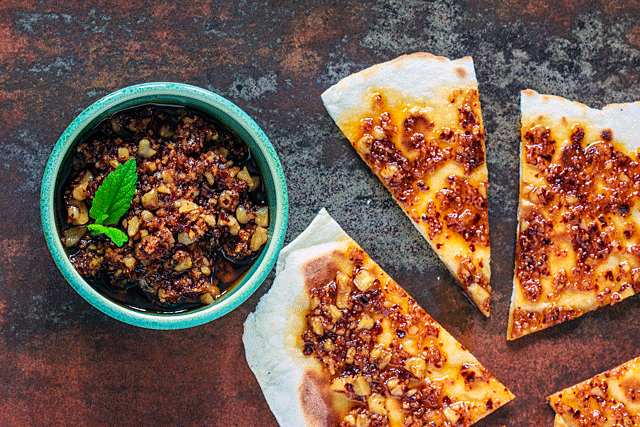 Got a favourite Mediterranean / Middle Eastern spice? Share your thoughts or recipe links. I've got a huge jar of peppers, lots of pomegranate molasses and the whole summer to experiment.

Muhammara
Prep / inactive time:
Total time:
Muhammara, a classic Mediterranean dish, can be served as a dip with pita or as a spread in sandwiches and wraps. Adjust the spicing to suit your tastes.
Ingredients
1 cup extra-virgin olive oil
½ cup small walnut pieces
½ cup fine dried bread crumbs
¼ cup Aleppo pepper powder (OR 1 teaspoon paprika. See note.)
¼ cup pomegranate molasses
2 tablespoons fresh lemon juice
¼ teaspoon salt
Instructions
In a mixing bowl, combine oil. walnuts, breadcrumbs, Aleppo powder or paprika, pomegranate molasses, lemon juice and salt. Stir well; taste. Adjust if needed.
Refrigerate in a covered container.
Notes
I got this recipe from Jennifer Bain, Food Editor at the Toronto Star. It's orgininally from 
Arz Fine Foods
in Toronto.
At the time of posting, Aleppo pepper powder, which is from Syria, is almost impossible to find in Canada because of the political situation. Arz suggested hot scaled peppers as a suitable substitute. If you can't find this pepper powder, or find it too hot, use paprika.
Pomegranate molasses can be found at most  Middle Eastern grocery stores. This thick syrup is reduced pomegranat juice. It's sour with a tangy-sweet edge.
[box type="info" style="rounded" border="full"]Disclosure: I attended the Food Safari as a guest of the Toronto Star. I am under no obligation to write about the tour or any of the stops along the way. All ingredients used in the muhammara recipe were purchased by me. [/box]