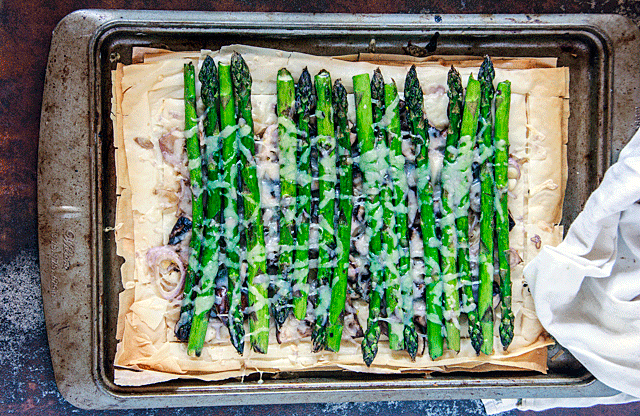 21 May

Asparagus and Mushroom Tart with Red Wine Cheddar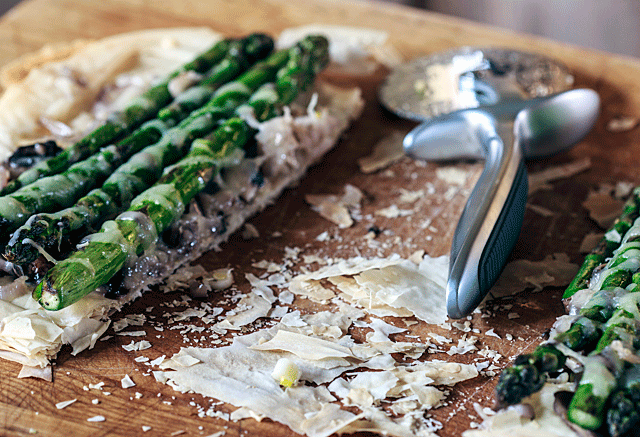 I know better than to go shopping without a list. I have at least three iPhone apps to help me compile them. Pads of paper cling to the fridge simply so I can jot  down items as I deplete their inventory. Lists prevent wastage, overstocking and second (even third) trips to the store. I advise others to always bring a list. I know about the dangers of wandering well-stocked aisles without a plan. So what did I do?
I went grocery shopping without a list.
I only needed three things. Three simple items. I'm smart. I have a pretty good memory. Just this once, I didn't take a list.
Two items in? My mind went blank. I was this close. This close to pulling off the elusive list-free grocery trek. I stood at the cheese counter and stared at the tubs of feta. Nothing.
"Can I help you?" the young man behind the counter asked. I wanted to tell him I was beyond help. Instead, I shook my head. "I forgot my list."
"Ooooh." He shook his head and added a shrug.
I'll see your shrug and add a sigh.
"Walk around the store," he said. "That might help."
As I turned, I suddenly remembered. "Asparagus!" I said this a little too loudly. He pointed to the produce section. "I want to make an asparagus and mushroom tart. I need cheese. Got any smoked Gouda?"
"No…" Even a list wouldn't have helped.
"…But I have a really nice red wine aged cheddar."
Wine. The answer to so many of life's little problems. I took it. It was wonderful.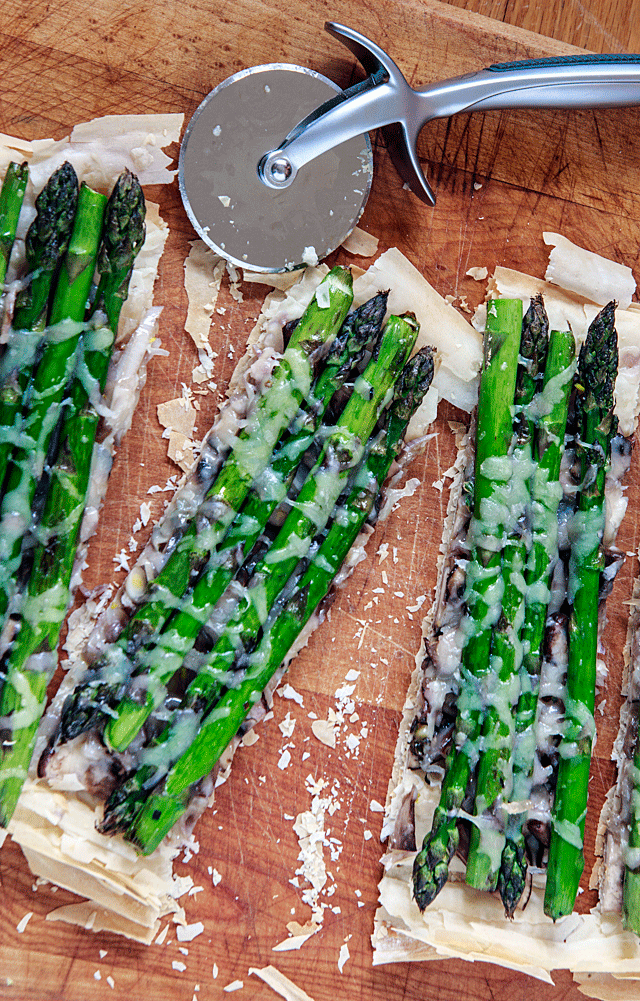 Not only did I use up the last of the phyllo from Ivy's Pistachio Baklava Crisps, I got to try a new cheese. And I can boast that I shopped without a list. Yup, I winged it. And won.
Lists. Who needs 'em? Only chumps use lists. Yeah. Chumps with a good cheese counter.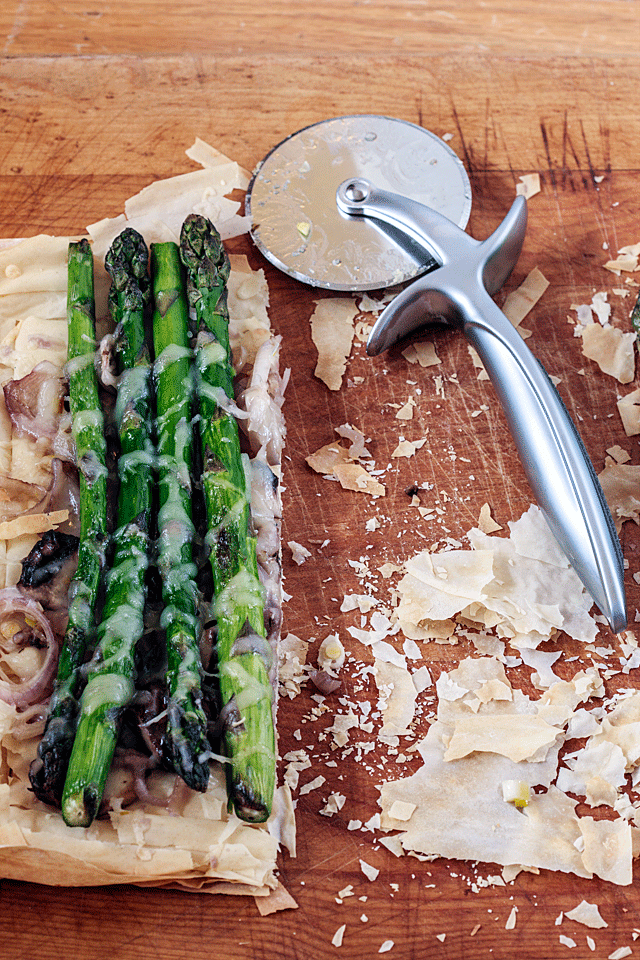 Asparagus, Mushroom and Red Wine Cheddar Tart
Author:
Charmian Christie
Prep / inactive time:
Cook / active time:
Total time:
Serves:
4 as appetizer, 2 as main
This asparagus and mushroom tart can be served as a main for a light dinner or as an appetizer. Either way, serve with plenty of napkins.
Ingredients
8 sheets phyllo (or 1 sheet commercial puff pastry)
1 tablespoon oil or butter (more if using phyllo)
12 to 18 large asparagus spears, washed and with tough ends snapped off
3 large cremini mushrooms, sliced
2 large scallions, sliced in rounds
2 to 3 ounces red wine aged cheddar, grated (about a generous ½ cup to ¾ cup - less is good as this cheese is sharp)
2 to 3 sprigs fresh thyme (lemon thyme if you have it)
fresh ground black pepper
Instructions
Preheat the oven to 375°F. Line a rimmed 10- X 15-inch baking sheet with parchment. If using phyllo, place a single sheet on the parchment and brush with oil or melted butter. Be sure to keep a damp towel on top of the unused sheets to prevent them from drying out. Repeat layering phyllo and brushing with oil or melted butter until you have used 8 sheets (refreeze unused portion for another use). If the sheets overhang the pan, scrunch them inside the pan's rim to form a ridge.
If using puff pastry, roll the pastry to 10- X 12-inches and place on the parchment. Using a sharp knife, gently score the pastry all the way around 1 inch from the outside edge. Don't cut all the way through. Prick the pastry inside the scored margin all over with a fork.
Bake for 8 minutes.
While the pastry bakes, sauté the scallions over medium-high heat until soft. Add the mushrooms and continue to cook until they soften but don't weep. Transfer to a plate.
Using the oil left in the pan, sautée the asparagus spears for 2-3 minutes, until they are bright green and not quite tender.
Sprinkle the scallions and mushrooms over the pastry. If using puff pastry, stay inside the edge. Top with half the cheese. Strip the leaves from the thyme sprigs and sprinkle evenly over the cheese. Place the asparagus on top, alternating tip directions. Top with remaining cheese. Add a good grinding of black pepper, if you like.
Return the tart to the oven and bake another 10 to 15 minutes or until the pastry is golden and the cheese is melted and bubbling.
Cut the tart with a pizza wheel or sharp chef's knife. Serve immediately.
Notes
I used phyllo left over from the Ivy Manning's
Pistachio Baklava Crisps
. Phyllo is incredibly light but very shattery. Puff pastry is more robust. Take your pick. Either way, you'll need a napkin.