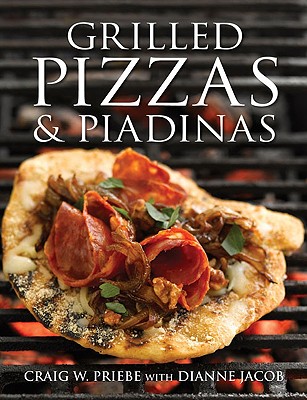 16 May

Get Your Grill On – Four Books to Welcome the Summer

The long weekend is coming. Plant the annuals. Haul out the lawn chairs. And pull that dusty cover off the grill.

Whether you're not sure where to start, afraid you'll reduce the chicken to ashes, or are bored to tears with burgers, solutions lie on the printed page. Diverse, inspiring and informatiave, these grilling  books are sure to fire the imagination as well as the grill.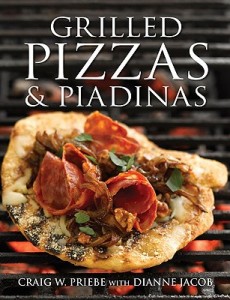 By Craig W. Priebe with Dianne Jacob
Published by DK Publishing @2008
Focus: No-fuss, low-tech, delicious, anyone-can-make-'em, crispy-crust pizzas. And piadinas, which are  unpretentious flatbreads with a pretty name.

Photos: While there are plenty of photos of the pizzas and piadinas, the step-by-step shots on how to roll, grill and top the pizzas are invaluable. There are also 18 photos in the Grills & Gadgets section so there's no confusion about the different grills and what sort of support they require.

Stand out feature: 
This book is determined to get you making pizza no matter what stands in your way. No pizza stone? No problem. Live in an apartment? Got you covered.  Whether you have a charcoal, gas or indoor grill, you can bake up delicious, crispy-crust pizzas without special equipment of hard-to-get specialty flour. Recipes vary from the classic Margherita to exotic Moroccan. The book includes meat, chicken, vegetarian and dessert pizzas and well as salads.
Who'll love it: 
Anyone who loves good pizza. Even the organizationally-challenged can spread the pizza love thanks to the handy Party Planning section.
If you try one recipe: In honour of the long weekend, I'm going with The S'more. Yes, a s'more in pizza form. My life is complete.
---
The Gardener and the Grill: The Bounty of the Garden Meets the Sizzle of the Grill
By Karen Adler & Judith Fertig
Published by Running Press ©2011
Focus: Whether you sear, plank, smoke or stir-fry, this books uses the grill to make the most of your seasonal vegetables and fruits. While not all the recipes finish at the grill, they all start there. For instance, Smoked Tomato Bisque uses grill-smoked tomatoes, which then form the base of a soup or get frozen for later use.
Photos:  The finished dish is the star in this book. With minimal food styling, the simplicity of the recipes stands out. You won't find step-by-step illustrations, but the techniques are so basic those familiar with their grills won't need them.

Stand out feature: 
The sheer ingenuity of cooking with seasonal produce. Green tomatoes are grilled and stacked with cheese. S'mores get a strawberry topping. And radishes get the Provençal treatment with grilled onion butter. My radish-loving mother would approve.
Who'll love it: 
Anyone with with a vegetable garden, a Farmers' Market addiction or a share in a local CSA. Serious gardeners will appreciate the article on Companion Plants. Did you know asparagus and tomatoes have a symbiotic relationship? Or that borage aids strawberries by attracting bees? You do now.
If you try one recipe: Charred Green Beans with Lemon Verbena Pesto. They had me at Lemon Verbena.
---
Where There's Smoke: Simple • Sustainable • Delicious
By Barton Seaver
Published by Sterling Epicure ©2013
Focus: Celebrating sustainable food with the grill. Emphasis on celebration — in a down-to-earth way. Hop into your comfy jeans, slap on the sun screen and get outside where the food grows.

Photos: The book is bursting with photos, most of them shot outdoors. Almost every page has a picture. Or two. Sometimes three. Seaver occasionally strays from the finished dish and includes shots of chickens, piglets, goats, cattle, and catch being pulled from the water.

Stand out feature: 
The level of detail. Seaver looks at techniques, ways to develop flavour, and green grilling before he cracks open the wine. When he does, he provides recipes for 10 wine salts, and more than a dozen cocktail recipes. Only once the drinks are served does he cook: Expect soup, salad, vegetables, fish, poultry, meat and marinades. The only thing missing is dessert, but I suspect you wouldn't have room anyway.
Who'll love it: 
Anyone who wants to reconnect to the land without giving up the grill.
If you try one recipe: Citrus-Marinated Diver Scallops. Bet you can't eat just one.
---
By Jamie Purviance
Published by Weber-Stephen Products LLC @2013
Focus: This is the go-to guide for grilling. After a fascinating infographic on how grills have evolved since the 1950s, Purviance provides everything you need to know about today's grills, equipment, techniques, marinades, rubs, brines and sauces. Recipes range from starters to desserts. There's even a recipe for chocolate chip cookies done on the grill with a pizza stone.

Photos: Every recipe has a photograph, some have step-by-step illustrations so you can't go wrong. With teaching in mind, this book offers clarity before trendy food porn. Instructional photos encourage and inspire, and never confound.

Stand out feature: 
The educational approach. Purviance includes illustrated step-by-step instructions for using a wok, pizza stone, griddle, braiser and rotisserie. He even has a page on knife skills. Before diving into the recipes, each chapter has a 2-page Grill Skills spread. Add in grilling charts and a Top Ten Dos and Don'ts, and the only acceptable excuse not to get grilling this summer is that you're going into space.
Who'll love it: 
Anyone who is intimidated with the notion of grilling. If you can lift a fork, you can cook any recipe in this book.
If you try one recipe: Lamb Loin Chops with Lemon-Mint Salsa Verde. Lamb not your thing? Good. I'll eat your share.
---
So, what are you grilling this holiday season?