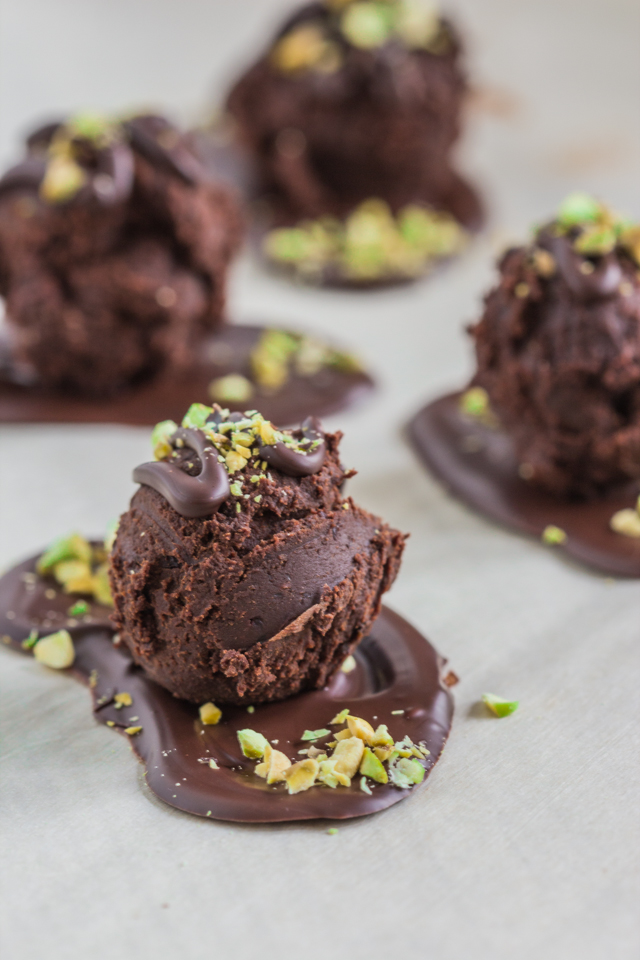 11 May

Cherry Cointreau Truffle Puddles – A Modern Mother's Day Gift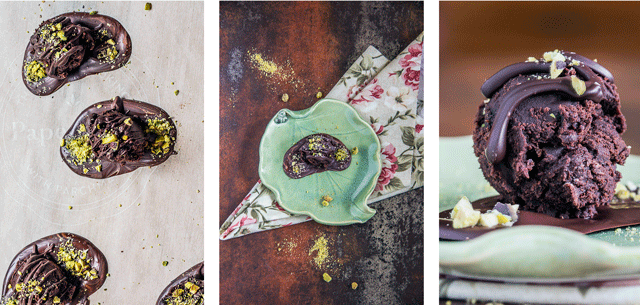 The first Mother's Day gift I made was a card. It had a flower and stars and kittens on it because I was obsessed with flowers and stars and kittens. Mom was allergic to two of these, but I was young and unable to fully understand how my mother might not love everything I did. Moving onto more utilitarian gifts, I later presented her with a pencil holder crafted from an empty soup tin studded with painted macaroni. I attached the helter-skelter pasta with so much Elmer's, the glue became part of the design. By my teen years, I had advanced to more thoughtful, less material gifts. I generously allowed her to breathe the same air as me.
Having graduated beyond dried pasta and teenage entitlement, I am ignoring her plea not to make a fuss. Oh, Mom, I'm fussing. I'm fussing with chocolate, and cherries and pistachios. But in deference to you, I'm doing it in as non-fussy a way as I can.
Behold the non-dipped truffle puddle.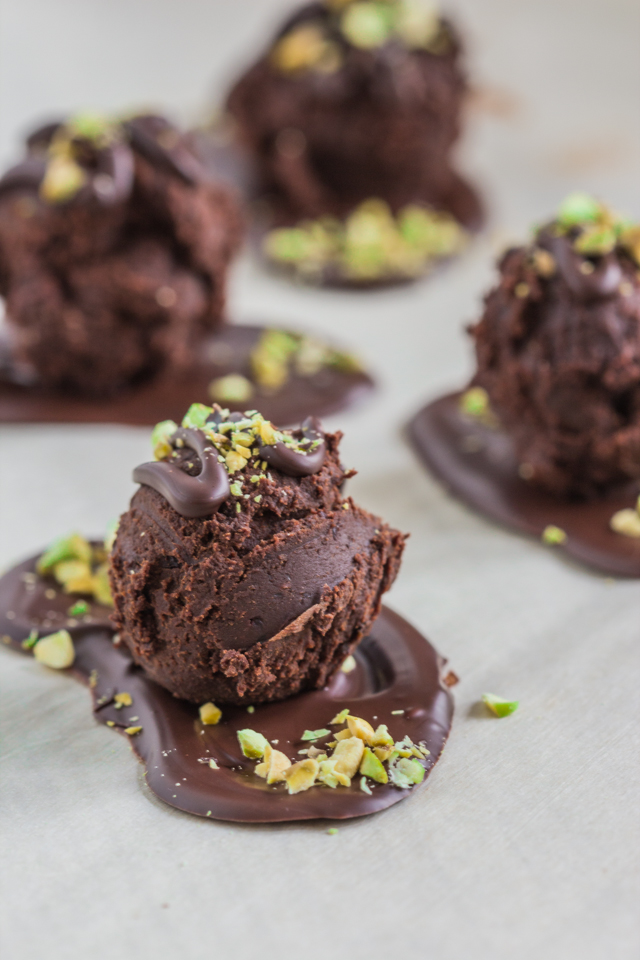 Instead of dipping, I'm dripping, letting gravity do the dirty work.
Chocolate drips like Elmer's glue. Pistachio pieces are my new macaroni. The materials are higher end, but like a kid, I smear, drizzle and sprinkle my way through this Mother's Day project.
Mom, these are for you. Because I love you. Because you taught me to cook. Because you let me breathe the same air as you during my impossible teenage years.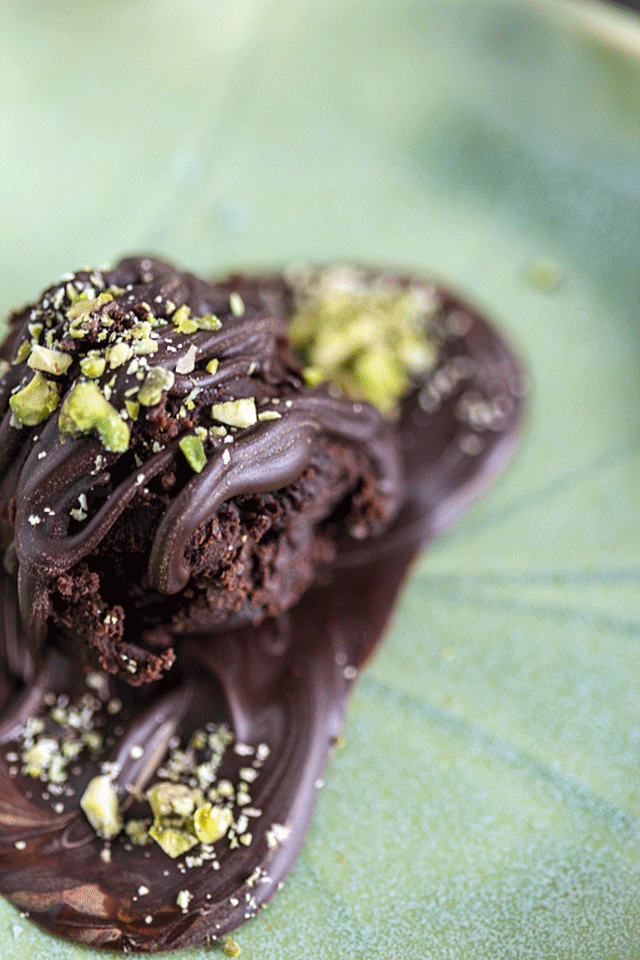 Cherry Cointreau Truffle Puddles
Author:
Charmian Christie
Prep / inactive time:
Cook / active time:
Total time:
Serves:
24 truffle puddles
Tired of the same old chocolates for Mother's Day or Valentine's? These truffle puddles are a fun way to serve and eat chocolate. Tart dried cherries, a hint of orange and a dusting of pistachios make them a special treat.
Ingredients
¼ cup tart dried cherries, roughly chopped
2 tablespoons orange liqueur such as Cointreau
1 teaspoon pure vanilla extract
8 ounces good quality dark chocolate, chopped into small pieces (I used Cacao Barry Couverture)
½ cup heavy cream (35%)
⅓ cup lightly toasted pistachios, chopped
12 ounces good quality dark chocolate, chopped
Instructions
Prepare the cherry paste: In a blender, the small bowl of a food processor, or with an immersion blender, purée the dried cherries, liqueur and vanilla together to form a thick paste. You won't get it totally smooth but you don't want big pieces of dried cherries either. Set aside.
Make the ganache: Place the chopped chocolate into a large bowl. In a small saucepan over medium heat, bring the cream *just* to a boil. Pour the hot cream over the chopped chocolate, leaving it undisturbed for a minute or two to warm the chocolate. Gently stir until the chocolate is smooth. Add the cherry paste and stir until the ganache is well blended. Cover with plastic wrap and refrigerate until cool, about a half hour. You can do this up to 3 days ahead of time.
Get your ducks in a row: A half hour before you're ready to assemble the truffle puddles, remove the ganache from the fridge. Line a couple of baking sheets with parchment and set aside. If you have purchased raw pistachios, toast them now, then chop. Turn off the phone and close the kitchen door. Once you begin the assembly you want to be uninterrupted.
Melt the chocolate: Melt the remaining 12 ounces of chocolate. You can do this in a heatproof bowl over simmering water or in the microwave. To melt the chocolate in the microwave, zap in 30-second bursts, stirring in between, until the chocolate is half melted. Reduce zaps to 10-seconds and stop when only a few lumps remain. Allow the heat of the chocolate to finish the job.
Assemble the chocolate puddles: Using a spoon or small spatula, pour a generous tablespoon of melted chocolate onto the parchment and gently spread to form a puddle. It can be round or oblong, but the puddle should be wide enough to accommodate a truffle. Make sure it's not too thin so it can support the truffle. It's okay if the surface is a bit uneven. You're going for rustic. Sprinkle both ends of the puddle with chopped pistachios, leaving the middle plain. Before the puddle dries, scoop the ganache into a truffle using a melon baller, 1-tablespoon cookie scoop or spoon. Place the truffle in the middle of the puddle. Repeat the puddle-pistachio dust-truffle sequence until you have used all the ganache. Do one at a time or else the chocolate will harden and the pistachios and truffle won't adhere.
Garnish the truffle puddle: Working quickly, drizzle the truffles with the remaining melted chocolate and dust with more pistachio crumbs. Allow the chocolate to harden at room temperature. Serve with napkins.
Notes
Of course, you are free to skip the puddles completely and use the chocolate to coat the truffles. Alternatively, you can roll them in cocoa powder or ground pistachios. Or just eat the ganache straight from the bowl with a spoon. I'm not fussy.