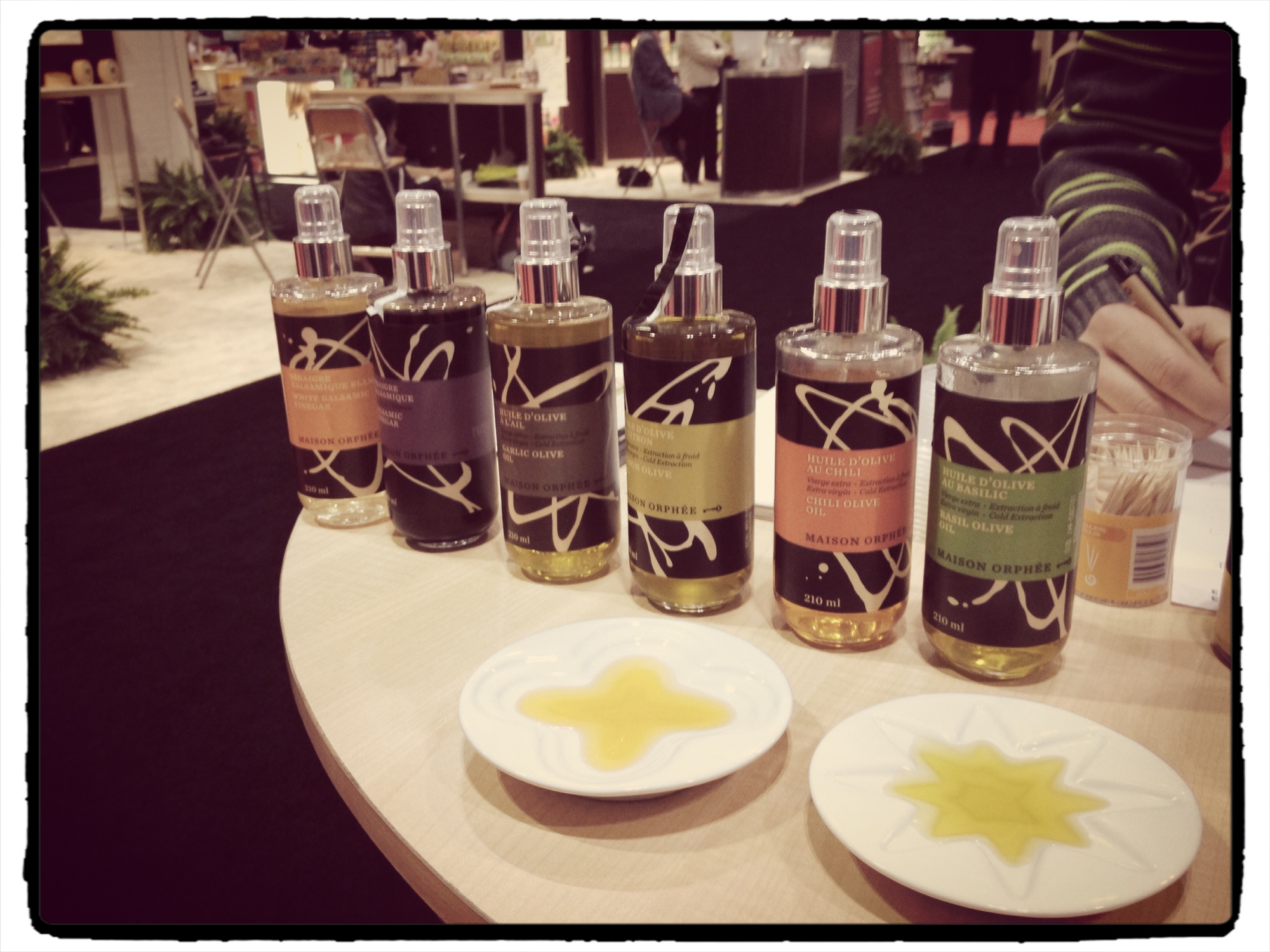 09 May

SIAL Canada 2013: A Round Up of Canadian Content

Last week I went to the SIAL Canada Show in Toronto. It describes itself as a "one-of-a-kind opportunity to set yourself apart from the competition as you learn about innovative ideas and breaking trends in the agri-food industry!" But you know me. I went for the food.

I'm not interested in the prepackaged products like pasta sauce, gluten-free cookies or soft drinks laced with high-fructose corn syrup. I am, however, very, very interested in new ingredients I can use to create my own dishes. By the end of the show, I'd found enough products to fill the pantry a few times over.

Armed only with my iPhone, I visited every booth, taking shots of items that captured my imagination. Forgive the photography. I was working under the following conditions: Tradeshow flourescent lighting, 750+ booths from 44 countries, an armload of marketing material, lots of attendees also lugging armloads of marketing material, and a single day.

Below are the products I found most noteworthy. The order is random, determined by my wandering.

How can you get these products? I don't know. Most businesses attend to get their products onto the store shelves. If these items aren't available at your local store right now, they should be soon because some sales rep is trying his or her doggone hardest to get them there. I've included a link to each company. If that doesn't work, FoodiePages also carries some of these products.

And without further ado, here are my top picks from SIAL Canada 2013.
Mycryo®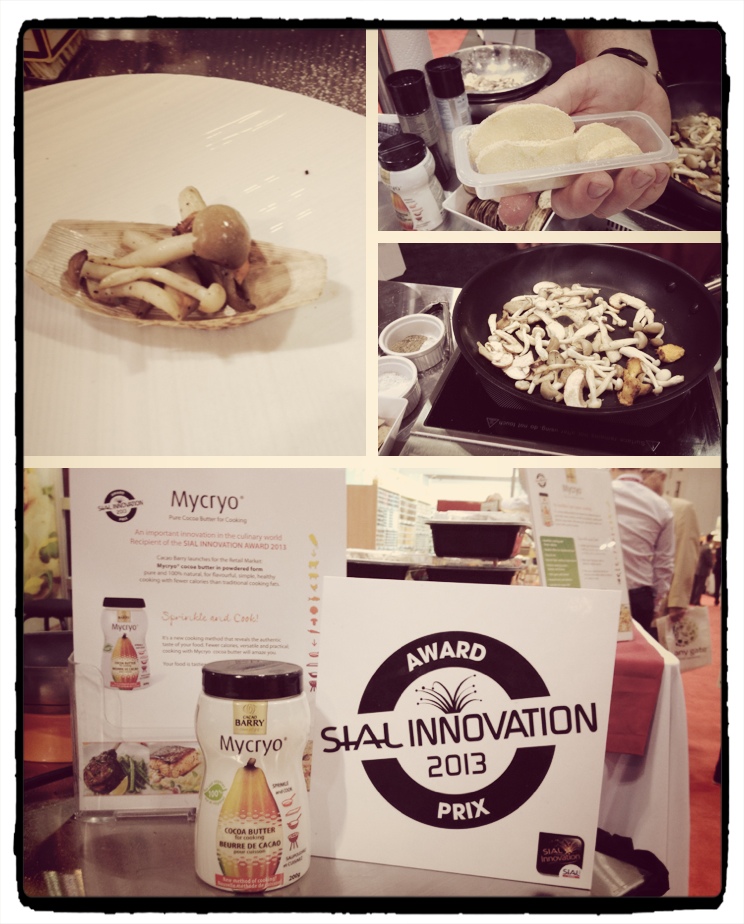 Mycryo®, pronounced mee-cree-oh, is powdered cocoa butter designed specifically for cooking. It was a finalist for the 2013 SIAL Innovation Grand Prize and I can see why. Unlike most food products, this one doesn't want anyone to notice it. Made of nothing but pure cocoa butter, it's designed to make food taste better without interfering. It has no flavour, no odor, no additives and is vegan. When you toss food in it, the powder forms a thin coating and seals the moisture in — something oil can't do. Above are mushrooms tossed in Mycryo® and sautéed in a non-stick pan. I watched the whole process and to my amazement, none of the mushroom juice escaped. The finished mushrooms were incredibly flavourful and bursting with juice. Imagine — finally you can make a mushroom tart without fear of a soggy crust.
The apple slices shown in the top right corner were tossed in Mycryo to preserve their colour. Despite spending a day and a half being hauled in and out of the refrigerator, thus experiencing "temperature shock", the apples remained fresh.
Mycryo® is part of Cacao Barry and  has their head office in St. Hyacinthe, Quebec.
Birch Syrup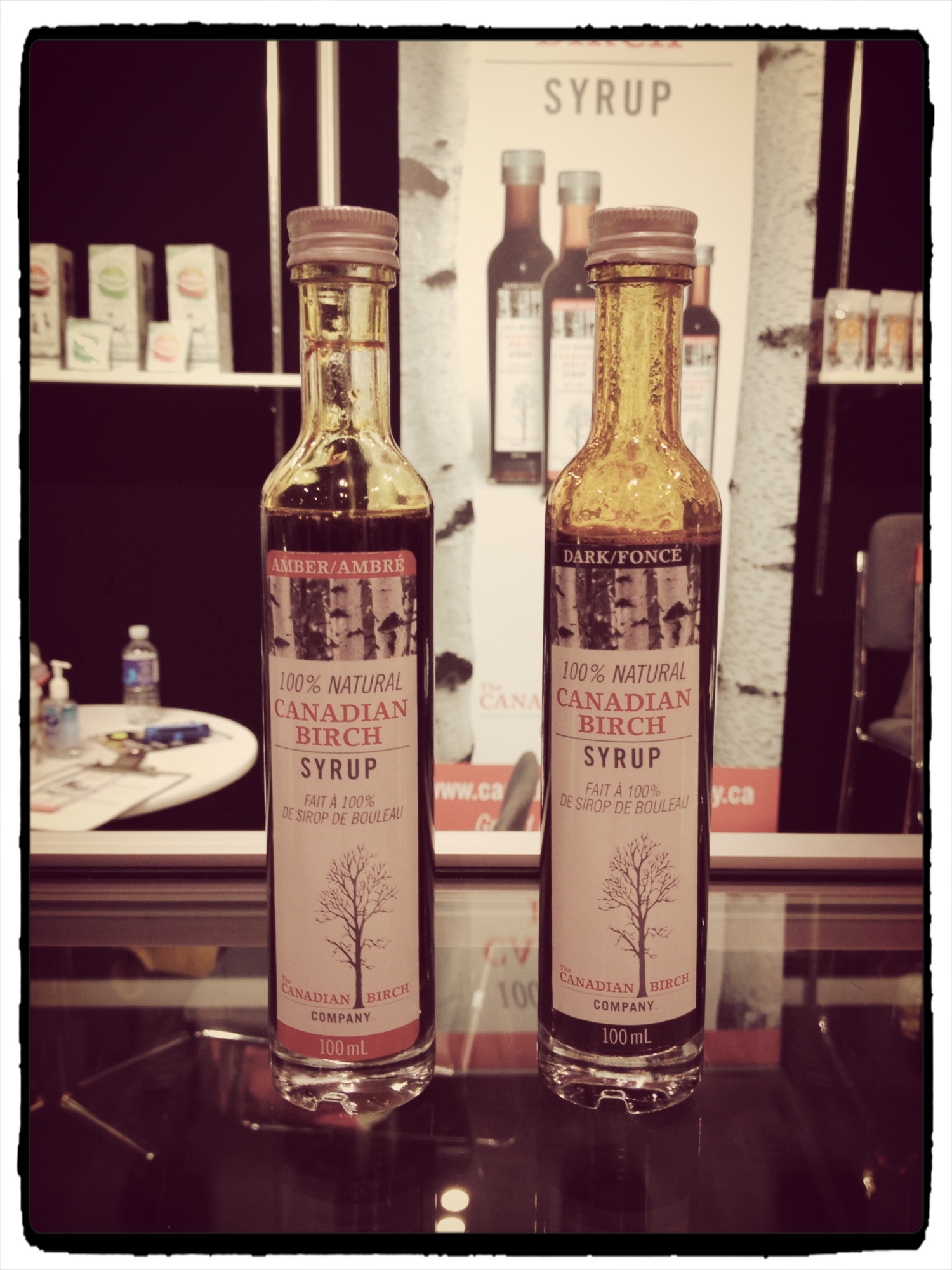 You need 40 gallons of maple sap to produce a single gallon of syrup. That's kid's play compared to birch. Depending on the season, birch needs a 120:1 sap-to-syrup ratio. The boiling down is so intense, the Canadian Birch Company puts the sap through a reverse osmosis process to speed things along. The results are delicious and have a unique taste that's sweet yet tangy. Depending on the season, the syrup is amber or dark, but the saps taste so different from each other it's hard to believe they originate from the same tree. Both have a hint of malt, but amber is sweeter and more fruity, while dark is intense and borders on balsamic. The uses? Pour it on pancakes, drizzle it on ice cream or add it to cheesecake. It can even be used as a base for barbecue sauce or a salmon glaze.
The Canadian Birch Company  is based in Grand Marais, Manitoba.
Canadian Bison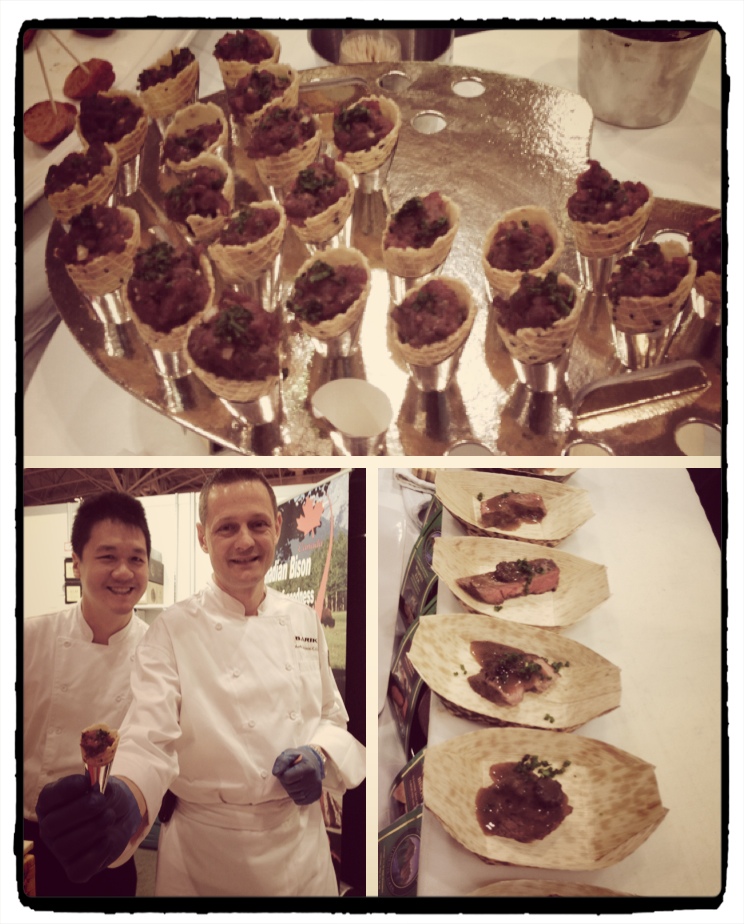 The cones hold bison tartar while the little bamboo boats cradle a filet so tender you don't need a knife.  Because bison are so big, they must be grass-fed on the open range. Given their size and temperament, factory farming just isn't an option. Despite roaming the range all day, their meat is tender. The flavour? Tastes like chicken. Just kidding. Bison tastes like beef. To my surprise — and relief — it's not gamey at all. It's also low in fat.
Natural Frontier Food is based in Lasalle, Quebec.
Blueberry Juice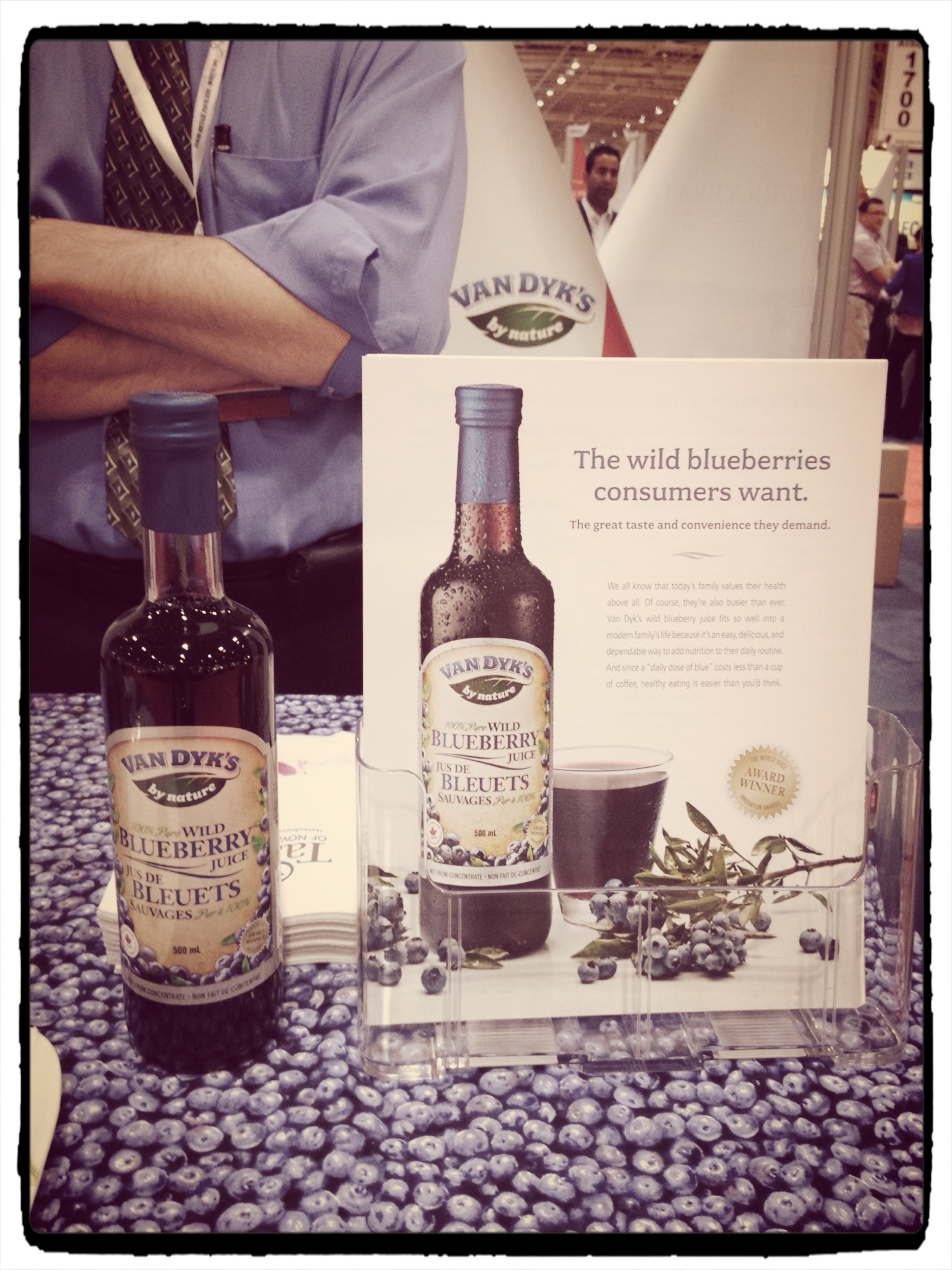 This might look like Ribena, but it's not. It's 100% pure, sugar-free, just-press-it blueberry juice. It tastes just like the juice that gathers at the bottom of the bowl when you defrost frozen berries. It's not concentrated or blended with less expensive juices. It's delicious and refreshing — especially when you've just finished tasting 97 varieties of olive oil. The downside of this juice? I just know mixologists will be making high-end blueberry juice cocktails. But the juice doesn't need any help. Really. The only other issue I foresee is portion control.
Van Dyk's Health Juice Products. is based in Port Williams. Nova Scotia.
12-Year Old Apple Cider Vinegar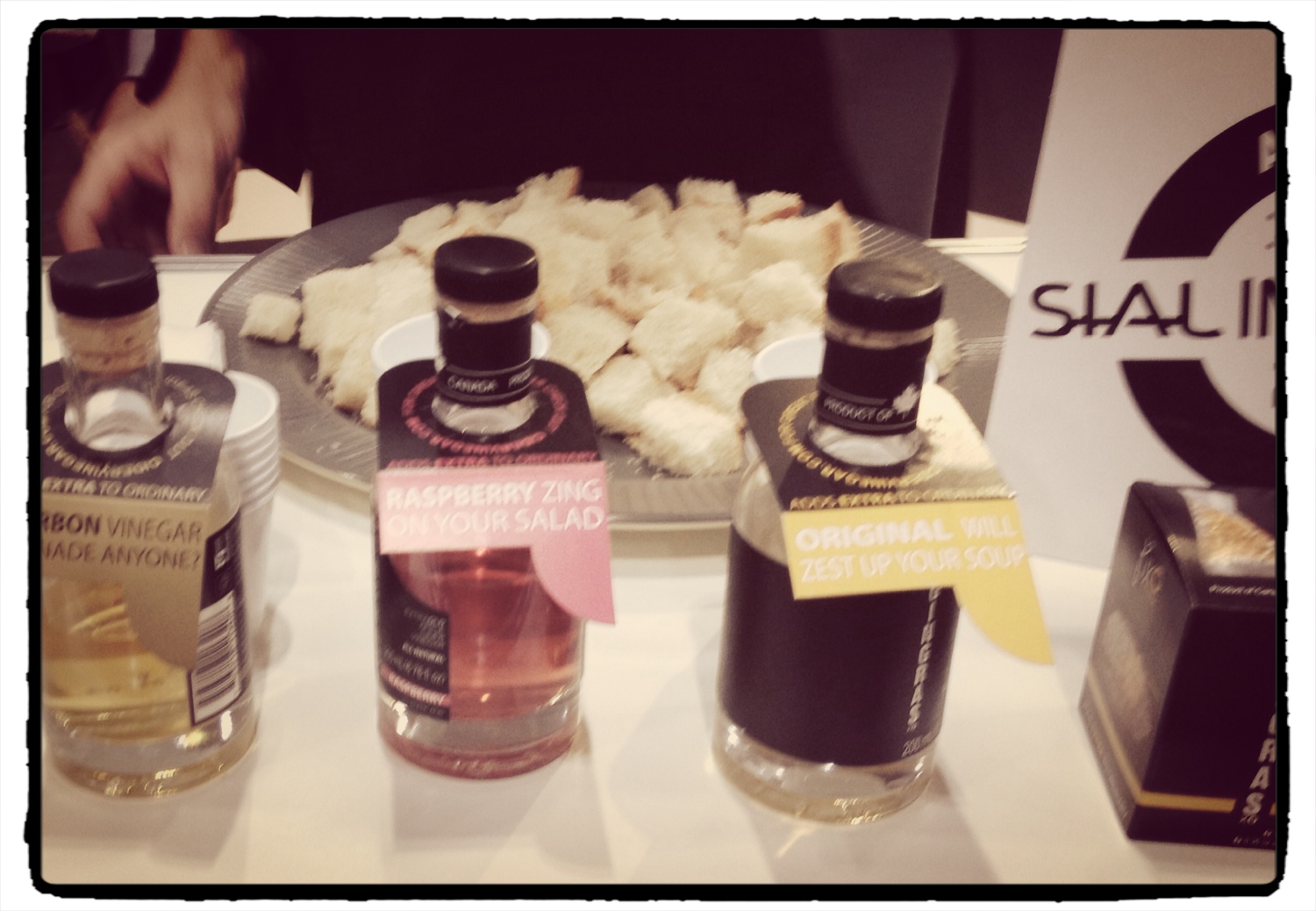 Sorry this is a bit blurry. I got bumped. I didn't notice at the time because I was distracted by the vinegar. It's practically drinkable. I was so enamoured, I asked to buy some to take home with me. Unfortunately, vendors aren't allowed to sell their product at this show.
This apple cider vinegar has two ingredients – apples and time. It's barrel fermented for up to 12 years in French oak casks. As a result, it tastes nothing like the sinus-clearing version on the supermarket shelves. The raspberry version is infused with real raspberries for 24 hours and was my favourite of the three. I suspect my husband would have gone for the bourbon vinegar. This is another 2013 SIAL Innovation finalist but it was a definite winner with me.
The company, Vinaigrerie Gingras, is based in Rougemont, Quebec.
Single-Flower Honey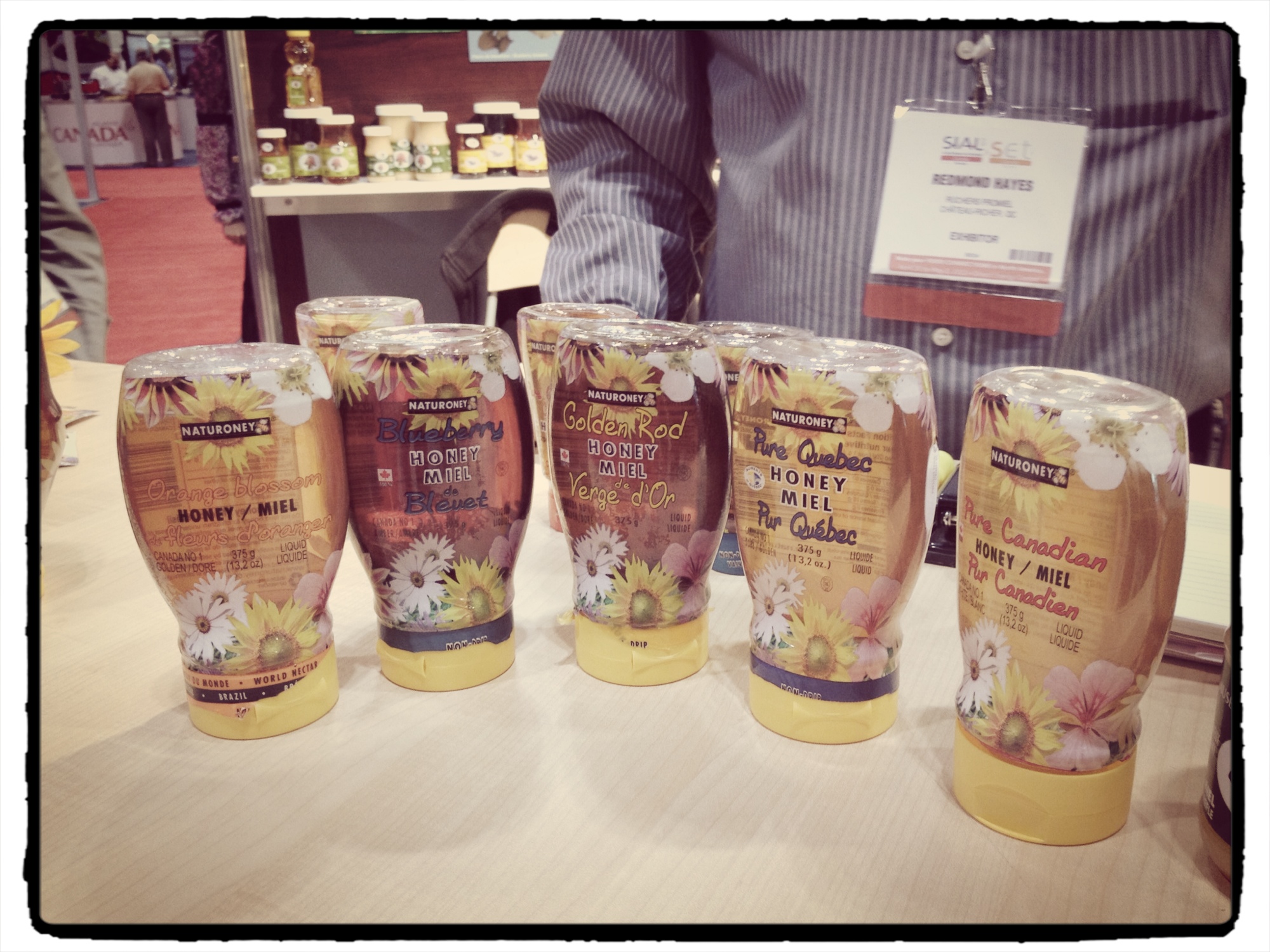 I have been skeptical of honey ever since I learned it can contain sugar syrup and still be labelled pure honey. Naturoney assures me that loophole remains closed in Canada. Phew! These honey's are all 100% honey and nothing but honey. The taste varies  based on the flowers the bees visited. To my surprise, the blueberry honey does not taste like blueberries at all. Thinking it through, it makes sense. It's made from the pollen of blueberry flowers, not the blueberries themselves.
I didn't want to like the Golden Rod honey since my husband is so allergic to the flower, but the honey it produces is deliciously floral. It was my favourite until I tasted the orange blossom honey. A hint of citrus won me over.
Naturoney is based in Château-Richer, Quebec.
 Wild Rice & Wild Rice Flour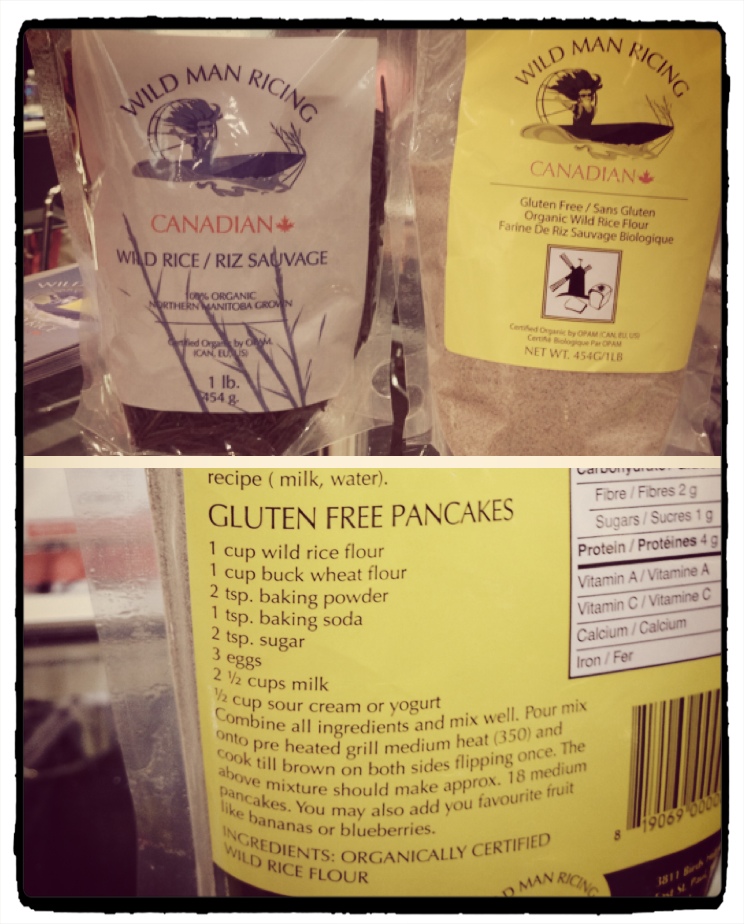 Tony Atkins, the owner of Wild Man Ricing, was too enthusiastic to resist. He loves his wild rice (which is actually an aquatic cereal grain) and borders on evangelical about it. Gluten-free, organic and tasty, wild rice is likely the next "it" food. His wild rice flour is just wild rice, ground into flour. No filler, additives, or fixatives. Alone, it's a bit heavy, but when combined with buckwheat, another gluten-free flour, it apparently plays nicely with pancakes. I'm betting the pancakes would play nicely with birch syrup.
Wild Man Ricing operates from East St. Paul, Manitoba.
Olive and Nut Oils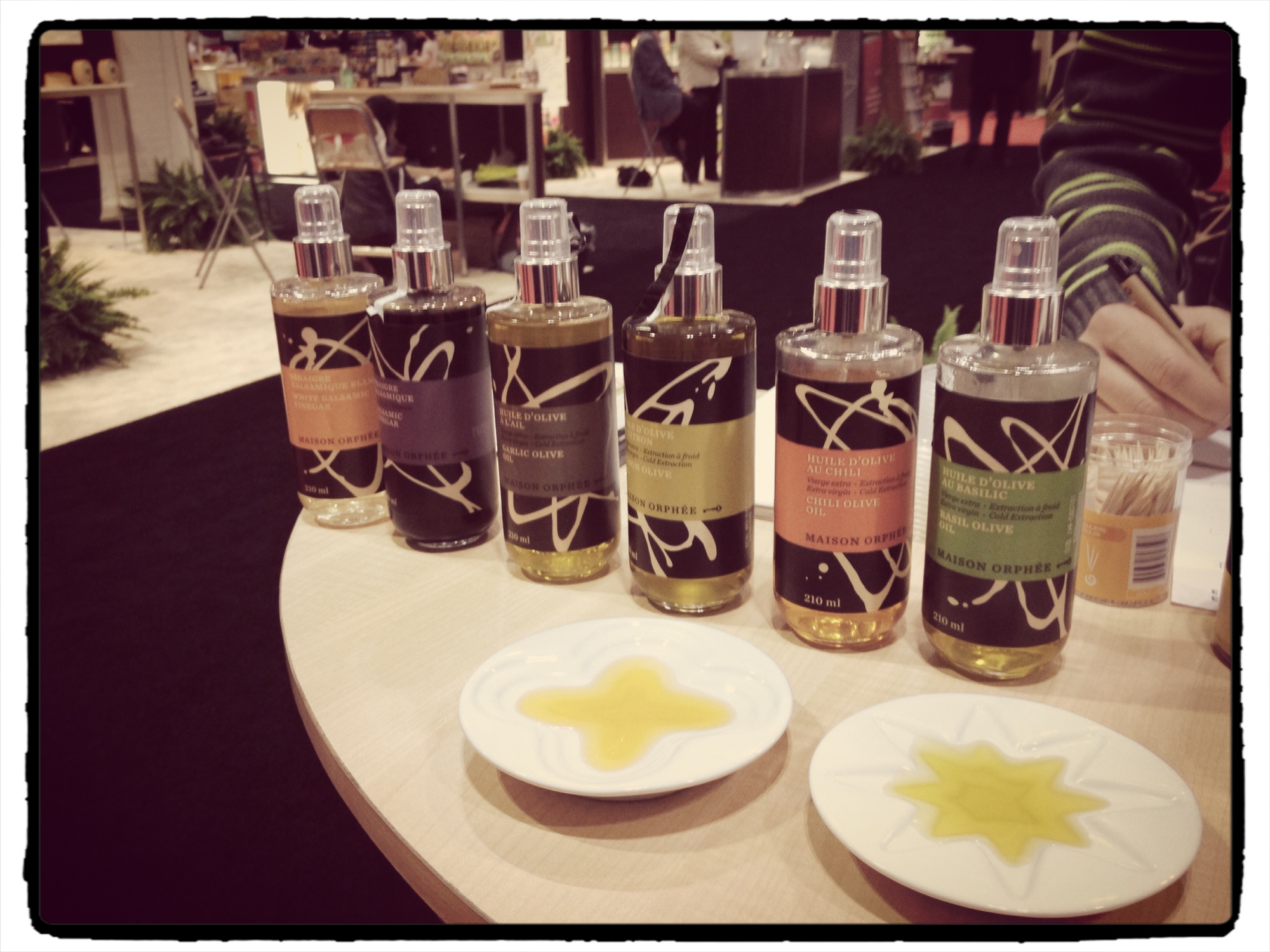 These flavoured olive oils come with a spritzer so you can spray them on a salad, your chicken or pasta. Flavours include Basil. Lemon, Chili and Fresh Garlic. The other two bottles are spritzable balsamic vinegars — white or regular old dark brown. Not pictured here are two of my favourite oils from the whole show: roasted hazelnut and roasted walnut. These oils are rich, buttery, and taste like their namesakes. I've used roasted nut oils before and found the quality varies widely between brands. I'll definitely be looking out for Maison Orphée. The roasted hazelnut oil was so good it's another product I would have bought on the spot had purchases been allowed.
Maison Orphée operates out of Galilée, Quebec.
2013 SIAL Innovation Grand Prize Winner
I don't have a photo of the Grand Prize winner. Shame on me. Congratulations to A Acadien Atlantic who won the grand prize for their Smoked Atlantic Salmon Pâté. They're located in Caraquet, New Brunswick.
Do you buy or use any of these products?  I'd love to hear from  you.