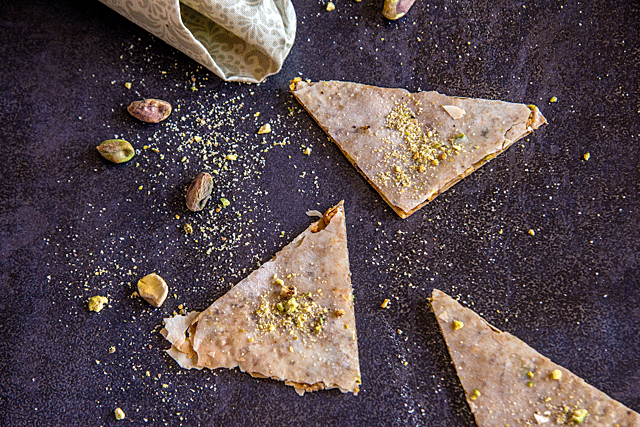 07 May

Homemade Crackers and Baklava Crisps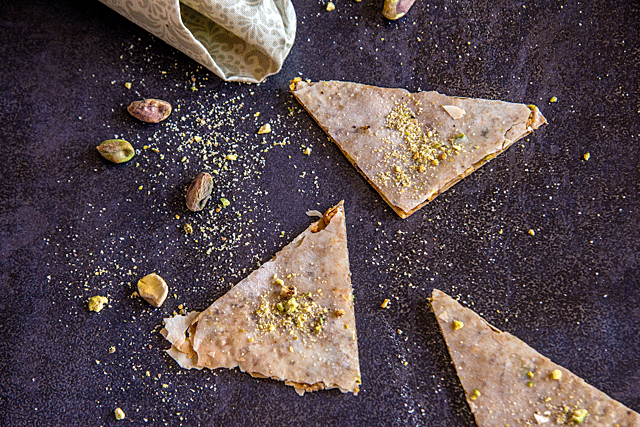 Altogether now. On the count of three, "Ivy, you're a genius!"
Ivy Manning, author of Crackers & Dips: More than 50 Handmade Snacks (Chronicle ©2013), wasn't always receptive to this praise. As a caterer, she found complex dishes like Pheasant Under Glass went virtually unnoticed. But when she brought out the basket of simple homemade crackers? The response was "You're a genius!"
Whether Ivy Cracker-Maker Manning likes to hear it or not, I agree with the Cracker Lovers and offer as evidence the following proof: She reverse engineered Almond Thins using local hazelnuts. She scaled down a restaurant-sized batch of deconstructed s'mores to create a rosemary graham cracker suited to home cooking. The accompanying salted whisky caramel sauce didn't hurt her case either. She even figured out the combination of flours needed to produce the ultimate, shattery soda cracker. Claiming she's "no baker" and "too impatient for bread," Ivy assures me crackers are "technical", but very easy. I was skeptical.
After giving a few of her recipes a try, I believe  her.
The instructions provide enough details to walk you through unfamiliar territory without overwhelming. First timers should be able to make the soda crackers with little more than a calendar and a rolling pin. Because they're based on a sour dough, the trickiest part is planning ahead to ensure you'll be around to execute the steps in a timely fashion. Mess up the timing? Even then you'll likely succeed. I was tardy in my cracker making by days, not hours, yet the crackers tasted (and shattered) like perfect saltines. If you ask me, crackers are not only easy, they're also forgiving.
If recipes like Ritzy Peanut Butter Sandwich Crackers, Brown Butter-Hazelnut Crackers or Skinny Mint Chocolate Grahams don't get you, the visuals will. Beautifully photographed by Jenifer Altman, the real life crackers are incorporated into Kristina Urquharts's whimsical illustrations. It's as if the recipes are so appealing Henry flees the Land of the Chalk Drawings to steal Simon's share.
Of course, crackers aren't eaten alone. You can show off your baking with Molten Black Bean and Chorizo Dip, Figgy Bourbon Conserve or Spicy Mint and Cilantro Chutney. The (Don't Tell Them It's Vegan) Mushroom and Cashew Pâté is on my must-try list. Andrew hates mushrooms so that means I'll have to eat it all myself. The things I do for research.
With so many enticing recipes, selecting one to excerpt was challenging. In the end, my sweet tooth won out. I just couldn't resist Ivy's fresh take on baklava. This flaky, three-layer crisp is not the potentially cloying, frustratingly fiddley, impossibly sticky dessert served at Greek restaurants. Sorry, Ivy. When you swapped Pheasant Under Glass for Baklava Under Baking Sheet you nailed your genius status. Live with it.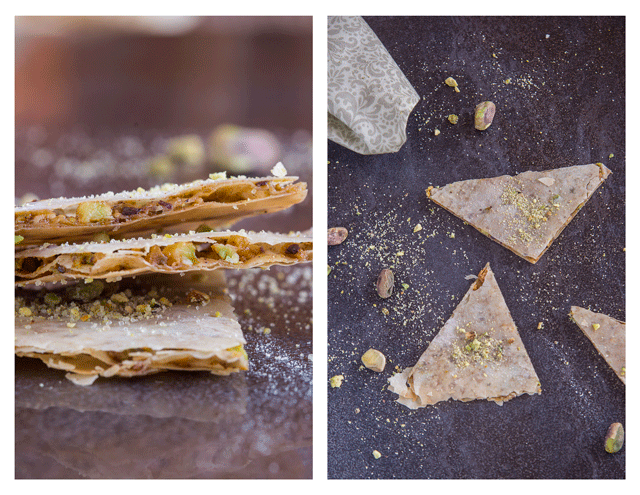 Cinnamon Pistachio Baklava Crisps
These little triangles have all the yummy goodness of Greek baklava compresssed into just three layers of phyllo. They take minutes to put together and disappear just as fast
Ingredients
½ cup shelled unsalted pistachio nuts (70 g)
2 tablespoons sugar
¼ cup unsalted butter (55 g)
¼ cup honey (60 mL)
½ teaspoon ground cinnamon
¼ teaspoon fine sea salt
1 roll of 9-by-13-in phyllo pastry sheets, defrosted (23-by-33-cm)
Instructions
Preheat the oven to 350°F/180°C/gas mark 4. Cut two pieces of parchment paper to fit exactly into a baking sheet and a third sheet that is slightly larger. Place the nuts and sugar in a food processor and pulse until the nuts are finely chopped, the consistency of cornmeal. Set aside. In a small microwave-safe measuring cup or a saucepan over low heat, melt the butter. Add the honey, cinnamon, and salt and whisk to combine.
Place one smaller sheet of the parchment paper on a work surface. Center one sheet of phyllo pastry on the paper. Keep the other sheets of pastry covered with a damp dish towel to keep them from drying out. Drizzle 1½ tbsp of the butter mixture over the phyllo sheet and then use a pastry brush to distribute the butter mixture evenly over the pastry. Sprinkle a generous 2 tbsp of the pistachio mixture over the pastry, and then top with a second sheet of phyllo, lining up the edges exactly to make a neat stack. Press down on the top sheet to adhere the layers.
Repeat the process again, brushing the second sheet of phyllo with 1½ tbsp of the butter mixture and topping with 2 tbsp of the nut mixture. Place a third layer of pastry on top of the first two and press firmly to adhere the layers.
Transfer the stack of buttered phyllo pastry on the parchment paper to a baking sheet. Cover with the larger piece of parchment paper, and then place a baking sheet or inverted cooking rack directly on top of the phyllo stack to weigh it down. Bake until the dough is rich golden brown and crisp, 8 to 10 minutes, rotating the baking sheet once from front to back while baking, and peeking after 8 mintues to check for doneness.
Remove the whole setup from the oven and let the pastry stack cool for 10 minutes with the baking sheet still on top of the pastry. (This weighted cooling time will keep the phyllo layers from coming apart when you're cutting them into triangles.)
Remove the top baking sheet and top parchment paper (reserve for the second batch), and transfer the phyllo stack on its bottom layer of parchment paper to a cutting board. Using a sharp chef's knife, cut the phyllo stack in half lengthwise. Cut the stack crosswise three times to create eight squares and then cut each square diagonally to create 16 triangles.
Repeat the buttering and layering process with the remaining phyllo sheets, butter mixture and nut mixture. Bake, cool, and cut as with the first batch, reusing the top piece of parchment paper when baking the second batch. (Refreeze unused phyllo sheets for another use.)
When the crisps are completely cool, transfer them to an airtight container. The crisps are best eaten within 1 day.
Notes
Ivy's note: Honey is the dominant flavour here, so this is a good time to splurge on single-flower honey. Experiment with local single-source honeys from your farmers' market; you'll be surprised at the difference between the commodity "honey bear" stuff and artisanal honey collected from carefully tended bees.
My note: Taking a hint from Ivy's notes. I made mine with honey gathered from the apiary atop the
Fairmont Royal York
in downtown Toronto. I think the bees would approve.
Recipe is excerpted with permission from
Crackers & Dips: More than 50 Handmade Snacks
by Ivy Manning. Published by Chronicle Books ©2013.