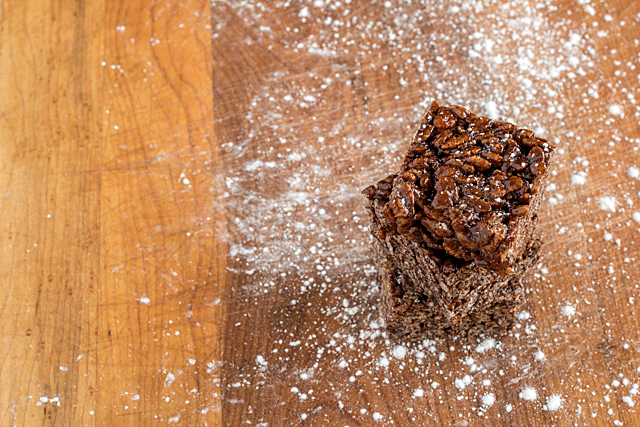 05 May

Crispy Chocolate Rice Squares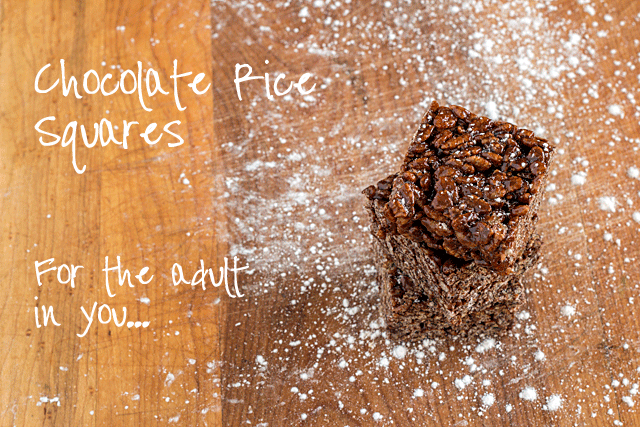 Swag. It used to mean some sort of garland or window dressing. But times have changed. Ignoring the Urban Dictionary's profanity-laced first definition, I pieced together other entries and conclude it's an overused term meaning one's personal style or attitude. I think it's the new "mojo", but don't quote me. I'm hopelessly square and can't even use "bling" correctly .
Moving into more comfortable territory, I can say with authority that for conference attendees swag is stuff sponsors give you in hopes you'll try it and like it. Having recently attended the Food Bloggers of Canada Conference, I came home loaded with swag. One of the items, which I am under no obligation to write about, was a whole grain cereal called Erewhon (pronounced Air-wahn). It's a cocoa version of Rice Krispies®, only it's organic, certified gluten-free and non-GMO. People with food allergies will like that it's also free from dairy, soy, peanuts and tree nuts. It's basically rice, air and natural sugars. What could go wrong?
Uh… me.
I took this healthy, pure, unadulterated cereal and swagged it up.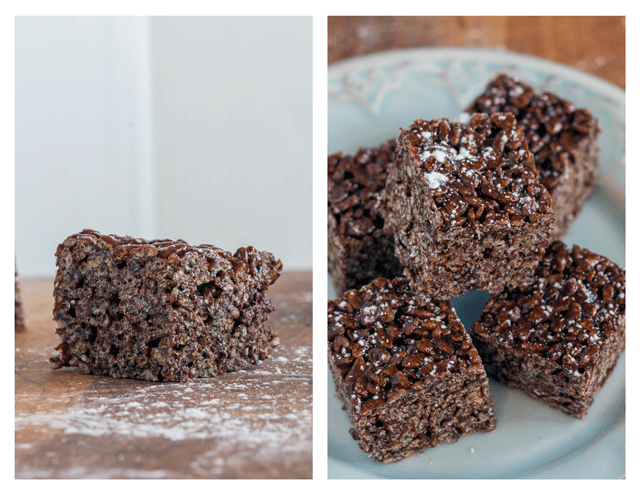 Squares for the square? Cocoa for my mojo? Riffing on the classic Rice Krispie Square, I used the chocolate cereal and added cocoa to the marshmallow mix. The results are crisp, chewy and far less sweet than the original. Will kids like it? I hope not. Will it make me cool? Not likely. Will it make me popular with the adults. Very much so.

Crispy Chocolate Rice Squares
Author:
Charmian Christie
Prep / inactive time:
Cook / active time:
Total time:
A chocolatey twist on a classic, these rice crisp squares are less sweet thanks to cocoa and chocolate-flavoured cereal. These easy-to-make treats will disappear faster than you can make them.
Ingredients
¼ cup butter
1 10-ounce/250 g bag marshmallows (about 40 regular or 4 cups miniature marshmallows)
¼ cup unsweetened cocoa powder
⅛ teaspoon fine sea salt
1 teaspoon pure vanilla extract
5 cups cocoa-flavoured crispy rice cereal (I used Erewhon Cocoa Crispy Brown Rice)
Instructions
Butter an 8-inch square pan. You can use a 9X9 or 9X13, but I like my squares nice and thick.
Put the butter and marshmallows into a large saucepan over very low heat - the lowest setting your stove will provide without being simply room temperature. Sift the cocoa powder over the marshmallows to remove any lumps. Add the salt. Once the butter and marshmallows begin to melt, stir them constantly and gently until the cocoa is absorbed and the mixture is completely smooth. Stir in the vanilla extract.
Remove from heat and gently fold in the cereal, coating evenly. Work fairly quickly since you want to do this while the marshmallow mixture is still warm and cooperative.
Transfer the warm mixture into the pan, and using clean, buttered hands (excuse the oxymoron, but you know what I mean) or a silicone spatula, press the mixture firmly into the pan. Neat fanatics might want to place a sheet of waxed paper or parchment over the mixture and press with clean unbuttered hands.
Allow the mixture to cool fully before cutting into 16 squares.
Notes
If you can't find chocolate flavoured rice crisps, use regular rice ones. The chocolate won't be as intense, but you can still enjoy a less sweet version of the classic marshmallow snack.