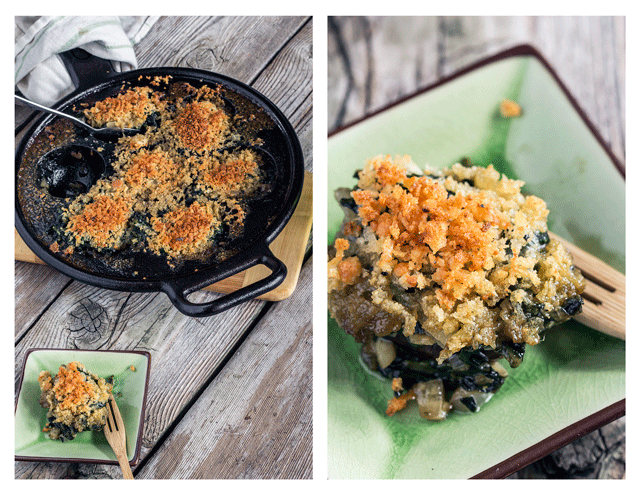 01 May

Mushrooms Rockefeller
I got myself into this and I'm going to get myself out. I did not, repeat not, acquire a one-trick pony of a pan. I could point you to the Indian, Thai, Korean and Japanese variations of the aebleskiver, but really, they're all just spins on batter cooked into engaging little spheres. So, that ain't gonna fly.
What about a batter-free mushroom cap, resting on a bed of garlic butter and sherry-sprinkled spinach, topped with cheesy crumbs? Does that count? I hope so, because I created Mushrooms Rockefeller to use up extra mushroom caps and justify the real estate the aebleskiver pan requires.
I'm not sure if this recipe will work with cast-aluminum. My pan is extra-heavy cast iron designed to go on the stove top or into the oven. The good people at Lodge assure me it can even go on a barbecue grill or camp fire. I wanted something indescructable, and their 5 1/2 pounder was it. They also tell me Emeril Lagasse uses his for Oysters Rockefeller, so you know it's a workhorse.
Riffing on the Rockefeller theme, this exceptionally rich dish has most of the classic flavours of its oyster counterpart —only without the pricier ingredients like oysters on the half shell and French liqueur. With affordable mushroom caps in lieu of seafood and reasonably priced dry Spanish sherry replacing the spendy Pernod, this appetizer practically pays for itself.
Yeah. That ain't gonna fly either.
The truth? Even if you never turn another aebleskiver in your life, you'll want to heat up your pan just to give this a try. Providing you like mushrooms. And cream. And bone dry sherry.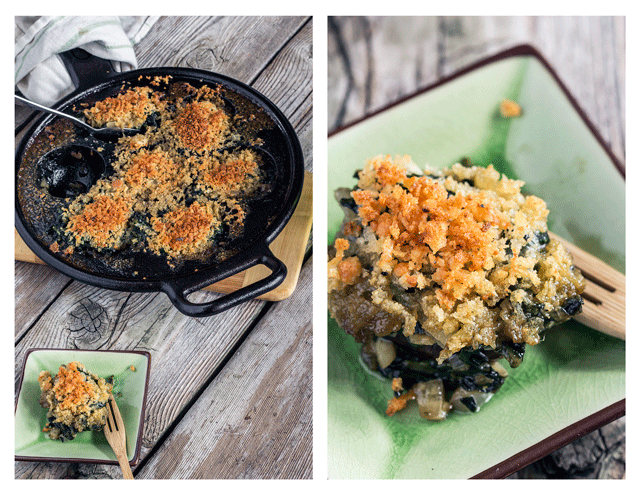 Got a creative use for your aebleskiver pan? Share. Please.

Mushrooms Rockefeller
Author:
Charmian Christie
Prep / inactive time:
Cook / active time:
Total time:
This affordable, vegetarian version of Oyster Rockefeller is baked in an aeblskiver pan.
Ingredients
¼ cup unsalted butter
2 large cloves garlic, minced
¼ cup Panko crumbs (or dried bread crumbs)
2 tablespoons grated Parmesan
freshly ground black pepper
7 large cremini mushrooms, stems removed (the mushrooms should fit into the well of your aebleskiver pan)
1 large shallot, minced
2 cups chopped fresh baby spinach (about 4 ounces)
¼ cup dry sherry
¼ cup heavy cream
lemon wedges
Instructions
Turn the oven to 450°F and place a cast-iron aebleskiver pan in the cold oven. While the oven is heating, chop the garlic, shallots and spinach.
Melt the butter in a medium skillet over medium heat. When it bubbles, add the garlic and reduce the heat to low so the garlic softens but doesn't brown. Cook 2 minutes, then remove from heat. Drizzle 1 tablespoon of the garlic butter over the Panko crumbs and toss to coat. Add the Parmesan and a grinding of fresh black pepper. Toss again to blend well. Set aside.
Spoon 1 teaspoon of the garlic butter into each well of the hot aebleskiver pan and top with one mushroom cap, gill-side up. Bake10 minutes.
While the mushrooms bake, return the remaining garlic butter to medium heat, add the shallots and cook 2 minutes. Stir in the spinach and cook until wilted. Add the sherry and some freshly ground black pepper. Cook until the spinach is very soft and the sherry has reduced, about 3 minutes. Add the cream and cook for a minute or until slightly thickened. Set aside until the mushrooms are done.
Fill the mushroom caps with the spinach mixture, distributing it evenly. Pour any leftover cream sauce over the filled caps. Top each cap with the Panko crumbs and bake for another 5 to 10 minutes. The mushrooms are done when the crumbs are deep gold and the sauce is bubbling.
Serve immediately with lemon wedges.