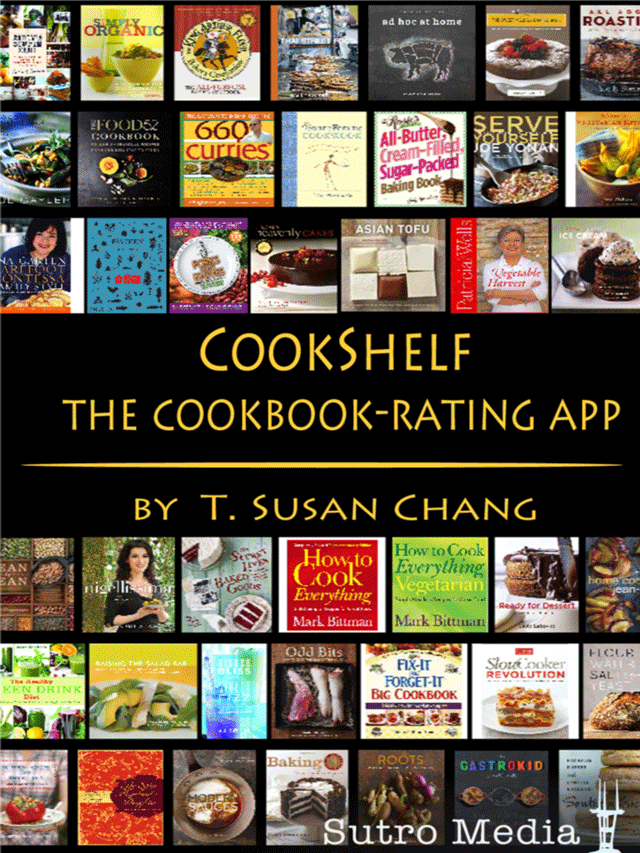 29 Apr

CookShelf App: A review and a Giveaway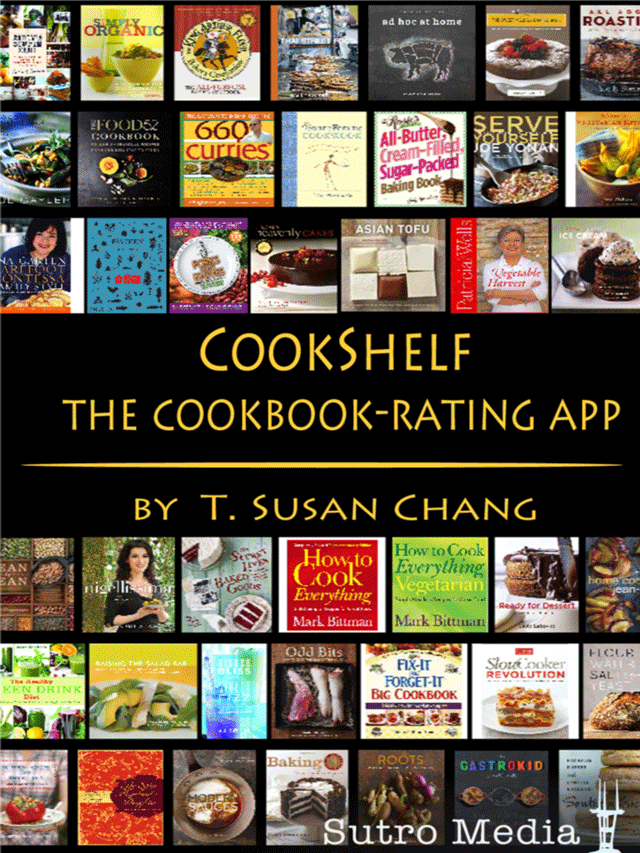 I'm often asked to recommend cookbooks as gifts for someone's mother-in-law, sister, aunt, neighbour, co-worker, friend visiting from far off foreign lands. I feel a bit like I've been asked to select a paint colour for their living room without seeing the house let alone knowing how many people live there. Sure, I could point people to Amazon, but am often baffled by the biased ratings and vague comments. Enter T. Susan Chang. The regular cookbook reviewer for the Boston Globe and NPR, she knows her way around a cookbook review like no one else.
To save angst, time and money, Chang has created a cookbook rating app, CookShelf. Unlike Amazon or Goodreads, it's authoratative, not collaborative. She's not swayed by pretty pictures or trendy "it" ingredients. She tests cookbooks for a living and as the app description says, "you'll be warned if there are impossible-to-find ingredients, eye-straining page designs, or recipes that require 4 days and a vacuum sealer." Where were you, Susie, when I was seduced by the Momofuku Milk Bar?
Using a 5 point scoring system (1 being low, 5 being high) Chang rates each cookbook on the following areas:
Skill: A 1 is ideal for new cooks or busy people. A 5? Hire staff.
New: This looks at the recipe's originality. Are there a billion versions on the web or are the recipes so unique they borders on a dare? Here a 5 is not always a good thing. Chang likes a 3-4 since anything lower can be fulfilled with a quick web search and anything higher means special equipment or a trek for obscure ingredients – or more likely, both.
Gift: Pretty plays a role, but the book has to be practical. She also provides a bit of guidance on who it will appeal to since the book I choose for my mother will not be the barbecue-sauce, smoke-filled grill guide my friend's husband drools over.
Keeper: Is this a fly-by-night book or a book you'll turn to again and again? Chang admits this is the most controversial rating, but I find it the most helpful.
Sounds complicated? It isn't. You can see in a glance if you want to read more.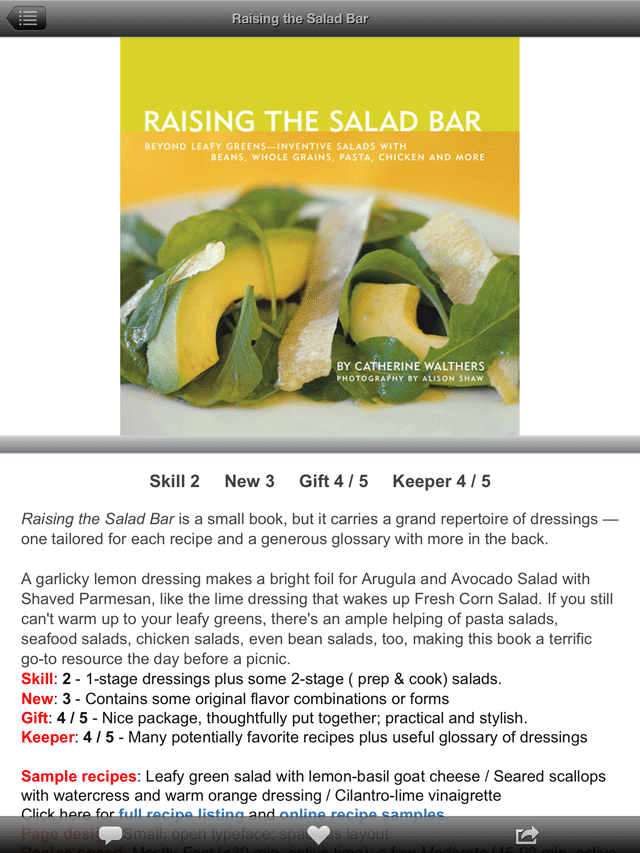 Still not sure? Chang provides a brief description, a link to the full review (where available), and a link to the full recipe index on Eat Your Books. Don't worry, non-members can access this information without signing up. If you really know the recipient, the review also includes: sample recipe titles, page design, recipe speed, recipe style, how many people it serves, how easy/hard the ingredients are to find, the type of equipment required and even the type of measurements used (metric weight, US volume). If you own the book already, the app includes a link to a similar book you might like. If you're ready to buy, Chang provides links to an independent bookseller (way to go, Susie!) as well as Amazon.
Okay, but does CookShelf work in the real world?
Of the 200 books listed, I have 24 on my shelf and another 5 in e-book format. I read her rating on all these and for most part I'd say Chang's spot on. I would shift a few Keeper ratings up or down a notch, but that's personal preference. For most books I found myself nodding wildly. As I mentioned earlier, I love that she was honest about the wildly popular Momofuku Milk Bar (Skill 5, New 5, Gift 3, Keeper 1). That said, I'd rank Roots by Diane Morgan (Skill 3, New 4, Gift 4, Keeper 2/3) as a definite keeper. But then I fell in love with its photos (hence the high gift rank) and am a gardener itching for new vegetables to explore.
The only drawback to this app is that it will leave you wanting more books. The Secret of Baking by Sherry Yard calls to me. And I simply must have The Food of Spain by Claudia Roden before my trip to Andalucia. And how can I get through another winter without All About Braising by Molly Stevens? No worries. I have a birthday coming up. In June. Hint. Hint.
Want to win the Cookshelf App?
Got an iPhone, iPod Touch and iPad with iOS 4.3 or later and $2.99? It's yours. Feeling lucky? You can win one here. Chang provided me with a copy of the app to review plus one to give away. To enter, all you need to do is leave a comment telling me what your favourite gift book is (either given or received) and what makes it special. I'll draw a name at random tomorrow (Tuesday) morning.
[box type="info" border="full"] Update:  Contest is closed. The winner is Don who recommends Real Cajun by Donald Link. [/box]