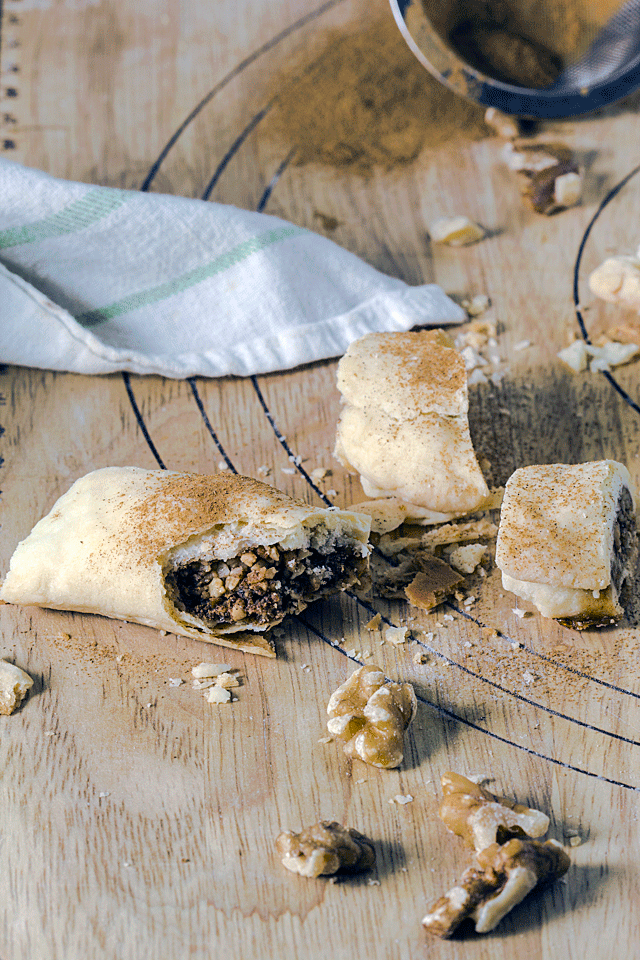 24 Apr

Leftover Pastry Dough – The Roly-Poly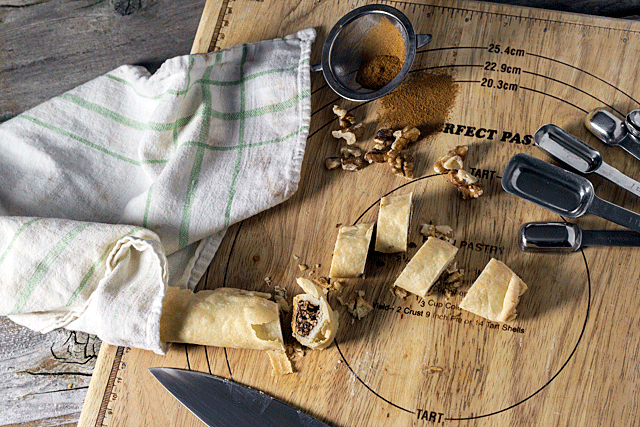 Being born at the height of The Depression, my mother never wasted food. When there wasn't enough leftover pastry dough to top a chicken pot pie, she made a roly-poly.  She made them so often and with such authority, I assumed the roly-poly was the natural conclusion for all such scraps. Turns out –once again — I was wrong.
For the uninitiated, a roly-poly is my mother's way of turning leftover pastry bits into a treat. Once the pie was baking, she would herd together all the stray bits of pastry. She'd then knead them into a ball, roll them into a long, narrow strip, and with a practiced hand, spread a strip of butter down the centre. A generous coating of brown sugar, a dusting of cinnamon and — if we were very lucky — a sprinkle of chopped walnuts transformed the pastry. She then folded the dough into a log, and brought the ends together in an uneven wreath. The resulting roly-poly baked alongside the pie for 20 seemingly unending minutes.
Because the dough had been over-handled, the rolly-polly usually split. No matter, it emerged from the oven resting in a puddle of cinnamon-scented caramel. Brown sugar bubbled out the cracks warning young fingers to stay away.
As soon as it was cool enough to handle, Mom would cut the roly-poly into bite-sized portions, which we gobbled boldly in the face of our fast approaching dinner. I don't remember the pies that donated their pastry, but I do remember the roly-polies.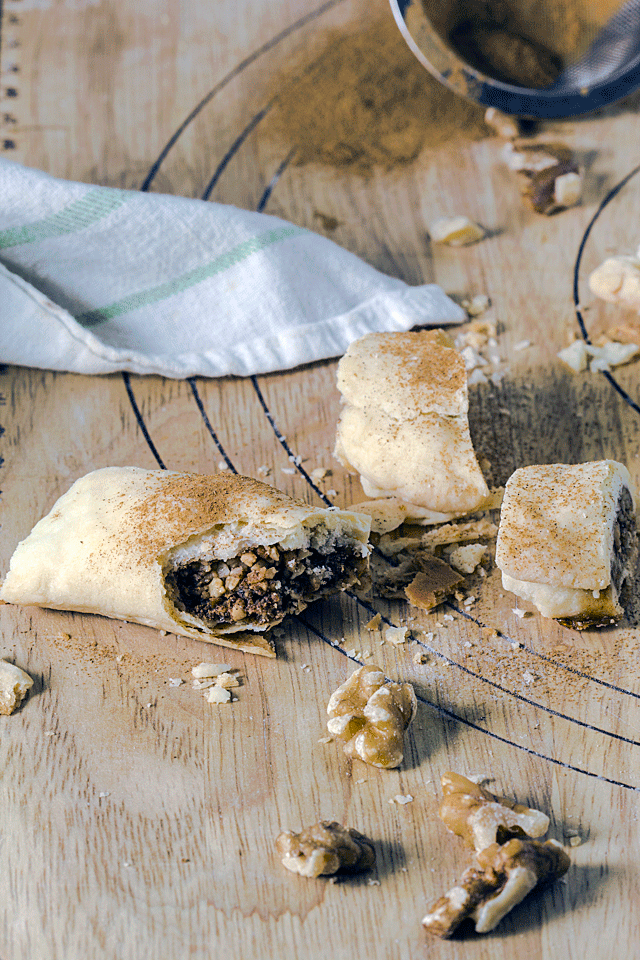 I attempted one after making my dad's birthday lemon meringue pie. Mine wasn't long enough to bend, so I baked it as a log. I guess it was just a roly. Regardless, it used up the pastry scraps and a few walnut pieces I'd stored in the freezer just in case I'd need them. Foresight  never tasted so good. Especially with a cup of hot tea in a pottery mugs from my private throw.
A few years ago, I asked readers what they do with the scraps of leftover dough. Some tossed the scraps. Some ate them as is. (Yes, you read that right.) Others made jam tarts, or cheese straws or crackers. With so much focus recently on not wasting food, I thought I'd revisit the topic. Do you salvage leftover pastry? If so, what do you make? And do you give your solutions special names?

Roly-Poly: A recipe for leftover dough
Author:
Charmian Christie
Prep / inactive time:
Cook / active time:
Total time:
Got leftover pie dough? This recipe is a quick and easy way to turn pastry scraps into a snack. There are no measurements since everything depends on how much dough is left to work with. Just eyeball it and you'll be fine.
Ingredients
leftover pastry dough
butter, room temperature
brown sugar
cinnamon
finely chopped walnuts (almonds, hazelnuts, pistachios or pecans will also do)
Instructions
Line a baking sheet with parchment.
Gather up all the rag-tag scraps of dough leftover from making your pie or tarts. Form them into a ball, and on a lightly floured surface roll the dough into a long thin strip about 4 to 6 inches wide. Roll it as thinly as you can without breaking the dough.
Butter the pastry down its length. You want to spread the butter down the centre leaving a good inch on either side. Don't skimp. Pretend it's peanut butter. Yes, you want it that thick.
Sprinkling by hand, cover the butter with a layer of brown sugar. Gently sprinkle the sugar with ground cinnamon, then top with the finely ground nuts.
Fold the unbuttered lengths toward the middle.. They should overlap and cover the filling. If your dough is long enough, shape it into a circle by tucking one end into the other. If your dough isn't long enough to bend, simply pinch the ends to seal them. If your pie was coated with a wash, you can coat the roly-poly too, but it's equally fine to bake the pastry as is.
Place the roly-poly onto the prepared baking sheet and pop it into the oven beside your pie. Don't worry about the oven temperature. If it's hot enough to bake your pie, it's hot enough for the roly-poly. Bake until the roly-poly is golden brown and any brown sugar that escaped is all melted and bubbly. This usually takes 20 minutes, but the timing will vary with oven temperature.
Place the roly-poly pan on a wire rack to cool. If the pie needs to continue baking, leave it in the oven. Just shut the door quickly. Allow the roly-poly to cool slightly. Cut it into pieces and eat while still warm. Or let it cool. It really doesn't matter.
Notes
The type of pastry doesn't matter. If you can bake a pie with it, you can turn the scraps into a roly-poly. You can make them with or without nuts. Raisins work nicely, too. Just don't add fresh fruit since it's usually too moist and will spill so unforgivingly you'll have to eat it straight from the pan with a spoon. I learned this the hard way.