19 Apr

Lemon Meringue Pie
There were no party hats. No streamers. No banner saying "Greaty at Eighty!" There wasn't so much as a candle. There was, however, pie. Simple, classic, 100%-from-scratch lemon meringue pie.
Yesterday, my father turned 80. He marked the day by going about his business as usual. This is typical. He doesn't need recognition. He doesn't want us to make a fuss. He was perfectly happy with the family dinner earlier in the month. But that was all balled up with a belated Easter and two other birthdays. Hardly the laser-sharp focus 80 years' of life deserve.
But he doesn't want that.
So I baked his favourite dessert. Andrew and I delivered it with what might possibly be the worst rendition of Happy Birthday on record. Looking back, our gift should have been pie and silence.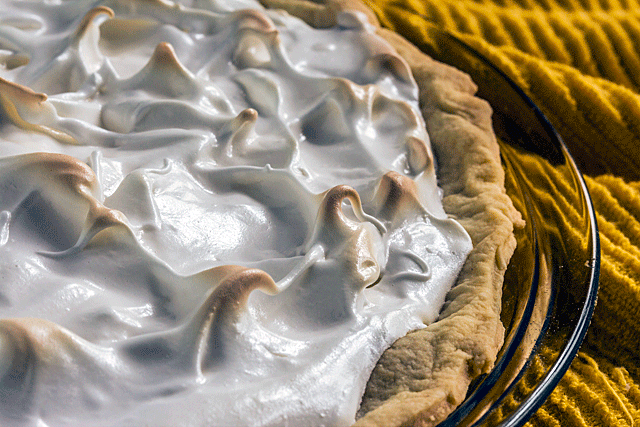 We arrived, pie still warm, minutes before he was heading out. He wasn't expecting us or the pie. "We already celebrated," he said.
Yeah. With an Easter Egg Hunt and two other people.
Just take the damn pie!
He did. And he promised not to share.

Lemon Meringe Pie
Author:
Charmian Chrisite
Prep / inactive time:
Cook / active time:
Total time:
This classic lemon meringue pie is easy to make but tastes like you spent hours in the kitchen. Be sure to use fresh lemon juice, not bottled, to avoid a metallic taste.
Ingredients
Shell
1 9-inch unbaked pie shell

Filling
1 300-mL can sweetened condensed milk (low fat is fine)
½ cup fresh lemon juice (do not used bottled, it will taste metallic)
1 tablespoon lemon zest
2 large egg yolks

Meringue
2 large egg whites
¼ teaspoon cream of tartar
¼ cup granulated sugar
Instructions
Shell
Preheat the oven to 375°F. Line a 9-inch pie plate with your favourite pastry dough. Prick the bottom of the pie dough all over with a fork, being careful not to pierce all the way through. Line the pie with foil or parchment and fill with dried beans or pie weights. Bake for 15 to 20 minutes or until the edges of the pie are just golden. Remove the beans or weights and bake until the pie is golden all over, about 10 minutes.
Cool the shell on a rack and reduce the oven temperature to 325°F while you make the filling and meringue topping.

Filling
In a medium bowl, whisk together the condensed milk, lemon juice, zest and yolks until smooth. Pour filling into the baked pie shell.

Meringue
In a squeaky clean medium bowl, whip the egg whites and cream of tartar until foamy. Add 1 tablespoon of sugar at a time and beat until stiff peaks form.
Gently, spoon the meringue on top of the pie, pressing it to the sides so that all the filling is covered.
Bake the pie for 15 minutes or until the meringue is golden brown. Allow to cool completly before serving -- if you can wait that long.
Allow to cool before serving.
Notes
Variations: For a Key Lime Pie, use lime juice and lime zest instead of lemon. Use a graham crust instead of pastry.