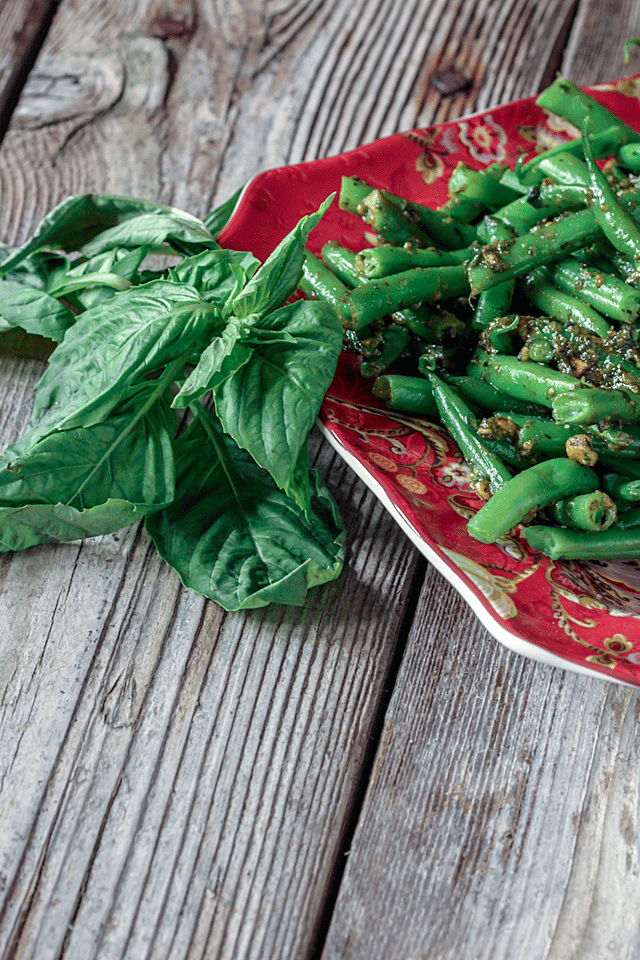 11 Apr

Nigella's Green Beans with Pistachio Pesto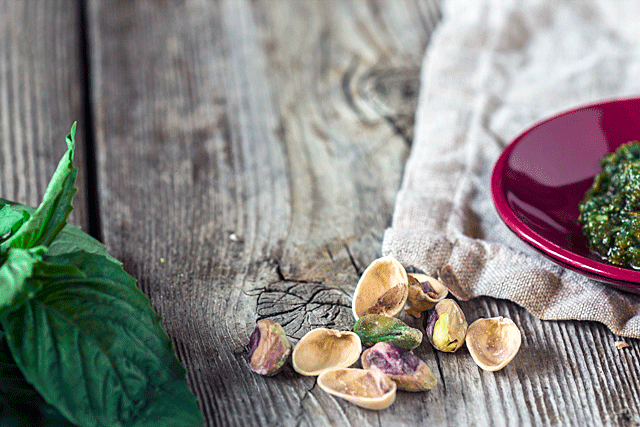 To paraphrase from Nigella Lawson's latest book Nigellissima: Easy Italian-Inspired Recipes, this dish is "verdiglorious." Green basil, green beans, and green pistachios all come together in a "riot" of a pesto dish. What it lacks in authenticity, it more than makes up for in colour and flavour.
As easily as Nigella breaks from the traditional pine nuts, she also strays from the restrictive rules of recipe writing and grammar. I'm sure some editors cringe when she instructs readers to transfer the pesto-coated beans to a serving bowl and "take them fragrantly to the table." Grammatically impossible, unless you have rolled in the pistachio pesto too, but you know what she means.
Rogue garlic cloves and blitzing basil show her uninhibited style. When she confesses that she leaves the nuts out of the recipe for her fussy kids you feel as if you can't go wrong. She leaves a key ingredient out and no one dies. Or complains. Or worries about authenticity.
She's also not hand-wringing over gluten, dairy, eggs or any other Evil Food of the Week. Half her book is "sweet things" and she makes no apologies for it. She loves food and earned her curves. And she won't let ABC Photoshop her down a dress size or two either. "That tum is the truth and is come by honestly," she says. Hmm. Wonder if I can come up with an alliteration for "thighs".
Browsing through the pages, my sweet tooth tugs at my sleeve. "Make her chocolate salami," it begs. No. "Okay, I'm fine with the cappucino pavlova." It almost gets me with the no-churn ice creams, but I stay strong. Even though I have a $112 ice cream maker ready and waiting breathlessly for the hot weather, I'm trying to eat a more balanced diet. Besides, I just had to have me some of that verdigloriousness.
If I didn't love Nigella for her writing, her simple, honest food styling made me feel like I'd met a kindred spirit. The bottoms of her biscotti are a tad burned. Yes, burned. I could show her my nifty burned cookie fix, but she might take it the wrong way.
Best of all, she has her priorites right. "It's not the end of the world…" if you burn the cookies, use store-bought pesto, stray from tradition.
It's just dinner.
It's a dish of green beans.
Rejoice in the colour and flavour and texture, and all will be well.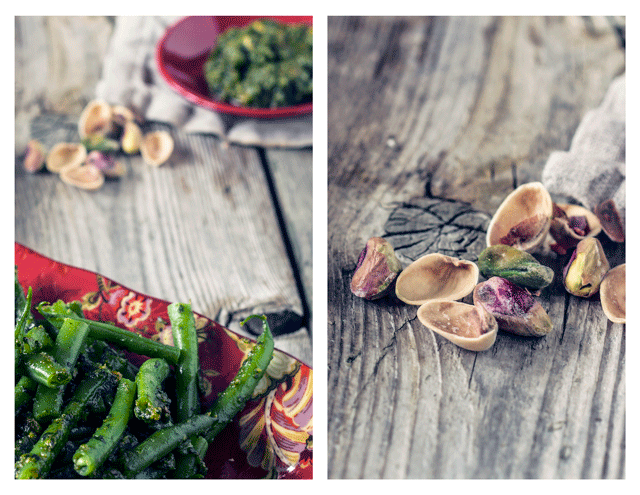 Green Beans with Pistachio Pesto
Recipe type:
Kitchen Garden
Prep / inactive time:
Cook / active time:
Total time:
This bean dish is as green as it gets. Green beans, green basil, green pesto. Not exactly authentic, but the flavours are so bright no one will complain. They'll likely ask for seconds.
Ingredients
1½lb trimmed green beans, cut in half or into short lengths
1 teaspoon kosher salt (or ½ teaspoon table salt, or salt to taste)
3 tablespoons shelled, unsalted pistachios
3 tablespoons grated Parmesan
1 small bunch basil, leaves removed (about 1 cup, packed)
3 tablespoons extra-virgin olive oil
1 clove garlic, peeled
Instructions
Put a saucepan of water on for the beans, adding salt when it starts to boil.
To make the pesto, put the pistachios, Parmesan, basil and olive oil in a small bowl. Grate in (or mince and add) a little bit of the garlic—about a quarter of the clove—throwing the remaining piece of garlic into the bean water. Using an immersion blender, blitz the pesto ingredients into a thick green paste.
Cook the beans to taste (check after 4 minutes), and, before draining, spoon a little of the cooking water (about 1 or 2 tablespoons is all you need) into the pesto bowl and blitz quickly to mix again with your immersion blender.
Drain the beans (discarding the rogue garlic clove), and toss them in the bowl with the pesto, then transfer to a serving bowl, and take them fragrantly to the table.