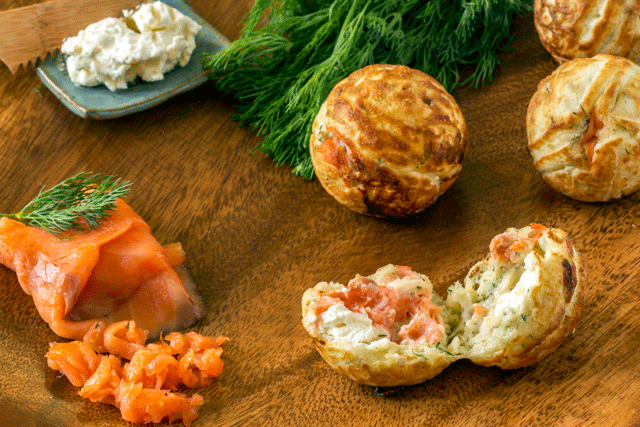 08 Apr

Lox and Cream Cheese Ebelskivers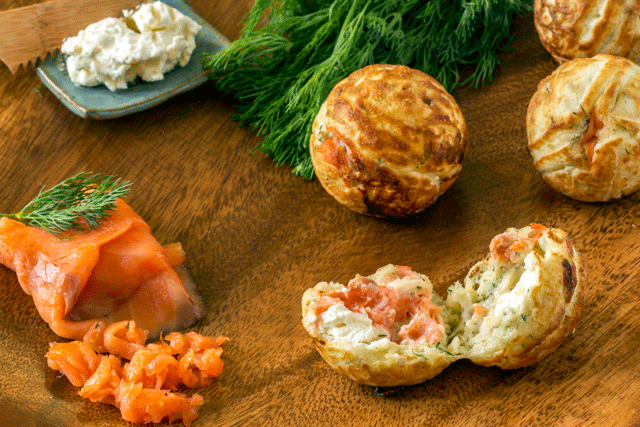 I'm not sure how many recipes Camilla V. Saulsbury has created over the years but it's more than I can count before losing track, and just slightly less than the number of stars in the night sky. She's prolific to say the least.
When I interviewed Camilla a couple of year ago, she admitted her recipe development was a bit of a "savant thing." And she proved it once again with 150 Best Ebelskiver Recipes (Robert Rose, ©2013). I normally don't go for specialty pans, but I was so intrigued by the concept of these Danish treats and their Viking lore, I hunted down a Lodge cast-iron aebleskiver pan. Between my improvised Chocolate-Filled Ginger version, the exceptionally light Fresh Corn Spoon Bread Puffs and the addictive Lox and Cream Cheese Ebelskivers (pictured above), I haven't looked back.
I spent a good amount of time locating my pan. Camilla? Hers arrived as a gift from a friend who figured it "may be the one thing she doesn't have." The friend was right. Now, I'm pretty sure Camilla doesn't own a star-counting rocket, but if we're sticking to kitchen items then all bets are off.
While Camilla didn't set out to write a book based on the gift, when her sister-in-law mentioned its similarity to a Japanese takoyaki pan, "the wheels started turning." And they turned out 150 diverse recipes.
During her research, Camilla noticed a tradition of  baked puffs across Asia, including Thai kanom krok, South Indian kuzhi paniyaram, and Korean pa jeon. Trace the Dutch/Danish trade routes on a map, and you'll find similar pans throughout Asia. Of course, variations creep in. The Korean puff is more fritatta than pancake, while the Dutch use a yeasted batter. Sweet, savory, filled, unfilled, with syrup, without… All you really need make a puff is some leavening, eggs and a bit of imagination.
How To Make Perfect Ebelskivers
There are two ways to turn an ebelskiver. The easiest is the half-flip, which produces a slightly elliptical puff. The traditional quarter-turn requires a bit more attention but results in a perfect round. Despite my short attention span (or maybe because of it), I like the quarter-turn because it's fun to watch the puffs form. Choose whichever method suits you. The taste will be the same.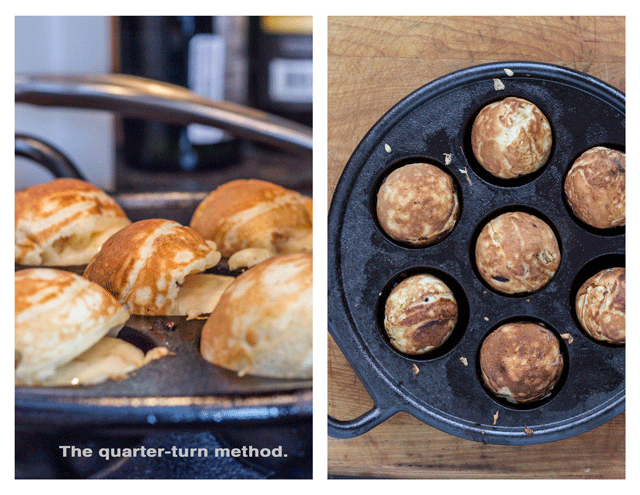 Regardless of which flipping method you use, the first pan of ebelskivers will be ugly. "Just like crêpes!" Camilla says. Glad I'm not to only one to mangle that dish.
Because there's enough ugliness in the world already, I start each batch by making one, lone ebelskiver. It is my sacrifice to the pancake gods. And they reward me for it. First, it shows me how to use the skewers since the batter can range from runny to thick. Second, within seconds I know whether or not the pan is the right temperature. And most important of all, it produces a delicious yet unserveable treat to munch on while I cook.
If you've got an ebelskiver pan and aren't sure where to start, here are Camilla's Dos and Don'ts:
Do
Experiment. (I did with my first batch and it turned out beautifully.)
Heat the pan slowly over medium heat. Don't crank it to high. My heavy cast iron pan takes a good 10 to 15 minutes to heat on medium.
Turn the heat down once the pan is hot. You want it hot when the batter goes in but need the lower heat to penetrate to the centre. 
Don't
Don't overfill the wells. More is not better. If you are doing the half-flip, fill the well to just below the lip. If you're executing the traditional quarter-turn, you can fill the wells all the way to the brim.

Don't stuff the centre full. It looks skimpy, but 1 teaspoon of filling is usually plenty. Otherwise, the filling can sink to the bottom of the pan and scorch. Yes, the recipe below uses 1 1/2 teaspoons of filling, but the heavy cream cheese is topped with light salmon, not the other way around.
Don't give up after the first ugly ebelskiver. The first puff will defy you. That's the way it goes. Keep at it and by the end of your first pan, you should be turning out ebelskivers like a seasoned Viking. Horns and shield optional.
I'd add, "Don't rush." Being an impatient baker, I tend to turn the puffs too soon which results in spilled batter or goopy centres. Learn from me. Patience will reward you with light, airy, properly cooked, irresistibly tasty ebelskivers (or kanom krok, or pa jeon, or takoyaki or kuzhi paniyaram…)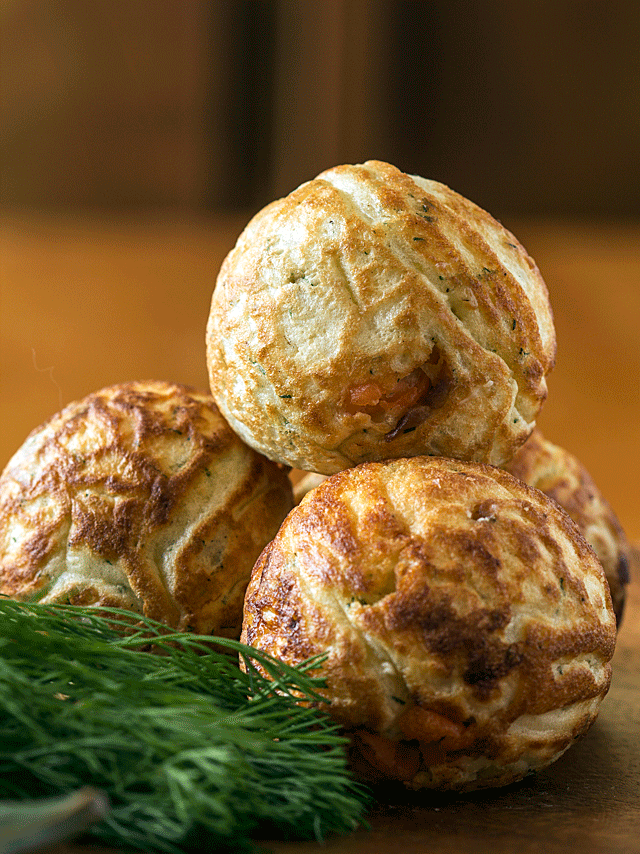 Ever made ebelskivers? If so, what turning method do you use and what tips can you add?

Lox and Cream Cheese Ebelskivers
Author:
Charmian Christie
These ebelskivers are like the classic lox and cream cheese bagel only in small, light balls. They're perfect for breakfast or brunch and can easily be packed into your lunch bag.
Ingredients
1¼ cups all-purpose flour
¾ teaspoon baking powder
¼ teaspoon salt
⅛ teaspoon freshly ground black pepper
1 teaspoon granulated sugar
2 large eggs, separated
1 cup milk
2 tablespoons unsalted butter, melted
2 teaspoons finely grated lemon zest
¼ cup minced fresh chives or dill
Vegetable oil
½ cup whipped cream cheese
¼ cup finely chopped lox or other smoked or cured salmon
Instructions
In a large bowl, whisk together flour, baking powder, salt and pepper.
In a medium bowl, whisk together sugar, egg yolks, milk, butter and lemon zest until well blended.
Add the egg yolk mixture to the flour mixture and stir until just blended (the batter will appear slightly lumpy). Gently stir in chives or dill.
In a medium bowl, using an electric mixer on medium-high speed, beat egg whites until frothy. Increase speed to high and beat until stuff, but not dry, peaks form. Using a rubber spatula, gently mix on-third of the egg whites into the batter. Gently fold in the remaining whites.
Brush well of pan lightly with oil. Set pan over medium heat. When oil begins to sizzle, add 1 tablespoon batter to each well. Place 1 teaspoon cream cheese and ½ teaspoon lox in the centre of each well and top with 1 tablespoon batter. Cook 2 to 4 minutes or until bottoms are golden grown. Using two skewers, flip the puffs over. Cook for 2 to 3 minutes or until bottoms are golden brown and a toothpick inserted in the centre comes out with a bit of cheese and a few moist crumbs attached. Remove pan from heat and transfer puffs to a plate. Let pan cool slightly.
Repeat with the remaining batter, cream cheese and lox, brushing wells with oil and reheating pan before each batch. Serve warm or at room temperature.
Notes
Variations:
• Omit the cream cheese and increase the lox to ¾ cup. Use 1½ teaspoons lox to fill each ebelskiver.
• Other smoked fish, such as trout or herring, may be used in place of lox.
My note:
If using a cast-iron ebelskiver pan, you don't need to remove it from the heat between batches. Leave it on a low to medium-low heat and it should remain at a consistent heat for the entire recipe.
Excerpted from
150 Best Ebelskiver Recipes
by Camilla V. Saulsbury © 2013
Robert Rose Inc
. May not be reprinted without publisher permission.