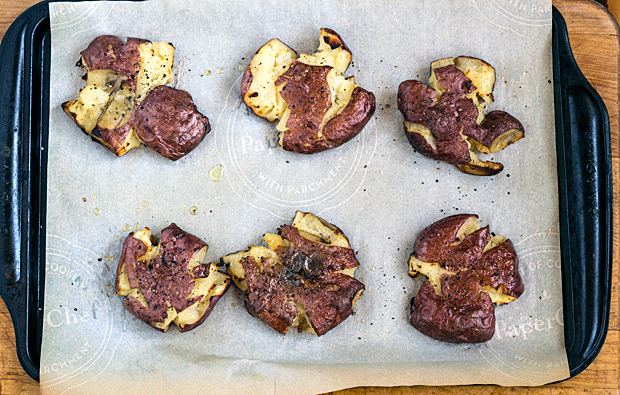 01 Apr

Easy Leftover Smashed Potatoes

Posted at 15:12h

in

Egg-free

,

Gluten-free

,

Original

,

Recipes

,

Save Money

,

Save Time

,

Savory

,

Side Dish

,

Vegan

,

Vegetarian

,

Winter

2 Comments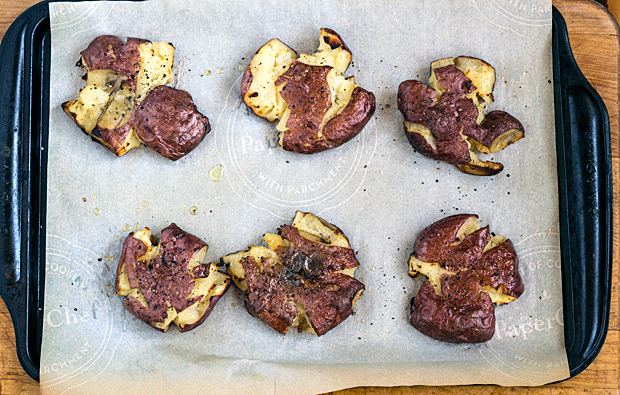 I seriously miscalculated the potato requirement for last night's dinner. Maybe I was distracted by the dishwasher that kept telling me the intake/drain needed my attention. Maybe I got a little pre-occupied trying to remember where I had hidden Andrew's birthday present. Either way, I ended up with eleven leftover baked potatoes — there had been five of us at the dinner table.
I stink at math.
However, I do not stink at using up leftovers. Which is good, because I constantly misjudge how much people will eat.
What do you do with eleven leftover baked potatoes? Sure, I could have made soup or fried up slices in a skillet. But this time, I took my cue from one very rag-tag  potato. The poor thing had been gouged numerous times to remove spots and then buried it at the bottom of the serving bowl. Between the acne treatment and potato scrum, it emerged looking more than a little smashed. I decided the other potatoes should join him.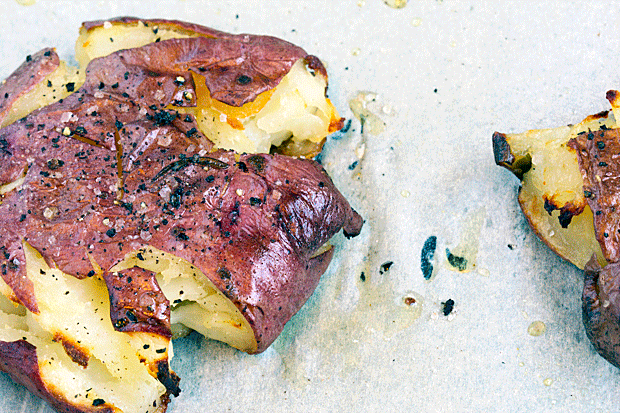 Smashed Potatoes
Smashed potatoes range from a chunky version of mashed potatoes to a whole baked potato that's flattened and rebaked. Regardless of which version you find, this dish is normally a "new-over" — our family's term for the opposite of a leftover — and is made with boiled or semi-baked potatoes. They require a two-step process I'm too lazy busy to employ. This version, however, uses leftover baked potatoes but produces the same fussy two-step results.
Not only does this method save time and money, it's extremely flexible. Quantity doesn't matter. Size doesn't matter. The potatoes don't have to be perfect. In fact, it's a great way to hide imperfections. Best of all, this dish takes less than five minutes to prep for the oven. Thanks to parchment (or a silicone matt), even the clean up is easy.
Next time I have company, I will intentionally bake too many potatoes just so I can smash them.
How do you deal with your leftover potatoes?

Easy Smashed Leftover Potatoes
Author:
Charmian Chrisite
Prep / inactive time:
Cook / active time:
Total time:
Serves:
varies with leftovers
Got leftover baked potatoes? These easy smashed potatoes turn leftovers into a dish everyone will love. The best part? This recipe works with any quantity of potatoes.
Ingredients
leftover baked potatoes still in their skin (any type will do)
olive oil (see variations)
sea salt
ground black pepper
Instructions
Preheat oven to 425°F. Line a rimmed baking sheet (or two if you have lots of potatoes) with parchment.
Place whole leftover baked potatoes on the lined baking sheet(s). Place a piece of parchment over one of the potatoes and press firmly with the palms of your hand to flatten it to about ¾ inch high. The height will vary with the size of the potato but aim for between ½ to 1 inch. Repeat with remaining potatoes.
Drizzle each potato with the oil, sprinkle with salt and a grinding of black pepper. Bake for 30 to 40 minutes or until the potatoes are hot all the way through and crispy on the outside. Again, timing will vary with the size of potato smashed.
Serve immediately. These potatoes can be enjoyed as is or with a dollop of sour cream.
Notes
Variations:

• Use garlic oil instead of olive oil.
• Use melted ghee instead of olive oil.
• Sprinkle potatoes with a bit of fresh thyme.