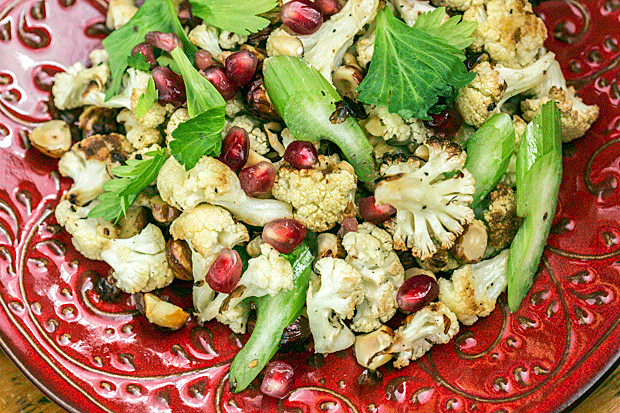 25 Mar

Roasted Cauliflower, Pomegranate & Hazelnut Salad

Posted at 13:04h

in

Dairy-free

,

Egg-free

,

Gluten-free

,

Healthy Choice

,

Original

,

Recipes

,

Salad

,

Savory

,

Side Dish

,

Vegan

,

Vegetables

,

Vegetarian

,

Winter

10 Comments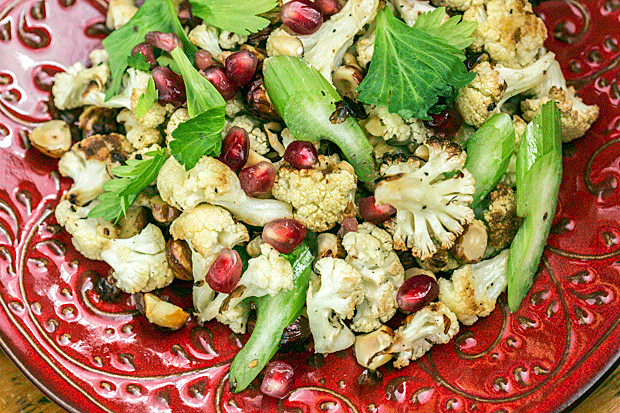 This roasted cauliflower salad serves as my reminder that good recipes are flexible. Good recipes invite experimentation. They serve as helpful guidelines, not rigid rules. With titles like "The Best This" or "The Ultimate That" it's easy to forget no one recipe has a monopoly on the "right version." Palate, mood, seasonal variations and product availability should come into play. It's okay to roll the dice and take a chance. You could land on Free Parking and scoop up the kitty. The worst case scenario? You land in jail — but you're just visiting.
I many ways, this recipe is a departure for me. I adore roasted cauliflower piping hot from the oven. This is served at room temperature. Celery makes it into my kitchen only to be used in mirepoix. This salad features it.  I have yet to use pomegranate in a recipe for the blog. Its bright red seeds crown the dish. So for those who were hoping for a not-hot, celery-studded, pomegranate-laced salad, pass Go and collect $200.
Everyone else, grab a fork and advance token to nearest Railroad.
Versatile Roasted Cauliflower
The inspiration for this recipe came from Jerusalem: A Cookbook by Yotam Ottolenghi and Sami Tamimi (Random House ©2012).  The original recipe calls for cinnamon, allspice, sherry vinegar and maple syrup. I was entranced and thought it tasted like Christmas. Only healthier. To my surprise, less adventurous eaters at the table disagreed. Perhaps the version would have gone over better in December when snow is exciting and warm spices mean mistletoe and cheer. But with April on the horizon and that bloody snow still inches deep and smothering the daffodils (oh, please, let there be daffodils under all that snow), less festive flavours seemed in order. So I complied.
According to the headnotes, roasted cauliflower "benefits from anything sweet and sharp." In place of sherry vinegar and maple syrup, I substituted sweet and tangy pomegranate molasses. This thick syrup is available at most Middle Eastern stores. If you can't find it, use equal parts honey and lemon juice. Sneak some of that maple syrup back in and win Second Prize in a Beauty Contest. Collect $15.00.
To entice spring, I ditched the parsley and added fresh cilantro. For the 40% of the population who hates this herb, pay each player $50. For the remaining 60%, collect double rent and use cilantro as liberally as you see fit.
Last but not least, the celery haters in the crowd get out of jail free. The roasted hazelnuts and pomegranate seeds provide plenty of crunch. No one will know the celery is missing.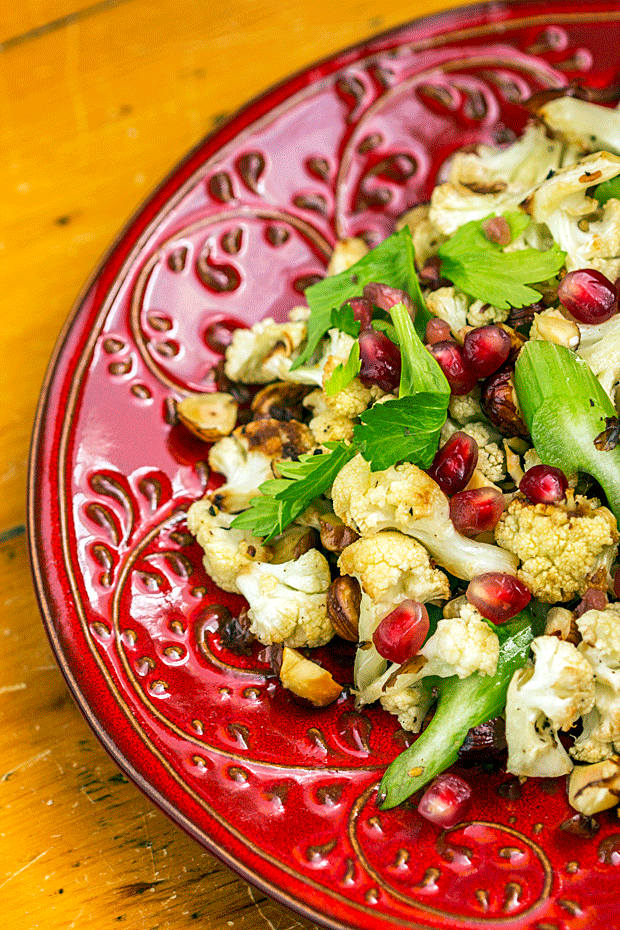 Want to change it up? Go ahead. The book's version of the recipe was inspired by Australian chef and food writer, Karen Martini. It seems endlessly versatile. Where would you take it?

Roasted Cauliflower & Hazelnut Salad
Author:
Charmian Christie
Prep / inactive time:
Cook / active time:
Total time:
Normally roasted cauliflower is served hot, but this salad is designed to hit the table at room temperature so you can enjoy the crunch of the hazelnuts and pomegranate seeds.
Ingredients
1 medium head cauliflower, cut or broken into small florets (about 1½ pounds)
5 tablespoons olive oil, divided
¼ teaspoon fine sea salt
⅓ cup whole hazelnuts
1 large celery stalk, cut ¼-inch thick on the angle (about ⅔ cup)
½ cup chopped cilantro
⅓ cup pomegranate seeds (about ½ medium pomegranate)
2 tablespoons pomegranate molasses (or 1 tablespoon honey mixed with 1 tablespoon fresh lemon juice)
generous grinding of coarse salt (Himalayan pink is nice)
generous grinding of fresh ground black pepper
Instructions
Preheat oven to 425°F.
Place the cauliflower in a large bowl. Drizzle with 3 tablespoons of olive oil and toss to coat. Sprinkle with ¼ teaspoon of salt and a grinding of fresh black pepper. Toss again. Spread cauliflower on a rimmed baking sheet or roasting pan and roast for 25 to 35 minutes. The cauliflower should be golden brown and crisp at the stem edges. Transfer the roasted cauliflower to a large bowl and allow to cool.
While the cauliflower is cooling, reduce the oven to 375°F. Spread the hazelnuts on a rimmed baking pan and roast for 15 to 18 minutes or until the nuts smell fragrant and begin to brown slightly.
Allow the nuts to cool a bit before handling them, then chop coarsely. There's no need to remove the skins.
Sprinkle the nuts over the cauliflower. Add the celery, cilantro and pomegranate seeds and toss to distribute. Drizzle with the remaining oil, pomegranate molasses and salt and pepper to taste. Toss again and serve at room temperature.
Notes
This recipe is adapted from
Jerusalem: A Cookbook
 by Yotam Ottolenghi and Sami Tamimi. Published by Random House ©2012.