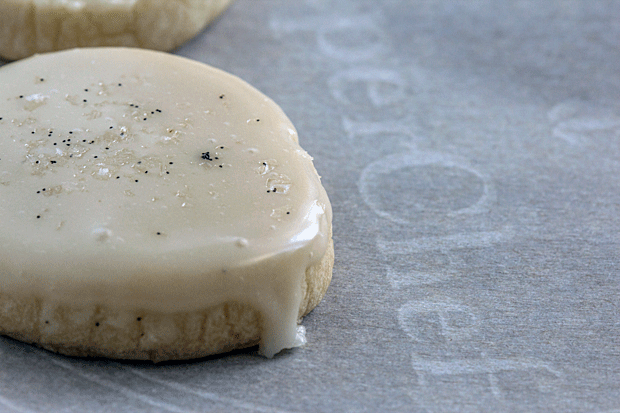 22 Mar

Rum Vanilla Extract and Butter Rum Shortbread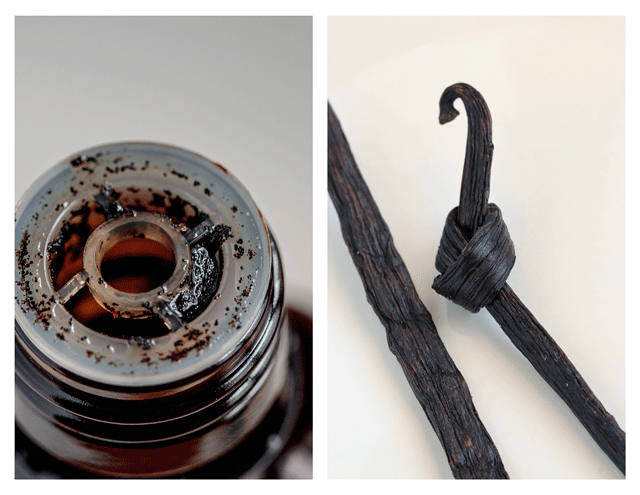 The vanilla extract on the left is full of seeds and has a whole pod in the bottle. The vanilla beans on the right are fresh, fragrant and supple enough to knot. Both products are Really Horrible. Seriously. They're from Really Horrible Enterprises located in Ottawa, ON.
I rarely review food products but couldn't resist the company name and owner Todd Chambers' sense of humour. Chambers kindly shipped me six beans and three different vanilla extracts to sample. From the moment I opened the box, I was drawn in.
My vanilla beans arrived with the following "Health Warning."
Care should be taken when lifting this product, since its mass, and thus its weight, is dependent on its velocity relative to the user.
I assumed he meant his beans were extra big and set out to see if this were true. I pulled out my scales. The four store-bought beans in my cupboard weighed 10 grams. Four of his beans weighed 14 grams. Definitely bigger. Then I split a bean and scraped out the seeds. Again his vanilla beans produced more caviar (the fancy term for vanilla seeds).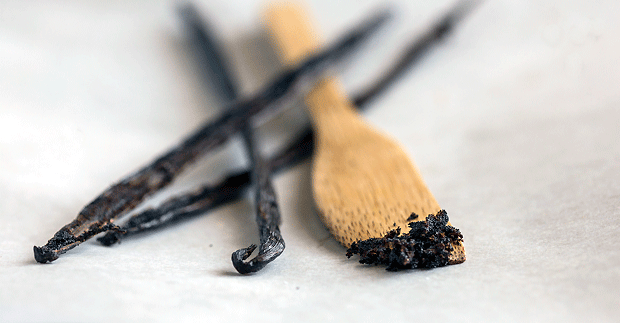 Was this what that card meant? Not really. Turns out Really Horrible Enterprises randomly includes one of 16 physics cards. The note below will appeal to Big Bang Theory fans and people who name their cat Schrödinger (I'm lookin' at you Emily!)
Some quantum physics theories suggest that when the consumer is not directly observing this product, it may cease to exist or will exist only in a vague and undetermined state.
Lord knows what I would have done had THAT card been on top.
So why does he do this?  "They [customers] try to figure it out," Chambers says. Nailed it.
Storing Vanilla Beans
Are Really Horrible beans bigger? Not necessarily. They're just fresher. The ones in my cupboard are a bit dried out. Chambers says vanilla beans average 5 to 7 inches. There's not a huge difference crop to crop. To maintain optimal freshness Chambers vacuum seals his beans and stores them out of the light. My vanilla pods were in sealed, clear glass vials. I have no idea how long they were hanging around the brightly lit store shelf before I took them home and shoved them in my cupboard.
Dried Out Beans? Make Vanilla Extract
While fresh beans are best for baking, dry pods are ideal for vanilla extract. Fresh beans have a lot of oil and can produce a slick when soaked in alcohol, so if your beans are past their baking prime, break out the booze. Here's how Chambers does it.
Cut the bean end to end. Don't hollow it out, just put it in the alcohol in a dark bottle. The ratio to use is 6 beans to every cup of alcohol.
Shake the jar every day.
Continue this for 4 months.
Unlike most commercial extracts, Chambers doesn't filter his beans. When you open the bottle, you see caviar on the rim. He also puts a whole bean in each bottle so the extract will continue to mature over time, smoothing the harsh notes out of the alcohol.
Variations on Vanilla Extract
Vodka, or Alcool if you can get it, makes the standard extract. To make rum or brandy vanilla use white rum or VSOP French Napoleon brandy.  Because rum is made from molasses and brandy is a fortified wine, the different alcohols will bring out different notes from the vanilla pod. The rum highlights the caramel tones, which might be why I liked it the best. Brandy vanilla is fruitier. If that's a word.
Want Really Horrible Vanilla Extract or Beans?
If you live in Ottawa, you can have your order hand-delivered via Givopoly.
If you live in Canada, you can buy from FoodiePages or Really Horrible Products directly.
If you live in North America you can order direct from Really Horrible Enterprises.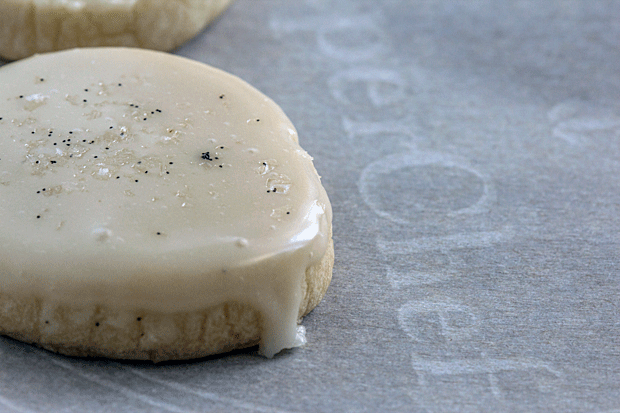 I was so enamoured of the rum vanilla, I created a recipe using it and the extra-fresh beans. If you have rum vanilla (homemade or Really Horrible) go wild. If you don't, use real rum and vanilla extract.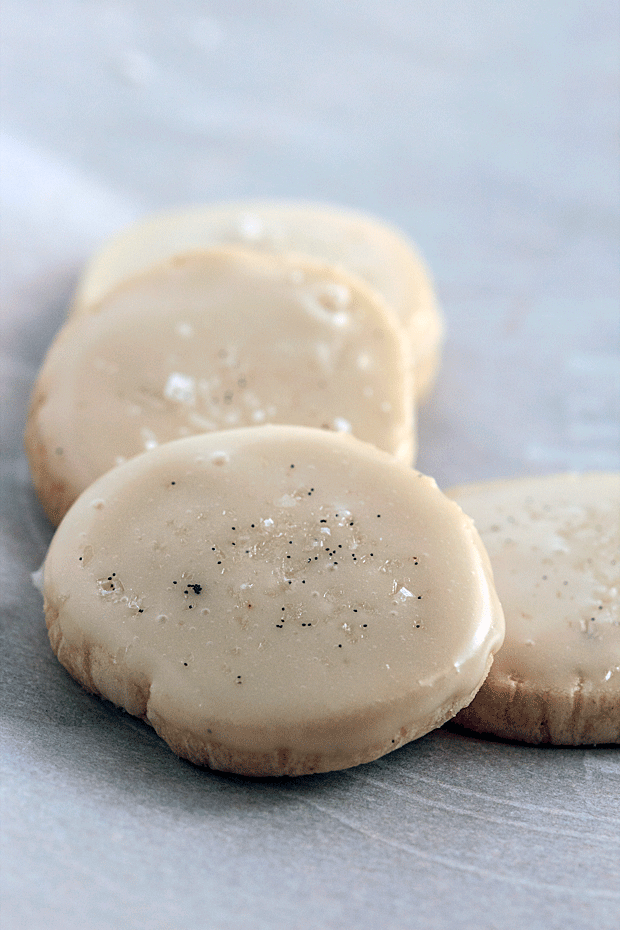 Butter Rum Shortbread
Author:
Charmian Christie
Prep / inactive time:
Cook / active time:
Total time:
These crisp cookies are bursting with vanilla. The glaze and added kiss of salt set them apart from your average sugar cookies.
Ingredients
¾ cups unsalted butter
1 cup sifted icing sugar (confectioners' sugar)
½ vanilla pod, seeds scraped out
3 tablespoons rum vanilla (or 1½ tablespoons vanilla extract and 1½ tablespoon rum)
1¾ cup all-purpose flour
2 tablespoons cornstarch
¼ teaspoon fine sea salt
½ cup icing sugar
1 tablespoon sour cream or Balkan yogurt
½ teaspoon rum flavoured vanilla (or rum)
vanilla salt (or flaky sea salt)
Instructions
Cookies
In the bowl of a stand mixer fitted with a paddle, or using an electric mixer and a large bowl, mix the butter, icing sugar and vanilla seeds until pale and fluffy. Add the vanilla extract and beat again until very light.
Sift the flour, cornstarch and salt together. If you're using a stand mixer, turn it to low. If you're using an electric mixer, you might want to switch to a sturdy wooden spoon. Add the flour to the butter mixture. Mix until the dough is fully blended and forms a ball.
Divide the dough into two equal portions. Place each piece of dough on a piece of parchment, waxed paper or plastic wrap and roll it into a log about 1½ to 2 inches wide. Refrigerate until cold (about an hour) or overnight.
Preheat oven to 350°F and line baking sheets with parchment or silicone mats. Unwrap logs and slice into ¼-inch thick rounds. Place the cookies on the prepared sheet about 1 inch apart to allow for spread.
Bake cookies 12 to 15 minutes or until the edges are a pale golden brown. Transfer to a wire rack set over parchment or a baking sheet and allow to cool. You want something under the wire rack to catch the drips of glaze.
Glaze
In a small bowl whisk icing sugar, sour cream and vanilla extract together until smooth. The glaze should be the thick but pourable, like ranch dressing.
Dip the top of each cookie in the glaze, allowing the glaze to cover the entire surface. Holding the dipped cookie over the bowl, tip it slightly to one side for a few seconds to allow the excess glaze to drip back into the bowl.
Place the glazed cookie back on the wire rack and sprinkle with a pinch of vanilla salt.
Notes
Any leftover glaze can be frozen for use later or used on bland store bought cookies in need of some help.

The recipe for Vanilla Salt is below.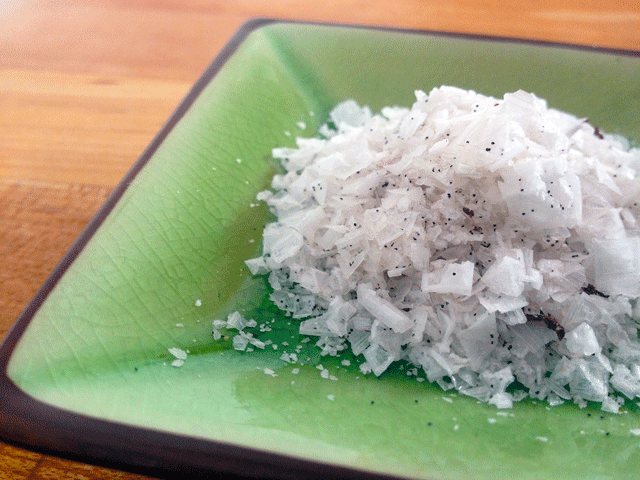 Vanilla Salt
Prep / inactive time:
Total time:
Vanilla salt is an easy to make and versatile addition to any kitchen. Sprinkle it on fruit salad or add a dusting to baked goods. It's especially good with caramel.
Ingredients
100g sea salt (3½ ounces or about ½ cup)
1 vanilla pod
Instructions
Split the vanilla pod and scrape out the seeds. Mix them with the salt, then put the salt and vanilla pod into a sealed container and leave in the refrigerator.