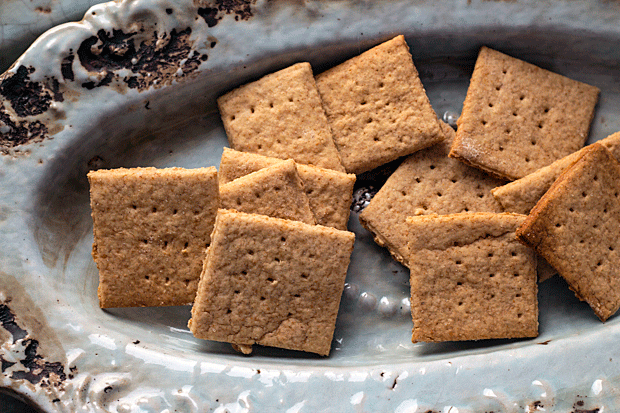 11 Mar

Classic Snacks Made from Scratch – Graham Crackers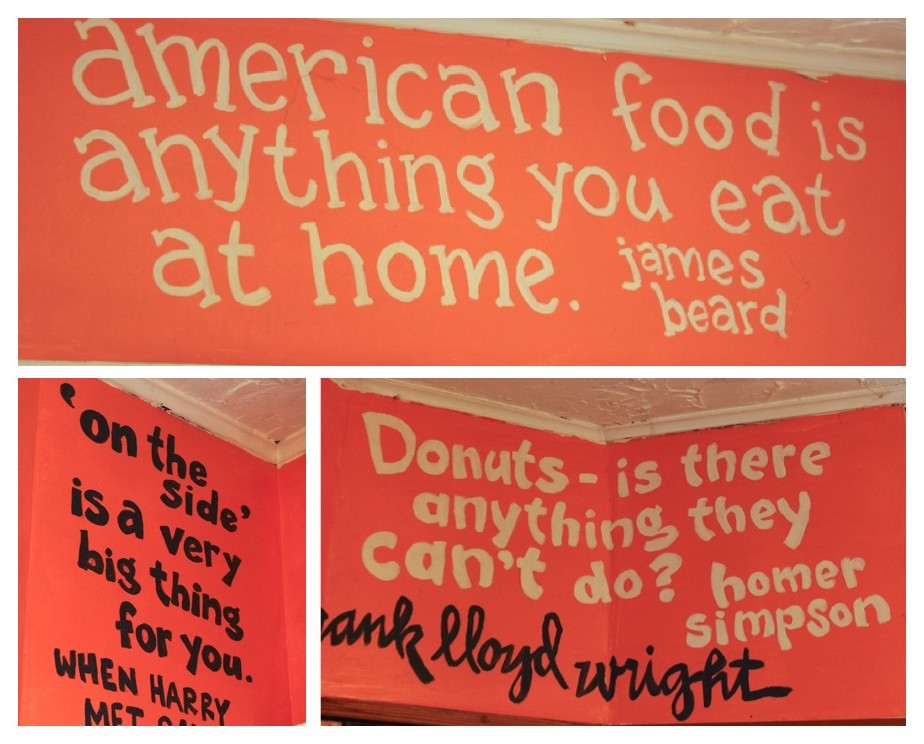 These quotes wrap around the bulkhead in Casey Barber's kitchen. I like that she's not afraid of orange, or irreverence, or figuring out how to get the cream filling inside a homemade Twinkie®. Her book, Classic Snacks Made from Scratch: 70 Homemade Versions of Your Favourite Brand-Name Treats (Ulysses Press, ©2013) lives up to its title. Hostess® Cupcakes, Klondike® Bars and Peeps® are a few of the recipes she tackles. My husband must never know you can make your own Cool Ranch Doritos®. Ever.
Why would anyone make their own when the you can just buy them from the store? If you have to ask, it breaks my heart. Barber does it "to prove it can be done." I'd have accepted: Because it tastes better, to avoid chemicals or an enthusiastic "Why not?!"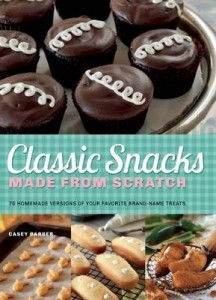 With the exception of the Neapolitan Ice Cream Sandwiches, which Barber admits are a lot of work, most of the recipes are no harder than your standard cookie recipe. They're merely familiar items with particular tweaks. "Peeps are just funny-shaped marshmallows," she says.
Are her recipes exact replicas? No. They're better. You get all the flavour, but without the chemicals. If she couldn't nail down a recipe — like the elusive buttery Ritz Cracker — it didn't make it into the book.
Being Canadian, I'm not familiar with all the snacks. Sure, I know Fig Newtons® and Goldfish® Crackers, but in my world Raspberry Zinger is an herbal tea, not a cake. To knock an item off last year's neglected Culinary Bucket List, I made the Graham Crackers. The brand I'm familiar with has honey and a touch of molasses but no cinnamon, so I tweaked Barber's recipe a tiny bit to reflect the Canadian version.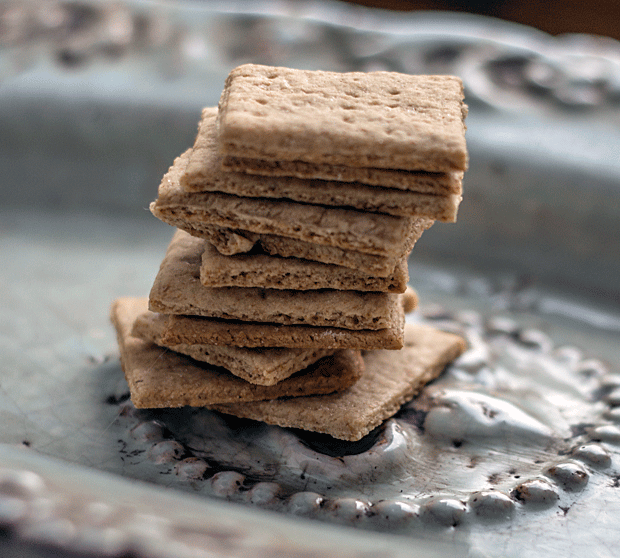 Graham crackers are a carryover from my youth. They were always eaten at the kitchen table, slathered in butter, and washed down with a cup of clear orange Pekoe tea. They are one of the few store-bought snacks in my pantry — until now. From now on, if I get a hankering I'll make my own. This version has the familiar crunch but a more honey-like, less cardboard-sweet taste. So, my question to the doubters is why wouldn't you make your own?
What brand-name snack you can't resist?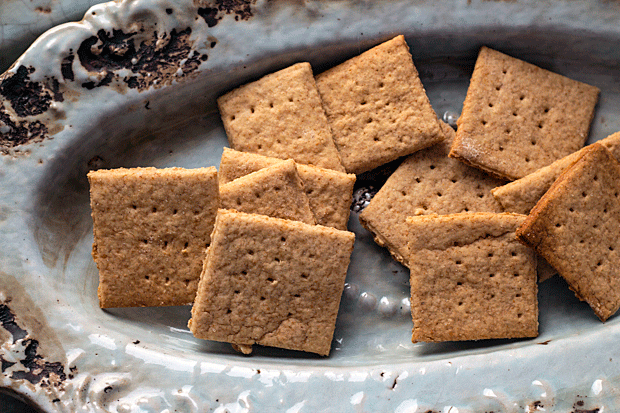 Graham Crackers
Prep / inactive time:
Cook / active time:
Total time:
Graham crackers are a classic snack that are not too sweet and oh, so satisfying. This recipe has a hint of honey and cinnamon but comes with a variation for those who prefer theirs without.
Ingredients
¼ cup honey (3 ounces)
1 large egg
1 teaspoon vanilla extract
1¼ cup unbleached all-purpose flour (5⅜ ounces)
1 scant cup Bob's Red Mill graham flour or 1¼ cups whole wheat pastry flour (4¼ ounces of either flour)
¼ cup packed light brown sugar (I used demerara to mimic molasses)
½ teaspoon ground cinnamon (I omitted since Canadian graham crackers don't have cinnamon)
¼ teaspoon baking soda
¼ teaspoon kosher salt
4 tablespoons chilled unsalted butter, cut into ½-inch cubes
3 to 4 tablespoons granulated sugar
1 tablespoon ground cinnamon
Instructions
Preheat the overn to 350°F. Line 2 baking sheets with parchment paper or Silpat liners.
Whisk the honey, egg and vanilla together in a small bowl. Set aside.
Using a food processor or stand mixer fitted with a paddle attachment, mix the flours, brown sugar, cinnamon, baking soda, and salt for a few seconds or until combined. Add the butter cubes and pulse in 3-second on/off turns in the food processor, or stir at medium speed with the stand mixer until incorporated.
Add the beaten honey and eggs and continue to pulse or stir until a soft dough forms.
Transfer the dough to a floured surface and divide into 4 equal pieces. Dust one of the pieces liberally with flour and roll with a floured rolling pin into a rectangle slightly larger than 10 by 15 inches and no more than ⅛ inch thick. (Make it as thin as humanly possible, since the cookies will puff up when baked.)
Transfer the dough rectangle to a prepared baking sheet with the help of a cookie spatula or turner. Cut into 16 (2½ by 1¼ inch) rectangles, using a pastry or pizza cutter, cleaning up any ragged edges as well. The crackers don't need to be separated. Alternatively, you can cut your own graham cracker shapes with cookie cutters.
Poke holes in the crackers using a toothpick or cocktail fork.
Whisk 3 tablespoons sugar with the cinnamon. Add a final 1 tablespoon sugar if you wish, according to taste. Sprinkle the cinnamon sugar evenly and liberally over the crackers. (Save any that's left over for breakfast toast!)
Bake for approximately 12 to 15 minutes, until hints of golden brown appear around the edges. Watch carefully! Transfer the crackers to a wire rack and let cool completely.
Store at room temperature in an airtight container for up to a week.