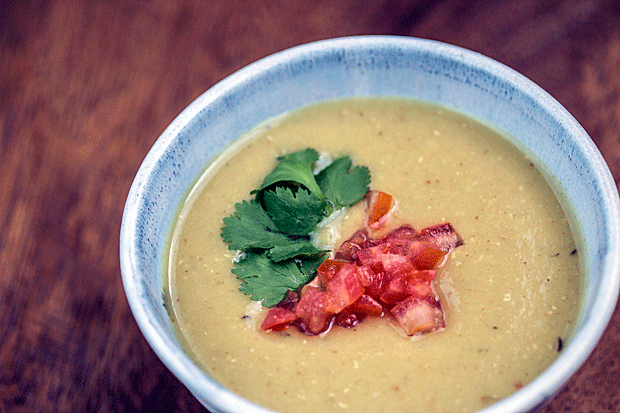 07 Mar

Soup Sisters: Spread the Love

Posted at 13:15h

in

Book review

,

Egg-free

,

Gluten-free

,

Healthy Choice

,

Legumes & Lentils

,

Original

,

Recipes

,

Savory

,

Soup

,

Vegan

,

Vegetarian

,

Winter

0 Comments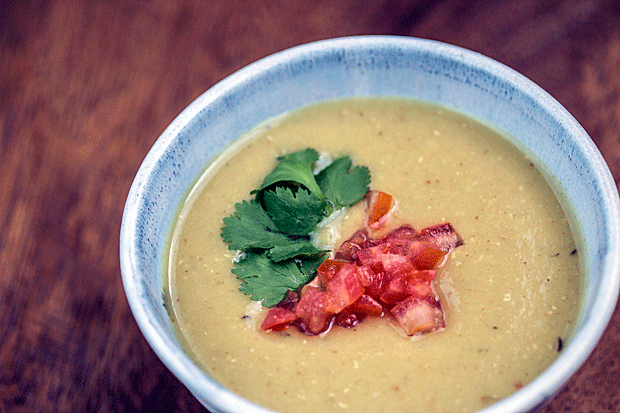 When is a bowl of soup not a bowl of soup? When it's a community coming together in support.
Soup Sisters is a registered not-for-profit organization with 12 chapters across Canada. Through the help of their volunteers, they have delivered more than 100,000 containers of hot, homemade soup, and an immeasurable amount of support to local women's shelters. They describe it best:
The concept is simple. Groups or individuals register to participate in a soup-making event at a local professional kitchen under the guidance of a chef facilitator. At each event, participants produce 150 to 200 servings of nourishing soup that are delivered fresh to a local women's shelter. A representative from the recipient shelter is also there to talk about issues surrounding family violence and domestic abuse…Broth Brothers was launched in fall of 2009 as an extension of the Soup Sisters soup-making family and in support of homeless youth who are transitioning from street life into mainstream society.
See? Soup is so much more than broth, veggies and spices.
Want to help? You can volunteer to make soup, donate much needed supplies or buy their book, The Soup Sisters' Cookbook: 100 Simple Recipes to Warm Hearts…One Bowl at a Time (Random House ©2012). A portion of the  proceeds goes to support the organization's ongoing work.
The book's list of contributors, which includes renowned celebrity chefs, restaurateurs and cookbook authors, reads like the  Who's Who of Canadian Food. In order of appearance, so I'm not playing favourites, some familiar contributors are: Nettie Cronish, Massimo Capra, Christine Cushing, Michael Bonacini, Julie Van Rosendaal,  Anna Olson, Jennifer Bain, Marcy Goldman, Lucy Waverman, Elizabeth Baird, Susan Sampson, Michael Stadtländer, Meeru Dhalwala, Bonnie Stern and Eric Akis. The book also contains recipes from actual Soup Sisters, as well as a one from San Fransisco-based blogger Heidi Swanson (101 Cookbooks). Soup Sisters plans to expand into the US, so I take Heidi's contribution as a sign it's making progress.
The community theme continues behind the scenes. The book's editor (Sharon Hapton), photographer (Julie Van Rosendaal), and whimsical illustrator (Pierre A. Lamielle) are all from Calgary, the city where Soup Sisters began.
Getting into the spirit, I'm passing along my adaptation of Margareth Lobo's family recipe, The Madiera Ladies' Lentil Soup. She writes:
My aunty Ida gave this soup recipe to my mother. My mother changed it a bit. Then she gave it to me and I change it a bit. Each of us claims our version is better than the one before. What can I say? It's one of our long-standing family traditions. The recipe is now with my niece, Amanda, who will likely change it for the next edition of this cookbook.
This may or may not be better than Margareth's version, but it's not a competition. It's a collaboration. Grab a spoon and help spread the word.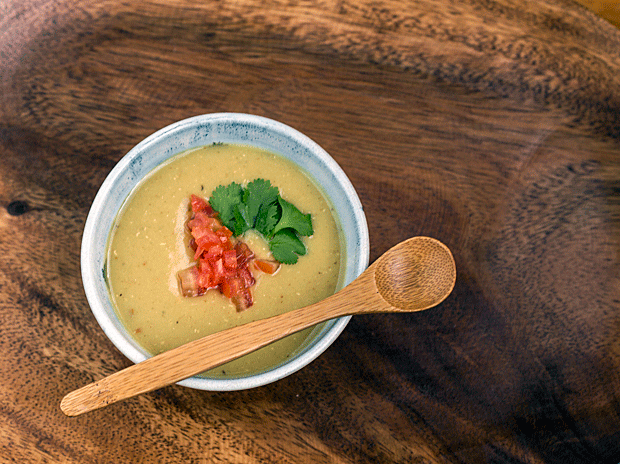 Red Lentil and Coconut Soup
Author:
Charmian Chrisite
Recipe type:
Legumes and Lentils
Prep / inactive time:
Cook / active time:
Total time:
This recipe for lentil soup is easy to make and can be as mild or spicy as you see fit. Serve with a salad, slice of bread and piece of cheese for a filling lunch or light dinner.
Ingredients
1½ cup red lentils
1 large onion, diced
2 cloves garlic, grated or crushed
1 tablespoon grated fresh ginger
pinch red chili flakes
2 teaspoons olive or cold pressed canola oil
1 teaspoon ghee or clarified butter
4 cups chicken or vegetable stock
2 teaspoons ground cumin
1 teaspoon ground coriander
¼ teaspoon turmeric
1 [398 mL] can coconut milk
1 medium lime
salt and pepper, to taste
2 medium tomatoes, seeded and diced
2 tablespoons finely chopped cilantro
cup chopped dry-cured hot chorizo
Instructions
Rinse the lentils in a sieve until the water runs clear. Drain well and set aside.
In a large pot, heat the oil and ghee over medium heat. Sauté the onion, garlic, ginger and red chili flakes until the onion is softened, about 5 minutes.
Add the rinsed lentils and cook, stirring for another 5 minutes.
Add the stock, cumin, coriander and turmeric. Increase the heat to high. As soon as the soup boils, reduce the the heat to a simmer.
Simmer, uncovered, until the lentils are tender and the soup has thickened, about 20 to 30 minutes.
Add the coconut milk and a generous squeeze of lime to the soup. Using an immersion blender or a standard blender working in small batches, purée the soup until smooth. Taste and adjust the lime, salt and pepper to taste.
Ladle the soup into bowls and garnish with diced tomatoes and cilantro, and chorizo, if using.
M4J2P3ZBWP2J