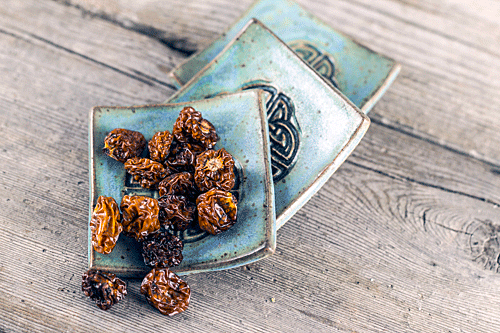 04 Feb

Denial
These are not anemic raisins. Their botanic name is  Physalis peruviana, but you can find them in health food stores under many different  names  — golden berries, Inca berries, cape gooseberries, or ground cherries to list a few. No matter what the manufacturer calls them, these harmless-looking berries should come with a flashing, neon warning label that hollers phrases like, "Approach with caution!" and "May cause addiction!"
But they don't. Instead the packaging touts them as an antioxidant-rich "Superfood." You'll see them advertised as "Non-GMO," "Low GI," and "High Fibre." The contents might even be "Certified Organic." As if all those capital letters mean anything. Nowhere, not even in the fine print, will you be warned of their Addicting Nature. But I know the truth.
From the second I opened the bag, they hooked me. Their citrusy-vanilla-floral aroma is nearly impossible to resist — or pin down. And like a good food writer, I had to nail a description for you. So I experimented. Several times a day.
Sure, at first it was "Research," then it was a "Small Snack." Pretty soon I was making hourly rounds to the pantry — for just a handful. I'm now up to a small bowl at a sitting. Their sweet-tart flavour combined with the fig-like seeds are utterly compelling, yet defy a description beyond, "They leave you wanting more." The proof? Within a week of discovering golden berries, I had ploughed through an entire one-pound bag — on my own.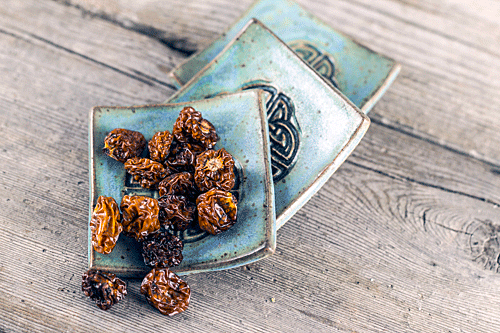 I'm four-weeks into my relationship with golden berries. I quit for a few days just to show them who's boss. Yesterday, I caved and had "just a few." In my defence, I was resisting chocolate chips.  This morning, I had a few more, then a few more. I wrote this with a small bowl of them at my elbow. I don't know if I could have finished the post without them. Now, I'm eyeing the tail end of my third pound and planning my next pick up.
It's too late for me. I pray it's not too late for you.
Are you addicted to golden berries or have you learned to control the urge? Share your willpower secrets and save a fellow reader.