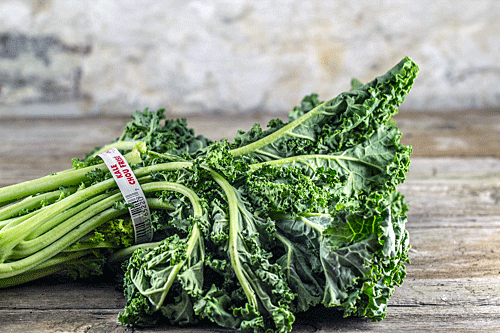 28 Jan

Pampered

Posted at 13:08h

in

Dairy-free

,

Egg-free

,

Gluten-free

,

Healthy Choice

,

Original

,

Recipes

,

Salad

,

Savory

,

Vegan

,

Vegetables

,

Vegetarian

3 Comments
If I come back as a vegetable I want to be kale. Ruffly, versatile, pretty kale.
Not only would I be my favourite colour (green), I'd finally have unstoppable curls — something I can't achieve even with hot rollers and a perm.
But I'd be more than just another pretty edible. Unlike with cream puffs or macarons, my feminine exterior wouldn't wrap a soft, untoned middle. Quite the opposite. Instead, my frilly greens would stem from a strong backbone  that delivered the nutritional goods. And people would love me for it. They'd write blog posts in my honour. They'd hail me as a wonder. But best of all, they'd give me the royal treatment.
Not all vegetables meet a pampered end. Carrots get stripped and shredded to pieces. Potatoes have their eyes gouged out before being mashed to a pulp, and we won't discuss what happens to poor old butternut squash. But kale? I kid you not, it gets slathered in oil and given a rub down.
Yeah. I'd definitely come back as kale.
Massaged Kale: Basic Techniques
I learned about massaging kale from my cousin just the other week. At first I thought she was joking. In my family, you learn pretty quickly not to take odd-sounding advice at face value. One moment of misplaced trust can take years to live down. But it turns out this is a real thing. In fact, there are two full pages dedicated to kale massage in Wild About Greens: 125 Delectable Vegan Recipes for Kale, Collards, Arugula, Bok Choy, and other Leafy Veggies Everyone Loves by Nava Atlas, (© 2012, Sterling).  The following excerpt is from her book and published here with permission:
All three methods are easy and work well; using one or the other is simply a matter of personal preference.

Whichever method or variety you use, first strip the kale leaves from the stems. If you want to use the stems, slice them very thinly and set them aside. Cut the kale into ribbons or bite-sized pieces and give them a good rinse. Before massaging the kale, let the leaves dry, either by spreading them on a clean kitchen towel and letting the air-dry, blotting them between layers of paper towel or drying them in a salad spinner. The cut kale does not need to be perfectly dry, but you don't want much moisture clinging to the leaves. Transfer them to a large bowl and massage the leaves using of th these three methods:

Sprinkle 1/2 to 1 teaspoon of sea salt onto the kale. Massage it into the leaves for 1 to 2 minutes, until they soften and turn bright green.
Rub a small amount of olive oil onto your palms and massage the kale leaves for 30 to 60 seconds, until they turn green and soften.
Drizzle a small amount of olive oil and lemon juice onto the greens and massage them for 30 to 60 seconds, until they turn bright green and soften.

Once the kale is prepared, there's no limit to the kinds of salads you can create with them. Even if you don't use the entire bunch of kale as the main green in a salad, you can use this technique for just a few leaves and add them to green salads as well as grain or pasta salads. Add some massaged kale to roasted vegetables once they've cooled — roots, eggplant, squashes — and dress with a vinaigrette. Use massaged kale in place of all or some of the lettuce in a Greek-style salad, with kalamata olives, stuffed grape leaves (cut in half) or marinated artichoke hearts, tomatoes, and cucumbers. Or stir very thin slices of massaged kale into your favourite bean salad. Black beans, mango, and kale tossed with fruity chutney — bliss!
Feel like giving it a try? Here's a no-fuss kale salad recipe loosely adapted from the recipe my cousin prepared.
Massaged Kale Superfood Salad
Author:
Charmian Christie
Prep / inactive time:
Total time:
Think kale is tough? Try massaging it. Within minutes it's a lovely new green for your salad.
Ingredients
1 bunch curly kale, stems removed
½ medium apple, peeled and cut in ¼-inch pieces
¾ cups dried golden berries (or raisins or dried cranberries)
½ cup toasted chopped walnuts (pecans, hazelnuts, almonds or cashews work, too)
2 tablespoons chia or flax seeds
¼ cup favourite vinaigrette dressing
Instructions
Massage kale using the method of your choice.
Sprinkle in the chopped apples, dried fruit, nuts and seeds. Drizzle with salad dressing. Toss to combine. Serve immediately.
Notes
Use your imagination. Try pomegranate instead of apple. Don't like nuts? Swap in pumpkin seeds or sesame seeds instead. Want to ease into kale? Replace some of it with baby spinach, spring mix or lettuce. Use your favourite homemade dressing or simply drizzle the salad with good quality oil and freshly squeezed lemon juice.