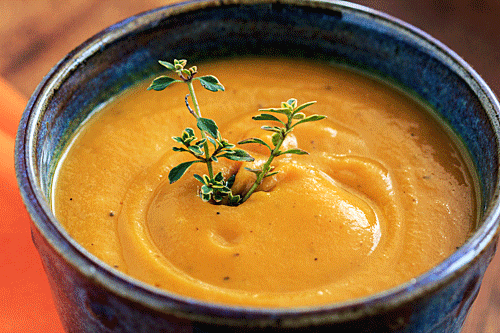 16 Jan

Another Breakfast Soup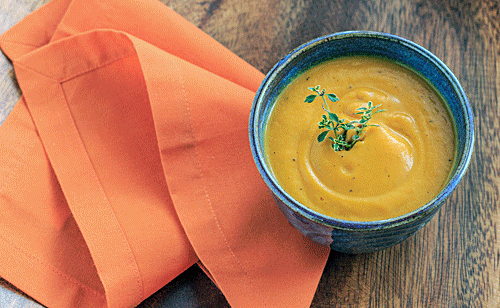 Soup for breakfast is working. Sort of. But after a couple of weeks of savory Asian Chicken and Quinoa Soup, and a gentle Lentil & Lemon Soup, I'm wanting to start my day with something sweet. While I crave a raspberry danish or waffles dripping in maple syrup, I am saving these desserts-in-disguise for special occasions (and no, getting out of bed in the morning is not a special occasion, even for this late-rishing Night Hawk).
So I poked about a bit and found a soup that's sweet, healthy, and very warming. Sweet Potato, Apple and Ginger Soup. They had me at ginger. Add a side of multi-grain toast and a grating of sharp cheddar, and I'm one happy eater.
The soup recipe comes from The Apple Lover's Cookbook by Amy Traverso (W.W. Norton & Company, @2011). If you think apples are boring, this book will make you think again. The Braised Brisket with Apples and Hard Cider was a hit with my carnivore husband and my in-laws enjoyed a brunch including the apple-laced Dutch Baby (a German pancake that thinks it's a popover). My favourite part of the book is the 30 pages dedicated to 59 different varieties of apple. At last, I have an in-depth look at the apples I often read about but can't always get at my local Farmers' Market.
But it's not all Mutsu, Granny Smith and Gala. Ever heard of Black Oxford, Ashmead's Kernel or Jazz? They're new to me. I'm now aching to bite into a Hidden Rose to taste what Traverso describes as a "red-fleshed novelty." The fleeting Pink Pearl ("when it's gone, it's gone") sounds deliciously whimsical, and who can resist anything called Westfield Seek-No-Further? Not me.
If you're feeling stifled by the same-old, same-old grocery store apples, don't be. Traverso includes a handy cheat sheet listing all the firm-tart, firm-sweet, tender-tart and tender-sweet apples. No matter what the recipe calls for, you can find a suitable substitution. She even flags the ones that won't brown quickly so you can use them in salads without having to toss them in lemon juice first.
But today is about soup. Apple soup. So-thick-it-puddles apple soup. Grab a spoon. It serves 6.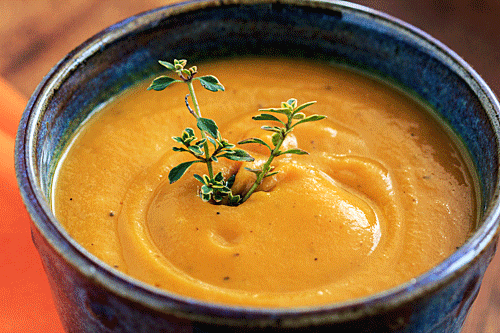 Sweet Potato, Apple and Ginger Soup
Prep / inactive time:
Cook / active time:
Total time:
With sweet apples, hearty sweet potatoes and lots of ginger, this soup is a wonderfully satisfying warm-me-up. Low-fat, gluten-free and vegan-friendly, it makes the perfect dish for serving company or taking to a pot luck.
Ingredients
1lb sweet potatoes (about 2) peeled and cut into ¾-inch cubes
½lb baby-cut carrots
1 large apple (about 8 ounces; see Apple Notes below), unpeeled, cored and cut into 1-inch chunks
5 tablespoons olive oil, divided
1½ teaspoon kosher salt, divided
½ teaspoon freshly ground black pepper, divided
1 medium yellow onion, diced
1- to 2-inch-long piece ginger, peeled and cut into medium chunks (see Note below)
3 cloves garlic, coarsely chopped
1 bay leaf
4 cups reduced-sodium chicken or vegetable stock
½ cup fresh apple cider
Instructions
Preheat oven to 400°F. In a medium bowl, toss the sweet potato, carrots, and apple with 3 tablespoons of the olive oil, 1 teaspoon of the kosher salt, and ¼ teaspoon of the pepper. Arrange on a foil-lined sheet pan (shiny side up) and roast until tender, about 30 minutes. Set aside.
Meanwhile, add the remaining 2 tablespoons oil to the pot and set over medium-high heat. Add the onion, ginger, garlic, bay leaf, and remaining ½ teaspoon salt and ¼ teaspoon pepper, and cook until the onions just begin to turn golden, 8 to 10 minutes. Add the roasted vegetables, broth, and cider. Stir and bring to a simmer. Reduce the heat to low, cover, and simmer for 30 minutes.
Remove the bay leaf from the pot and use an immersion blender or regular blender to purée the soup until smooth. If using a regular blender, process the soup in three batches to avoid splattering hot liquid. Return the puréed soup to the pot, taste for seasoning, and serve.
Notes
Apple Notes
: Here's a rare case (at least in this book) where you can use pretty much any apple variety and have this soup come out beautifully. However, a sweeter apple is ideal. [Blogger's note: I used Honeycrisp.]
Note: You can adjust the amount of ginger to your taste, depending on whether or not you like a lot of spice. I generally use a 1½-inch-long piece that's a bit wider than my thumb, and the result is identifiably gingery, though not overwhelmingly so.
This recipe is published with permission from
The Apple Lover's Cookbook
by Amy Traverson (W.W. Norton, 2011)