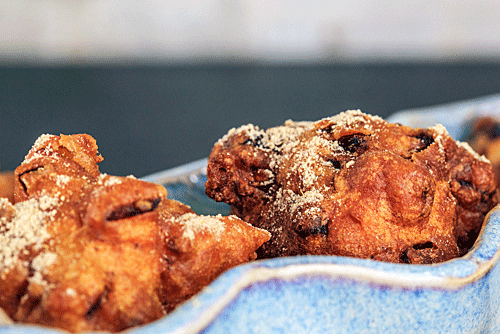 11 Jan

Pushing Boundaries

Posted at 13:01h

in

Appetizer

,

Dairy-free

,

Egg-free

,

Gluten-free

,

Original

,

Recipes

,

Savory

,

Side Dish

,

Vegan

,

Vegetables

,

Vegetarian

2 Comments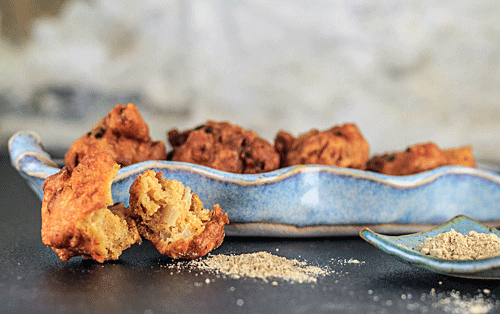 I did it. Despite containing three ingredients I've never used before, I made onion bhaji. And I pronounce them to be good. Make that "very good."  Andrew, who inspired the selection, claimed they were "delicious" and "as good as the restaurant's." So, with a flourish of my typing fingers,  I am proudly striking the first item off my 2013 Culinary Bucket List. Onion Bhaji recipe. Done. And done well.
But I can't take all the credit. Monica Bhide suggested I look at her recipe for Onion Rings with Chaat Masala. I did. But I hesitated at the list of ingredients. I didn't know what chaat masala was. I had never heard of carom, and thought fenugreek was like fennel. Thanks to this recipe I got schooled. And it was far less painful than writing lines.
All it took was one trip to the  grocery store. Even in my mid-sized, Ontario town, the major grocery stores have a well-stocked Indian section. Ajwain (also called carom seed), fenugreek leaves (not the strong tasting seeds) and chaat masala all landed in the grocery chart. I had lots of chickpea flour on hand from dabbling with gluten-free, but this was available, too. All I needed was the onions. I used Spanish onion since it's what I had on hand. Monica uses red onions.
While I thought sourcing the ingredients would be the hardest part of this experiment, finding the right size for the bhaji was actually the trickiest part. No wonder Monica made onion rings.
I started using a 1/4-cup ice cream scoop, but abandoned it after the first batch. The bhaji were just too big. Even though the exterior bordered on burned, the batter remained gooey and the onion raw at the core. Next up, my 1-tablespoon scoop. This worked much better. Although bhaji pictured below might look big (they are sitting in a slim olive dish), in reality, they are about the size of a Timbit®.
The smaller version cooked all the way through and tasted like the bhaji I'd been craving ever since our favourite Indian take out place closed. The best part? The sprinkling of  salty, sweet, tangy chaat masala. Don't skip this. It's the crowning glory and far less cloying than the tamarind sauce most bhaji comes with.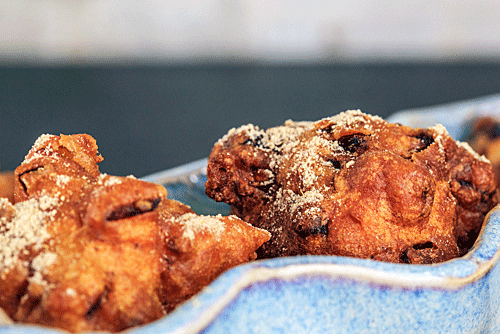 On second thought, maybe the best part of homemade bhaji, is the what it doesn't have – tons of fat. Mine were far less greasy than the restaurant far. I measured the leftover oil and the entire batch of bhaji absorbed only about 1/4 cup of oil. Not bad for a deep-fried treat.
Onion Bhaji Recipe with Chaat Masala
Ready for to tackle your own bucket list? In the meantime, here's my take on the recipe. It's boldly adapted from from Modern Spice by Monica Bhide.

Onion Bhaji with Chaat Masala
Author:
Charmian Christie
Prep / inactive time:
Cook / active time:
Total time:
Serves:
24 - 30 small bhaji
This classic Indian appetizer can be made as balls or onion rings.
Ingredients
1 cup chickpea flour (also called besan or garbanzo bean flour)
¼ teaspoon fine sea salt
½ teaspoon chili powder
¼ teaspoon carom seeds (also called ajwain)
1 tablespoon fenugreek seeds
2 cups canola oil, divided
1 cup club soda
chaat masala, for sprinkling
1 large Spanish onion, cut in ¼-inch pieces
Instructions
Line a baking sheet with a double layer of paper towels. Set aside.
In a large bowl, combine the flour, salt, chili powder, carom seeds, fenugreek, and 1 teaspoon of the oil. Add the club soda a little at a time, and mix well to ensure there are no lumps. The batter should be thicker than pancake batter. If the batter becomes too thin, add more flour, 1 tablespoon at a time.
Add the onions to the batter and mix with a large spoon to ensure each piece of onion is coated well.
Heat the remaining oil in a deep saucepan to 350°F or until a tiny drop of batter bubbles and rises to the top immediately.
Using a 1-tablespoon cookie scoop or a spoon, scoop about 1 tablespoon of batter. Gently add it to the hot oil and fry, turning occasionally for 4 to 6 minutes. The bhaji should be golden and cooked all the way through. If it doesn't cook all the way through during this time, make the balls smaller or flatten them before adding them to the oil.
Remove the bhaji using a slotted spoon and place on a paper towel to drain. Dust with chaat masala while still warm.
Continue until all the bhaji are cooked. Note that the temperature of the oil might fall when you add the bhaji so allow time for the oil to reheat if necessary. (This is where a candy thermometer comes in very handy. It's worth the $3 and drawer space.)
Serve immediately. These don't store well, so eat up.
Notes
Onion Ring Variation: Monica Bhide's original recipe is for onion rings. To make them, cut 2 medium red onions into ¼-inch thick rounds. Separate the onion into rings. Set aside the very small rings and hard centre for another purpose. (You can freeze them and use them for soup stock if you don't have an immediate use.)

For onion rings, you can also substitute all-purpose flour for the besan. Regardless of which flour you use, follow the recipe as above to make the batter and coat the rings. Fry a few onion rings at a time, turning them in the oil until they are golden brown on all sides, about 2 to 3 minutes.