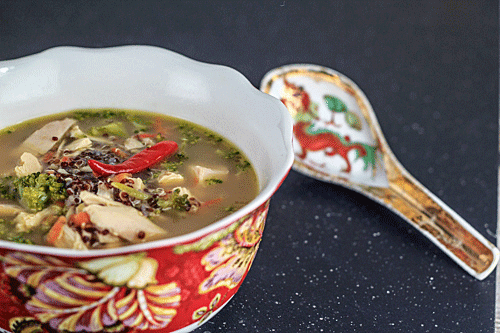 03 Jan

Soup for Breakfast
I struggle with breakfast at the best of times. Winter only makes it worse. It's cold. It's dark. One look out the window and any sensible person would dive back into bed until spring — or at least 10 AM — not head to the kitchen and prepare food.
I think the issue lies in my genes. I am a Night Owl. My natural rhythm seems about 2 hours behind the rest of the world. I simply am not hungry when I first wake up. Having talked to several other people who also describe themselves as "not a morning person," I know I am not alone. Unlike the Early Birds, who leap from bed starving, our sluggish morning metabolism shuns food.
After I've been stumbling about for an hour or so, and the caffeine has pried my lids open, I am ready to munch, but on something sweet. Like cinnamon apple muffins or sour-cream-topped waffles dripping with maple syrup. I slurp hot popovers, crumpets or English muffins drooling butter. But I don't. Experience tells me the surfeit of carbs will come back to haunt me.
But in the dead of winter, where does this leave me? It's too cold for my summertime fallback — berries, yogurt and granola. I'm not big on eggs. Gag at the texture of oatmeal and would not feel the least bit cheated if I never saw, let alone ate, another sausage. After much thought, I have decided to embrace soup. For breakfast.
And why not? It's hot. It's healthy (or at least it can be.) With a little protein added to the mix it's a more balanced, nutritious start than sugary boxed cereals. So, to test my theory, I cleaned out the fridge and made a pot of soup with the dregs of the holiday season.  I had the results for dinner. The leftovers got rewarmed for breakfast. They went down nicely with a slice of bread. I think I might be onto something!
What's your cold weather breakfast food? Have a healthy breakfast soup recipe to share?

Chicken and Quinoa Asian-Inspired Soup
Author:
Charmian Christie
Prep / inactive time:
Cook / active time:
Total time:
This hot soup is a great way to use up leftover chicken. Crunch quinoa adds some texture and protein.
Ingredients
6 cups homemade chicken stock (or commercial low-sodium)
¼ cup fresh lemon or lime juice
1 Thai bird chile, sliced (you can add more whole chilis for effect)
1 tablespoon freshly grated ginger root
1 tablespoon Asian fish sauce
1 teaspoon brown sugar
1 cup cubed chicken (either cooked or uncooked)
⅓ cup uncooked quinoa, rinsed
1 medium carrot, grated
1 cup vegetable such as chopped broccoli or slivered green pepper
zest of 1 lemon
1 cup finely chopped cilantro (optional garnish)
Instructions
In a large, deep saucepan, combine the stock, lemon juice, chili, ginger, fish sauce, and brown sugar over medium-high heat. Bring to a simmer and cook for a few minutes.
Add quinoa and cooked chicken, if using. Increase heat to bring the soup to a boil. As soon as it reaches the boil, reduce the heat to a simmer. If using uncooked chicken, add it now. Put a lid on the pot, and allow the soup to cook on low for 12 to 15 minutes, or until the quinoa is almost cooked.
Add the carrots, broccoli (or green peppers) and lemon zest. Continue to cook at a gentle simmer, uncovered, for a few minutes or until the vegetables are tender crisp.
Adjust to taste, adding more lemon or lime juice. Garnish with fresh cilantro. Serve piping hot.
Notes
Sliced mushrooms would also make a lovely addition. Only I didn't have any on hand. Next time...