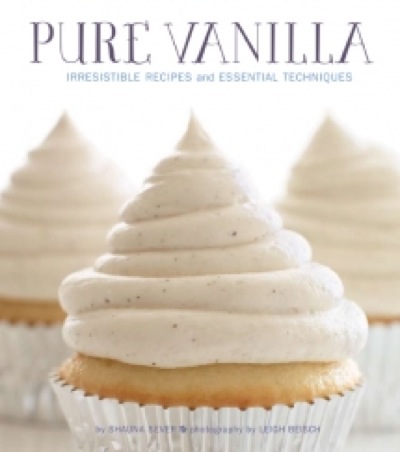 20 Dec

In Praise of Small Books

We all love a bargain. A bit fat cookbook stuffed with 1000+ recipes for $10. But if you're like me, these are the ones that never get used. Too big for the cookbook holder they rarely make it into the kitchen. And when I'm searching for dinner ideas, they offer too many choices and too few pictures.

These days, I find myself turning to little books. Approachable books. Books that sit quietly in your lap without cutting off your circulation. Books you can read cover to cover without trouble. Books that delve deep into a topic and leave you wanting just a little bit more…

Here are some little books that deserve big attention:
Pure Vanilla: Irresistible Recipes and Essential Techniques by Shauna Sever (Quirk Books, 2012)
Proving that vanilla is anything but boring, this book elevates a once ho-hum bean to a culinary must-have. Sure, there's the expected vanilla cream pie, vanilla custard and ice cream, but they're bursting with flavour. Want something more exotic? Vanilla Fleur de Sel, Candied Vanilla Popcorn and Vanilla Biscotti might tempt you.
Indulge your  junk-food cravings with a homemade version of the Twinkie or make tasty healthfood with Slow-Cooked Vanilla Spice Oatmeal. Wash it all down with Vanilla Italian Soda or a Vanilla Martini. Make mine a double.
Leigh Beisch deserves a shout out for her stunning tone-on-tone photographs. Through her creative lens, plain-old vanilla is the new black.
Sunday Brunch: Simple Delicious Recipes for Leisurely Mornings by Betty Rosbottom (Chronicle Books 2012)
It's no secret I struggle with breakfast. But brunch? By then I'm ready to eat anything — anything but  boring bacon and eggs that is.
Care for an order of Eggs Baked with Crème Fraîche, Crab and Tarragon? If that's too top drawer, Herb Scrambled Eggs Nested with Broiled Potatoes is more down home but no less delicious.
The categories deliver fresh takes on the familiar. All-In-Ones include gratins, flans and tarts. Hot Off the Griddle will delight pancake, waffle and French toast fans. (Uh, that would be me. I'll start off with Lemon Ricotta Pancakes with Blueberry Sauce, please.) Of course the Bread Basket is filled with muffins, scones and mile-high popovers. The health-conscious will appreciate the Fruits for All Seasons section with various fresh or baked dishes featuring a wide range of melons, berries, citrus, and other fruits. Definitely a book worth getting out of bed for.
Just Tacos: 100 Delicious Recipes for Breakfast, Lunch and Dinner by Shelley Wiseman (Taunton Press, 2011)
While you can use store bought tortillas, Wiseman makes homemade approachable and intriguing. Black-Bean- or Chili-Flavored Corn Tortillas had me salivating, but Cilantro-Flavoured Flour Tortillas? How can I resist, especially with step-by-step photos to guide me?
The fillings are as diverse and mouthwatering as the wrappings. Recipes include vegetables, seafood, poultry (including duck), pork, meat (beef, lamb and sweetmeats) and an amazing array of salsas.
I used to think tacos are just for lunch or dinner but the breakfast section proves otherwise. Fruit coolers, and "Warehoused" Eggs offer a refreshing change for the breakfast-phobic like me. Traditionalists, don't despair.  There are also classic options such as Huevos Rancheros.
Wiseman ends with a sneak peek at mini-quesadillas, sopes and tostadas. I hope this means there's another book in the works.
Muffin Tin Chef: 101 Savory Snack,s Adorable Appetizers, Enticing Entrees & Delicious Desserts by Matt Kadey (Ulysses Press, 2012)
Everything here is made in a muffin tin. Everything. And not one of those fancy scallop-edged pans either. Most of these dishes call for a standard, 12-cup muffin tin. The kind almost every cook has.
Fun, easy and tasty, these recipes range from appetizers to lunch to dessert, all served up in a portion-controlled, easy-to-bake form. But it's not all muffins and tarts. While some recipes call for puff, phyllo, regular and whole wheat pastries, others innovative crusts call for prosciutto, pancetta, bread, tortillas, and even wonton wrappers. Some, like Crustless Smoked Salmon Quiche and Parmesan Hash Browns, use nothing at all.
Meat lovers will enjoy the Steak Burrito Bowls, while those with a sweet tooth won't be able to resist Pistachio Butter Dark Chocolate Cups. To include as many eaters (and cooks) as possible, recipes are flagged as vegetarian, gluten-free or freeze-for-later.
Whether you want innovative appetizers, freezer-friendly dinners or a lunch that travels with ease, there's something here for you.
Got a favourite small book? Give it a shout out in the comments section!