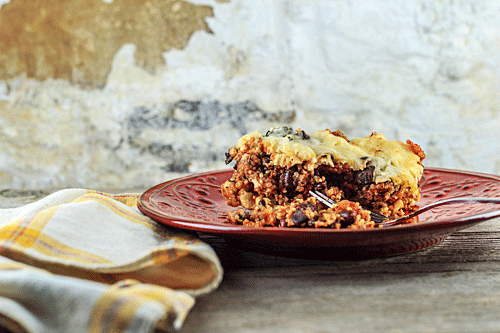 13 Dec

Trying Again – Lazy Quinoa Lasagna Recipe
For some reason, the recipe for slow-cooker vegetarian quinoa lasagna didn't attach to its post the other day. Could have been technology. Could have been me? I choose to blame technology. Either way, I had people asking for the recipe. So here it is.

Slow Cooker Vegetarian Quinoa Lasagna
Prep / inactive time:
Cook / active time:
Total time:
This recipe is great for hectic days or when you attend a big potluck. Leftovers are fabulous the next day.
Ingredients
1 can mixed beans, well rinsed and drained (19 ounce / 540 mL)
2⅔ cups pasta sauce
⅔ cups canned diced tomatoes
¾ cups quinoa, rinsed and drained
2 teaspoons Italian seasoning
1 teaspoon dried oregano leaves
8 uncooked lasagna noodles, preferably 100% whole grain
1 cup sliced white or cremini mushrooms
2 cups cooked chopped spinach leaves, well drained (or 10 oz/300g frozen chopped spinach, thawed and well drained)
2 cups fat-free cottage cheese (I used regular ricotta)
2 cups grated mozzarella cheese
Instructions
Grease a 6-quart (6 L) slow cooker with canola oil.
In a medium bowl, combine the mixed beans, pasta sauce, diced tomatoes, quinoa (yes, it's uncooked!), Italian seasoning and oregano. Mix well and set aside.
Place one layer of noodles on the bottom of the slow cooker, breaking to fit.
Top with half the bean-pasta sauce-quinoa mixture.
Top with half of the mushrooms, and half of the spinach.
Top with half of the cottage cheese.
Repeat the layers: noodles, bean-pasta sauce-quinoa mixture, mushrooms, and spinach, and cottage cheese.
Top with all of the mozzarella cheese.
Cover and cook on Low for 5 hours, then scoop out servings. Serve with a mixed green salad.