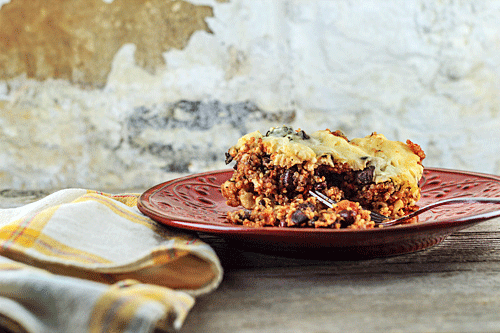 11 Dec

Lazy Quinoa Lasagna
Mairlyn Smith owes me a new crockpot.
Sort of.
She didn't actually come to my house and break mine, but because of her I learned just how bad my old one was. At her recommendation I made the slow-cooker lasagna from The Vegetarian's Complete Quinoa Cookbook (Whitecap, 2012), and a potential new entry to my Kitchen Disaster & Fixes app was born. Turns out my slow cooker was okay as long as the meal inside was liquid. Soup? Bring it on! Sloppy curry? No problem. Hot apple cider? You bet. But once that layer of protective moisture was gone, my now ex-slow cooker turned into a lean, mean charring machine. In less than the recommended cooking time, set on Low, it burned a well-defined ring around the bottom of  my lasagna.
When I made the dish in my sister's fancy new, 6-litre, programmable KitchenAid slow cooker it worked perfectly. So, Mairlyn, I'll place my order for one of those. Okay?
When she's not exposing the shortcomings of my small appliances, Mairlyn Smith is an award-winning cookbook author, editor and Professional Home Economist (PHEc). What exactly is a Professional Home Economist? According to Mairlyn, Home Economists work in a diverse spectrum of careers — from teachers to child psychologists,  financial advisors to government policy makers, food writers to interior designers. Regardless of where they ply their trade, all PHEcs can be described in two words. They are Solution Makers.
The Book
This book sets out to solve the problem of working meatless quinoa dishes into the week without relying heavily on salads. Through the contribution of more than 50 Home Economists from across Ontario, the book delivers 30 main dishes; one for every day of the month, as well as breakfast, soup, salads, desserts and side dishes. The recipes are designed so anyone can do them. To ensure success, every recipe was tested by volunteers from Ryerson. But they didn't test in the privacy of their own kitchens. They tested the recipes in Mairlyn's small galley kitchen, so she could see the mistakes they made first hand.
"They ruined things right in front of me!" That exclamation mark shows excitement and enthusiasm, not distain. How else would Mairlyn learn that readers might put a little bit of quinoa in a big pot and burn the entire batch in minutes (turn to page 4 for a mini-lesson on pot size).  When I say every recipe in this book is bullet-proof I mean it (with the following caveat: Your slow cooker isn't possessed.)
The Test
I chose to test the Quinoa Slow Cooker Lasagna since it uses a) uncooked lasagna noodles or b) uncooked quinoa. My manuscript deadline was looming and was trying (and failing) to avoid  pre-packaged junk. This recipe looked so doable and healthy and "real" that I got extra super lazy and threw myself into the entire easy-peasiness of it and used frozen spinach. I just let it defrost in the fridge overnight. It took more time to slice the mushrooms than it did to assemble the dish.
Once I made the lasagna in a crockpot that didn't burn everything that touched its surface, the results were tasty. Comfort food without the time commitment or guilt.
Thanks, Mairlyn. Problem solved. Maybe we're even after all.

Slow Cooker Vegetarian Quinoa Lasagna
Prep / inactive time:
Cook / active time:
Total time:
This recipe is great for hectic days or when you attend a big potluck. Leftovers are fabulous the next day.
Ingredients
1 can mixed beans, well rinsed and drained (19 ounce / 540 mL)
2⅔ cups pasta sauce
⅔ cups canned diced tomatoes
¾ cups quinoa, rinsed and drained
2 teaspoons Italian seasoning
1 teaspoon dried oregano leaves
8 uncooked lasagna noodles, preferably 100% whole grain
1 cup sliced white or cremini mushrooms
2 cups cooked chopped spinach leaves, well drained (or 10 oz/300g frozen chopped spinach, thawed and well drained)
2 cups fat-free cottage cheese (I used regular ricotta)
2 cups grated mozzarella cheese
Instructions
Grease a 6-quart (6 L) slow cooker with canola oil.
In a medium bowl, combine the mixed beans, pasta sauce, diced tomatoes, quinoa (yes, it's uncooked!), Italian seasoning and oregano. Mix well and set aside.
Place one layer of noodles on the bottom of the slow cooker, breaking to fit.
Top with half the bean-pasta sauce-quinoa mixture.
Top with half of the mushrooms, and half of the spinach.
Top with half of the cottage cheese.
Repeat the layers: noodles, bean-pasta sauce-quinoa mixture, mushrooms, and spinach, and cottage cheese.
Top with all of the mozzarella cheese.
Cover and cook on Low for 5 hours, then scoop out servings. Serve with a mixed green salad.