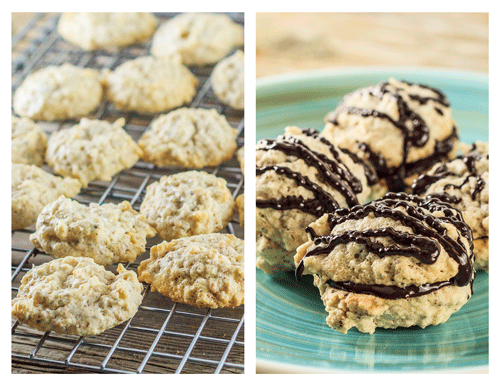 03 Dec

Hazelnut Sandwich Cookies
Hazelnuts. Filberts. Cobnuts. This tasty kernel goes by many names. I'm going to add one more to its repertoire and dub it the "hasselnut." Because of the bitter skin, hazelnuts require a bit more work than pecans or walnuts. They need to be roasted and then rubbed with a clean kitchen towel before being added to baked goods.
Some may think hazelnuts are being divas, but I think they're just a bit shy. After all, you can rub and rub and rub and they will never completely reveal themselves. Perhaps this bashful nature is why they hide behind so many aliases?
Don't let their modesty stand in your way. As long as you get most of the skins off, your recipe should turn out just fine — at least from the perspective of the hazelnut flavor. I can't vouch for other unrelated kitchen disasters. If it makes you feel better, I've never been able to totally skin a batch and no one has ever complained. On one misguided quest for perfection, I tried the trick where you boil the hazelnuts in water with baking soda, but found this technique was not only more trouble than roast-and-rub, the hazelnuts ended up tasting a bit soapy and the texture was off.
If you have a hankering for a hazelnut treat, add 15 minutes to your prep — 10 for roasting, 2 for rubbing and 3 for cleaning up the tiny flakes that refuse to land in the waste no matter how careful you are. For me, a hazelnut fiend, it's worth the extra time. They have a rich flavour unlike any of the other nuts, and resonate Christmas — I blame Ferrero Rocher for that association.
This recipe, from The Good Housekeeping Test Kitchen Cookie Lover's Cookbook (Hearst, 2012), looks a bit fancy, but is not a lot of work. When serving, take a note from the recipe's namesake. Sure, you can call them "hazelnut sandwiches", like in the book, or  you can impress guests by offering them a mini chocolate-filled dacquiose.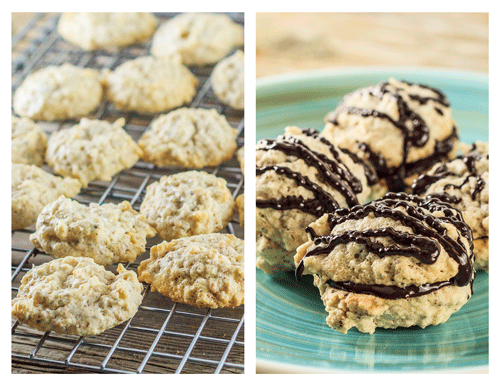 Hazelnut Sandwich Cookies
Author:
The Good Housekeeping Test Kitchen's Cookie Lover's Cookbook
Prep / inactive time:
Cook / active time:
Total time:
Serves:
48 sandwich cookies
These dainty hazelnut sandwich cookies are finished with a drizzle of chocolate. They might look like you went to a lot of trouble, but they are not difficult to make and require no special gadgets.
Ingredients
2 cups hazelnuts
¾ cups sugar
5 large egg whites
⅓ cup all-purpose flour
5 tablespoons butter, melted and cooled
6oz semi-sweet chocolate, melted and cooled
Instructions
Preheat oven to 350°F. Toast and skin hazelnuts. (See notes for details.)
Turn oven down to 275°F. Grease two large cookie sheets. In food processor with knife blade attached, process hazelnuts and ¼ cup sugar until nuts are finely ground.
In large bowl, with mixer on high speed, beat egg whites until soft peaks form when beaters are lifted. Increase speed to high and sprinkle in remaining ½ cup sugar, 1 tablespoon at at time, beating well after each addition, until sugar has completely dissolved and whites stand in stiff peaks. With rubber spatula, fold in ground hazelnuts, flour and melted butter.
Drop mixture by rounded teaspoons, about 2 inches apart, onto prepared cookie sheets. Bake until cookies are firm and edges are golden, 25 minutes, rotating cookie sheets halfway through. Transfer cookies to wire racks to cool completely. Repeat with remaining batter.
When cookies are cool, with small metal spatula, spread a thin layer of metal chocolate onto flat side of cookies. Top with remaining cookies, flat side down, to make sandwiches. Spoon remaining chocolate into small zip-tight plastic bag; snip 1 corner of bag to make small opening. Squeeze thin lines of chocolate over cookies. Let stand until set.
Store cookies with waxed paper in between layers, in an airtight container for up to 3 days, or freeze up to 3 months.
Notes
To toast and skin hazelnuts, spread nuts in a single layer on a rimmed baking sheet. Bake in a preheated 350°F oven for 10 to 15 minutes. When nuts are lightly browned and fragrant, remove from oven, transfer to a clean, dry kitchen towel and rub them until the skins come off.
This recipe is excerpted with permission from
The Good Housekeeping Test Kitchen Cookie Lover's Cookbook
(Hearst, 2012),