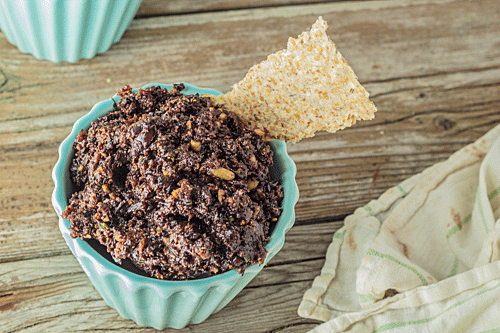 21 Nov

Fig and Olive Tapenade
I almost feel like I'm cheating on this one. It's far too easy to be this tasty. But on second thought, it's a perfect illustration of Eric Akis's approach to food. It delivers what he calls "obtainable goodness", is suitable for all levels of cooks, and uses ingredients you can find at the average supermarket. It's also addictive, although I don't think that's part of his mandate.
This recipe is from Eric's seventh book, Everyone Can Cook Everything (Whitecap 2012), a compendium of his first six. As I struggle to get the manuscript of my first cookbook completed, it's really hard not to hate him. But one taste of the tapenade and all's forgiven.
Fifteen years ago, when Eric started his Victoria Times Colonist food column, "Ask Eric", he published "cheffy" recipes. Fair enough. He's a not only a red seal chef but a pastry chef to boot. However, a letter changed his approach. The reader asked him to do recipes "everyone can cook." And he's been doing just that ever since.
Want to start cooking but aren't sure how? Here are Erik's three simple suggestions to ensure success:
Start with a simple recipe that matches your current skills
Be an orderly cook – chop first, cook second
Hone your knife skills – recipe difficulty is subjective, but if you can't hold a knife, it slows everything down
This recipe calls for rough chopping, bringing a pot of figs in water to the boil, pulsing ingredients in a food processor and the hardest part — waiting 4 hours for the flavours to meld. With Eric's help, everyone can cook.

Fig and Olive Tapenade
Author:
Everyone Can Cook Everything by Eric Akis
Prep / inactive time:
Cook / active time:
Total time:
This Mediterranean-style spread combines sweet figs with salty olives. Pine nuts, basil and other good things enrich the flavour even further.
Ingredients
1 cup dried black mission figs
1 cup pitted kalamata olives
¼ cup pine nuts
¼ cup coarsely chopped basil
¼ cup extra virgin olive oil
2 tablespoons balsamic vinegar
2 medium garlic cloves, chopped
Instructions
Place the figs in a pot, cover with cold water and bring to a boil over high heat. Remove from the heat and let the figs plump up in the water for 15 minutes. Drain well.
Place the drained figs in a food processor. Add the remaining ingredients and pulse until well combined and finely chopped; do not purée.
Transfer to a serving bowl, cover and refrigerate for 4 hours or overnight to allow the flavours to blend. (Refrigerated in a tightly sealed jar, tapenade will keep for at least a week.) Serve the tapenade with slice of baguette or crackers to spread it on.
Notes
Dried black mission figs are available at many supermarkets and fine food stores in the same aisle as other bagged, dried fruit.
This recipe is excerpted with permission from
Everyone Can Cook Everything
by Eric Akis. Published by Whitecap.