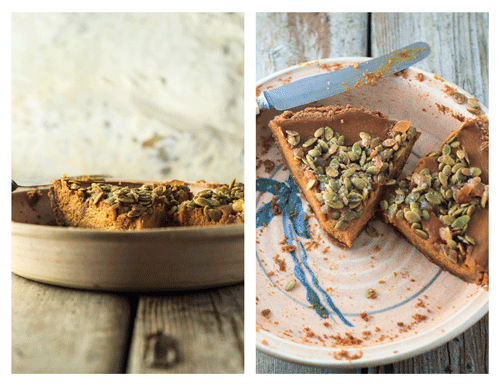 19 Nov

Fear Not: Gingersnap Pumpkin Pie with Candied Pumpkin Seeds
If I could eliminate one emotion. It would be fear. I'm not talking the "Don't go down that dark alley" kind of fear where your Spidey senses are tingling for good reason. I'm talking the joy-crushing, "This not going to work" kind of fear. The type that keeps you from trying something outside your comfort zone. The type of fear that prevents you from offering to bake the Thanksgiving pie, even though you know the host will be busy battling the bird. The type of fear that has you making the same dish over and over and over again because you don't want to upset the apple cart — even though no one has  so much as bumped that cart for such a long time its wheels have sunk deep into the ground.
Well, this is for the Pastry Paranoid and the Apple Cart Dwellers. Gingersnap pumpkin pie is a Thanksgiving-worthy dessert familiar enough to satisfy the traditionalists and different enough to free that cart from the mud. The recipe comes from A Year of Pies: A Seasonal Tour of Home Baked Pies by Ashley English (Lark, 2012). It has all the lovely pumpkiny filling you love, but a gingersnap crust so simple anyone dexterous enough to work a food processor can make it. It's all topped off with crunchy candied pumpkin seeds for a festive twist. (If you don't like them, scrape them off and give them to me.)
I served this at dinner the other night and one of my guests said, "This just might be the best pumpkin pie I've ever had." He made no such claims over the disappointing chicken dish I won't be making again. And my mother, the most honest yet fair pumpkin pie critic this side of the border, gave the following short critique: "This is a party pie!"
Indeed!
This Thanksgiving, grab a pie plate and party on.

Gingersnap Pumpkin Pie with Candied Pumpkin Seeds
Author:
A Year of Pies: A Season Tour of Home Baked Pies by Ashley English
Hate making pastry but love pies? This gingersnap crust is a no-fail crunchy crust for spice lovers. The creamy custard and crunchy topping ensure there's something for everyone.
Ingredients
Gingersnap Crust
10 ounces gingersnap cookies (about 2½ cups)
6 tablespoons unsalted butter, melted
Filling
2 cups pumpkin purée
¾ cups light brown sugar, packed
½ teaspoon ground cinnamon
½ teaspoon ground nutmeg
½ teaspoon ground ginger
1 teaspoon sea salt
¾ cups heavy cream
½ cup whole milk
2 large eggs, beaten
2 teaspoons vanilla extract
Topping
½ cup toasted pumpkin seeds (to toast, bake at 275°F for 4 to 5 minutes)
3 tablespoons unsalted butter, melted
2 tablespoons granulated sugar
2 tablespoons minced crystallized ginger
½ teaspoon sea salt
¼ teaspoon ground cloves (I used cinnamon)
Instructions
Gingersnap Crust
Preheat the oven to 350°F. Lightly butter a 9-inch pie pan or spring form pan and set aside.
Crush the gingersnaps either by pulsing them in a food processor or placing them in a plastic freezer bag and rolling over them with a rolling pin.
Combine the crushed gingersnaps and melted butter in a medium-sized bowl. Stir until fully mixed.
Press the mixture into the pan, covering the bottom fully and pressing the crumbs halfway up the sides.
Bake the crust for 10 minutes, then remove from oven and cool completely before filling.
Filling
Combine all the filling ingredients in a medium-sized bowl and whisk to blend well.
Topping
Combine all the topping ingredients in a small bowl. Using a large spoon, stir until the pumpkin seeds are evenly coated with the butter, sugar and spices.
Assembly
Pour the filling into the prepared gingersnap crust and bake for 40 minutes.
Remove the pie from the oven. Sprinkle the pumpkin seed topping evenly over the pie. Return the pie to the oven and continue to bake for another 20 minutes or until the pumpkin seeds have browned slightly and the filling has set.
Cool at least 1 hour before serving.
Variations
Replace the pumpkin seeds with an equal amount of chopped pecans for a pecan praline topping.
Notes
This recipe can be made in a standard 9-inch pie pan or in a spring-form pan.