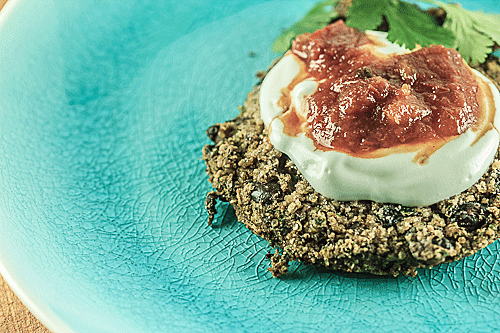 25 Oct

The Inside Scoop on Black Bean Quinoa Burgers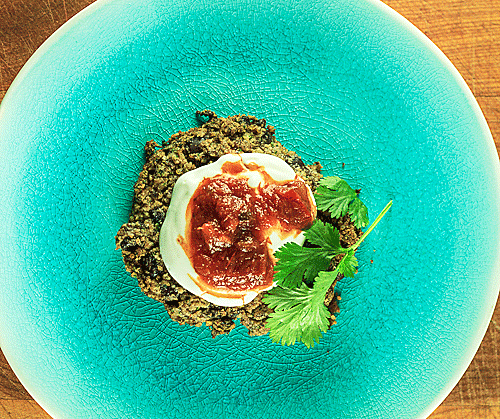 When you meet with the author of a cookbook, you're often given insights not found in the final print edition — like how they spent most of their time at college scribbling recipe ideas in their binder instead of taking lecture notes, or which of the hundreds and hundreds and hundreds of recipes to try first.
I was lucky enough to catch up with Camilla V. Saulsbury last month and talk to her about her new book, 500 Best Quinoa Recipes (Robert Rose, 2012). While no one had heard of quinoa (pronounced KEEN-wah) a few years ago, this seed-that-eats-like-a-grain is everywhere:  in cookbooks, granola, breakfast flakes, and baked goods. It's gluten-free, high-protein, low-fat and much more approachable than its odd name suggests. It's not gummy or stodgy like some wild grains. It's crunchy without being hard. And best of all, it's easy to cook. From someone who never cottoned onto tofu despite sincere, diverse and repeated attempts, trust me when I say quinoa is worth a try.
With 500 recipes and information on everything quinoa — from making your own quinoa flour to sprouting the seeds — it's hard to believe Camilla has any quinoa secrets left to keep. But this is the woman who came up with 750 different muffins, 500 healthy dishes and 150+ cakes before turning her creative eye to quinoa. Of course she's got something to share.
What's not in the book?
1. Where to spend your quinoa time: Yes, you can toast quinoa before cooking it, but if you're going to be cooking the quinoa Camilla says, "You're wasting your time."  Toasting brings out the nuttiness of seeds, but quinoa has a nutty taste and toasting just doesn't add value. But rinsing? This is a step you shouldn't skip — especially if you buy your quinoa from the bulk bin. Although most quinoa sold in North America has been rinsed to remove the bitter residue saponin, some remains. Rinse your quinoa before cooking it. If your quinoa is like mine, you will be more than a bit surprised by the amount of dust that rises when the water hits the seeds.
2. Quinoa Rescues: Camilla also offers a couple of salvage tips that aren't in the book.
If you add too much water, after the quinoa's cooked, drain it and return it to the pan. Put a towel over the pan, clamp on the lid and let the towel absorb the steam.
If you've overcooked your quinoa or want to refresh defrosted cooked quinoa, give it a quick stir-fry it lightly in a hot skillet with some cooking oil. This separates the grains and perks up soggy quinoa.
That's soooo going in the app!
What else isn't in the book? Camilla's preferred way to make these Black Bean Quinoa Burgers. Not that there's anything wrong with the printed version. But like me, she can't get enough of smoked paprika — although editors can. She says smoked paprika is "rounder, smoother than chipotle." So there you have it. Camilla's exclusive version not found in print.
Does it work? While I found it hard to believe a burger without onion and garlic would have much flavour, I liked the results so much I skipped the bun to make  room for more quinoa. And extra topping.

Black Bean Quinoa Burgers
Recipe type:
Legumes and Lentils
Prep / inactive time:
Cook / active time:
Total time:
These burgers are easy to make and filling. Black beans and quinoa provide protein and fibre as well as lots of taste.
Ingredients
1 cup cooked quinoa, cooled
¼ cup finely chopped fresh cilantro
2 teaspoons ground cumin
1 teaspoon dried oregano
1 teaspoon smoked paprika (or ¼ teaspoon cayenne pepper)
2 (14 oz/398 mL) cans black beans, drained and rinsed, divided (about 3 cups)
1 large egg*
1 tablespoon olive oil
4 hamburger buns, split and toasted
Plain Greek yogurt
Salsa
Spinach leaves
Instructions
In food processor, combine quinoa, cilantro, cumin, oregano, cayenne, half the beans and egg; pulse until a chunky purée forms.
Transfer purée to a medium bowl and stir in the remaining beans. Form into four ¾-inch (2 cm) thick patties.
In a large skillet, heat oil over medium heat. Add patties and cook for 4 minutes. Turn patties over and cook for 3 to 4 minutes or until crispy on the outside and hot in the centre.
Transfer patties to toasted buns. Top with any of the suggested accompaniments, as desired.
Notes
If you can only find larger 19-oz (540 mL) cans of beans, you will need about 1½ cans (3 cups/750 mL drained).

For Vegan Burgers: Use 3 tbsp (45 mL) vegan mayonnaise alternative in place of the egg.