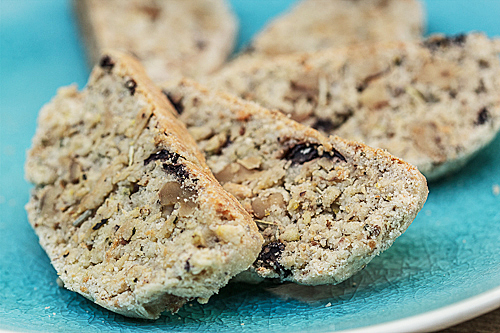 09 Oct

Damn You, Biscotti! Die! DIE!
Three tries. It took me three kicks at the proverbial can (or pan, in this case), several hours and a couple of meltdowns to figured out how to make savory biscotti that A) didn't taste like stuffing and B) didn't fall apart like a cheap particle-board desk the second you breathed near it.
When the aimed-for results emerged from the oven, I should have been elated. I should have danced the Biscotti Boogie, high-fived the cat and plastered photos on Instagram. But all I could see was an impossibly messy kitchen and four gigantic pans of unservable baked goods. As I stood at the counter feeling sorry for myself, Andrew walked in, nibbled a lump of should-be biscotti and said, "Why don't you grind it up and use it as crumbs for that chicken thing." We've been married long enough for me to understand "that chicken thing" was Susan Gutierrez's Pecan Milanesas.
Wait a minute. Who wrote the Kitchen Disasters & Fixes app? And since when did you get so smart?
Apparently, he picked up a kitchen tip or two from the sidelines.
While I didn't have blueberries for the topping, I did improvise a tasty chicken coating. For his role in this clever culinary improv act, Andrew wants to be credited as The Ideas Guy. Okay, Ideas Guy. This one's for you.

Biscotti-Crusted Chicken
Author:
Charmian Christie
Recipe type:
Chicken and Poultry
Prep / inactive time:
Cook / active time:
Total time:
What do you do with savory biscotti that won't hold together? This easy chicken recipe turns botched biscotti into a tasty meal. You can't let all those herbs, cheese and nuts go to waste!
Ingredients
boneless, skinless chicken pieces (breast or thigh)
broken savory biscotti
all-purpose flour (about ¼ cup for two large pieces of chicken)
egg, lightly beaten with 1 tablespoon of water (one egg for every two large pieces of chicken)
canola oil
Instructions
Preheat the oven to 375°F.
Pound the chicken pieces with a meat mallet to ½-inch thickness.
In a food processor or blender, grind savory biscotti pieces to fine crumbs. Place the flour, beaten egg and biscotti crumbs in three separate, shallow dishes. Coat each piece of chicken on both sides by dipping it in the flour, then the egg, and finally the biscotti crumbs, pressing gently so the crumbs stick.
Heat a couple of tablespoons of canola oil in a cast iron or oven-proof skillet on medium heat. Fry the chicken for 2-3 minutes a side or until the coating is golden. If don't have an oven-proof skillet or are doing more chicken than the pan can hold, see note below.
Place the pan of chicken pieces directly in the hot oven and bake for 10 minutes. Turn the chicken over and continue baking another 10 or so minutes, or until the chicken is cooked and the coating is extra-crispy.
Notes
If you are making more chicken pieces than your pan can hold, fry the chicken in batches, adding more oil as necessary, then bake all the chicken in the oven on a baking sheet, turning as per recipe instructions.

If you don't have an oven-proof frying pan, transfer the fried chicken to a baking sheet and finish cooking it in the oven, turning as per recipe instructions.