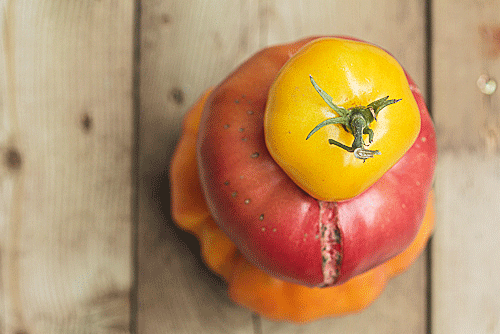 20 Sep

Preserving tomatoes regardless of quantity
Clearly, my tomatoes aren't getting enough love. When my back was turned, they  produced and produced and produced — to the point they toppled over and smothered the Swiss chard. Lying on the ground, they continued the fight. Not only did they produce more fruit, they romped all over the basil and trampled what was going to be fennel. Injuries to either party be damned. See the red tomato in the middle? It split its side in an effort to work its way to my kitchen door. In my defense the zucchini was rather distracting — all 302 pounds of it. Plus I am a bit busy working on my book.
When I finally ventured out to the jungle garden, I was met by eager orange, red and yellow tomatoes. They practically leapt into my arms. The poor watermelon just lay there and whimpered. Shush now. All in good time. All in good time.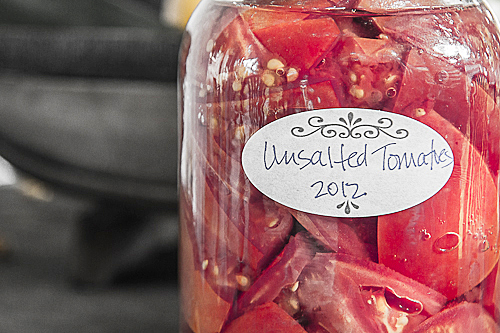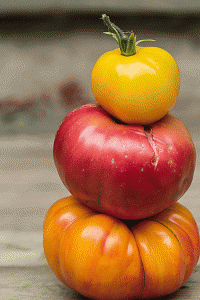 Once inside, instead of rejoicing in the harvest,  I glowered at my multi-coloured dilemma. This armful of tomatoes would be mush by the time the next round was ripe. How was I ever going to deal with them all?Tomatoes from your garden mature in waves. They don't ripen all at once and arrive in a lovely big bushel like at the Farmer's Market.
As I stood pondering the fate of my tomatoes and my sanity, my sister walked in. She took one look at the panicky tomatoes and their even more panicky gardener and offered a solution one of her clients uses. Apparently, preserving tomatoes doesn't have to take all day or large quantities. You core the unpeeled tomatoes, smush them into a sterilized jar, seal them, plunge the jars into a boiling water bath until the skins peel off, then shove them on a shelf.
It sounded easy. Far too easy.
So,I did a bit of digging. And sure enough there's a term for this practice. According to Ball Complete Book of Home Preserving, it's called "Raw-Packed Tomatoes with No Added Liquid". I call it "Smushed Tomatoes in a Jar." Take your pick.
In Ball's  version, you peel the tomatoes, but other than that the smush-seal-boil technique is almost the same. Because tomatoes are on the cusp of safe acidity, Ball adds a bit of lemon juice (or citric acid if you can find it) to each jar. The quantity of tomatoes required? That's up to you. Got lots of tomatoes, fill lots of jars. Only have a few? Do a jar or two. I had enough to fill five jars. As the tomatoes come in, I'll add a few more to the shelf.
With any luck, I won't have to buy a single tin of tomatoes all winter. And maybe, just maybe, my tomatoes will give the green peppers a fighting change.

Raw-Packed Tomatoes with No Added Liquid
Prep / inactive time:
Cook / active time:
Total time:
Serves:
As many jars as you like.
Packing tomatoes raw with no added liquid produces the most concentrated tomato flavour. Tempting as it may be, don't cut back on the processing time. For safety, you need to ensure the heat fully penetrates all the way to the centre of the jars.
Ingredients
Tomatoes
Bottled lemon juice* (1 tablespoon for pint / 500 mL jars, 2 tablespoons for quart / 1 litre jars)
Salt, optional (1/2 teaspoon for pint / 500 mL jars, 1 teaspoon for quart / 1 litre jars)
Instructions
Prepare canner, jars and lids. See notes section for link to detailed instructions.
Working in small batches, immerse tomatoes in boiling water for 30 to 60 seconds or until the skins start to loosen or crack. Immediately plunge the tomato into a bowl of cold water and slip the skins off. Remove cores and any bruised or discoloured portions that become apparent after blanching. Leave whole, halved or quarter.
Before packing each jar of raw tomatoes, add the required amount of lemon juice or citric acid to the hot jar. Then add the salt, if using.
Pack raw tomatoes into prepared jars to within a generous ½ inch of the top of the jar. Press the tomatoes into the jar until the spaces between them fill with juice, leaving ½ inch of headspace. Remove air bubbles and adjust headspace, if necessary, by adding more tomatoes. Wipe the rim. Centre the lid on the jar. Screw band down until you meet resistance, then increase to finger-tight.
Place the jars in the canner, ensuring they are completely covered with water. Bring to a boil and process pint jars for 85 minutes. Remove canner lid. Wait 5 minutes, then remove jars, cool and store.
Notes
This recipe is not recommended for jars bigger than a quart/litre. Each quart/litre jar holds about 3 pounds of tomatoes.
* Instead of bottled lemon juice, you can use citric acid, but I found it nearly impossible to locate, despite going to the canning section of many stores. If using citric acid, use ¼ teaspoon for pint/500 mL jars or ½ teaspoon for quart/1 litre jars. [Update: A reader tells me you can buy citric acid at The Bulk Barn.]
New to canning? Balls has detailed instructions, complete with videos, on
how to get started.