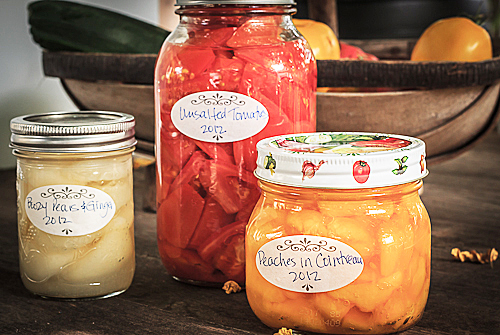 17 Sep

Spirited Fruit (and Sangria)

Posted at 09:00h

in

Autumn

,

Dairy-free

,

Desserts

,

Egg-free

,

Fruit

,

Gluten-free

,

Improv

,

Preserves

,

Recipes

,

Summer

,

Sweet

,

Vegan

,

Vegetarian

8 Comments
I am not to be trusted. I head to the Farmers' Market with a clearly written list and rock solid resolve. And what do I return with? Way more items than intended and a feeling of panic. Where will I store all these plums? When will I have time to make pear jam? Should I freeze, can or hide the peaches?
Of course, things fall apart when I toss tomatoes designated for preserving into a salad or gobble a handful of blueberries because they are too perfect for anything else but in-the-moment indulgence.
You cannot imagine my relief — your maybe you can– when I stumbled up  a couple of preserving methods that are as flexible on quantity as I am about my shopping list. The methods are outlined in the ever-so-handy Ball Complete Book of Home Preserving (Robert Rose ©2012).
Life's short. Let's start with the fruit. While the recipe calls for specific amounts, I soldiered on and made it with less than the requested amount of fruit. The leftover syrup formed the base of a very peachy makeshift Sangria. Seems you can have your boozy preserves and drink it, too. How perfect is that?
Below are two recipes. One for spirited fruit, as editors Judi Kingry and Lauren Devine intended. The other is for my improvised Sangria — just in case. I'll post about preserving tomatoes once the alcohol from the pear and peaches wears off.
What do you do with your awkward quantities of fruit and veggies? I'm running low on freezer room and would love more ideas.

Spirited Fruit
Prep / inactive time:
Cook / active time:
Total time:
Serves:
7 8-ounce (250 mL) jars
Spirited fruits are a wonderful way bring out the full-boded flavour of the fruit with out overpowering its natural flavour. Ideal for glazing ham, spirited fruit can also jazz up dessert. Use them to fill crepes, spoon them over ice cream or bake them into a clafoutis.
Ingredients
Fruit
1 cup granulated sugar
2 cups water
7 cups sliced, pitted, peeled peaches, treated to prevent browning (see notes for quantities required with other fruits)
Per 250 mL (1 cup) jar
1 tablespoon rum or brandy (OR 1½ teaspoons liqueur like peach schnapps)
Instructions
Prepare canner, jars and lids. See notes section for link to detailed instructions.
In a large stainless steel saucepan, over medium-high heat, combine sugar and water. Bring to a boil, stirring to dissolve sugar. Add the fruit, stirring constantly, and return to a boil. Reduce heat and gently boil for 5 minutes.
Using a slotted spoon, pack apricots into hot jars to within a generous ½ inch of top of jar and add the spirit of choice. Ladle hot syrup into jar to cover the fruit, leaving headspace, if necessary, by adding hot syrup. Wipe rim. Centre lid on jar. Screw band down until resistance is met, then increase to fingertip-tight.
Place jars in canner, ensuring they are completely covered with water. Bring to a boil and process for 20 minutes. Remove canner lid. Wait 5 minutes, then remove jars, cool and store.
Notes
Spirited Fruit Variations:
• 4 cups sliced, pitted, peeled
apricots
, treated to prevent browning
• 8½ cups quartered, peeled, cored
pears
, treated to prevent browning
• 12 cups washed and drained
blueberries
(process for 15 minutes)
• 5 cups
cherries
with pits (7½ cups unpitted cherries if you want to pit them first) (process for 10 minutes)
How to Prevent Fruit From Browning:
To prevent apples, apricots, peaches, and pears from turning brown once cut, submerge cut fruit in a mixture of ¼ cup lemon juice and 4 cups water.
New to canning?
Ball has detailed instructions, complete with videos, on
how to get started.
Spirited Fruit Sangria
Author:
Charmian Christie
Prep / inactive time:
Total time:
If you have left over sugar syrup from preserving fruit, use it as a base for this makeshift sangria. What it lacks in authenticity, it makes up for in flavour.
Ingredients
2 cups syrup left over from spirited fruit
1 bottle white wine, 750 mL (I used a Vidal.)
¼ cup orange liqueur
1 cup diced fresh fruit, if desired
1 handful chopped lemon verbena
2 cups seltzer water
Instructions
Put the syrup, wine, liqueur, lemon verbena and chopped fresh fruit, if using, in a jug. Stir and refrigerate until cold.
When ready to serve, pour over ice, making sure you get some of the fruit (if you used it) in each glass. Add seltzer water to taste, and enjoy.
Notes
Use any flavoured liqueur you think will go with the fruit. Ginger, orange, raspberry, cassis and cherry go well with most fruits.