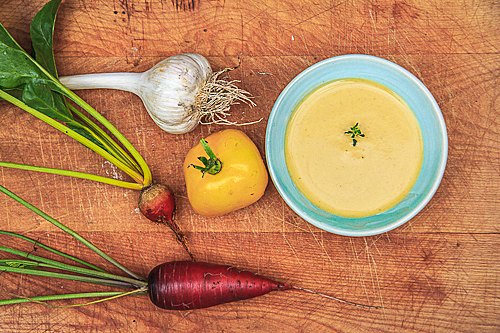 13 Sep

Golden Beet and Yellow Tomato Soup
There's a great moment in the pilot episode of Firefly. Against a backdrop of falling bombs, exploding grenades and rounds of gun fire, Bendis, a very young and very terrified solider fears he's going to die. His superior, played by the ever-so dishy Nathan Fillion, responds with bravado. "We can't die, Bendis," he says. "You know why? Because we are so very pretty. We're just too pretty for God to let us die."
If only life were like television.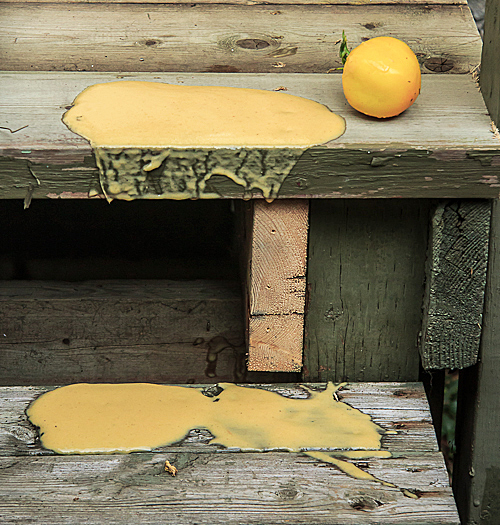 Serves me right for getting all fancy pants with soup. Turns out nothing, not even my Golden Beet and Yellow Tomato Soup is too pretty to be spared. Either that, or I should watch where I'm stepping during a back porch photo shoot.
Anyway, the other day the garden patch advanced. How do you respond when an armload of golden beets, more yellow tomatoes than one can eat without incurring cankers and a purple carrot force their way into your kitchen, stare you straight in the eye and double dog dare you to do something about it?
You make soup.
Arming myself with some homegrown garlic, a bit of fresh thyme and a flash of desperation inspiration, I chopped, roasted and puréed the intruders into submission. The results? A potload of soup.
Until I spilled it.
Upon reflection not only should I have tread more carefully, I should have minced the beet greens and added them to the mix at the last minute for a flash of colour. Maybe next time. I have a feeling my garden isn't through with my yet.
Golden Beet and Yellow Tomato Soup
Author:
Charmian Christie
Prep / inactive time:
Cook / active time:
Total time:
This subtle, velvety smooth soup is a delicious way to use up golden beets and yellow tomatoes.
Ingredients
8 medium yellow tomatoes
6 medium golden beets, peeled
1 large purple carrot (an orange or yellow carrot will do)
2 large onions, quartered
4 cloves garlic, peeled
olive or canola oil for drizzling
fine sea salt (to taste)
6 cups chicken stock (or vegetable broth)
1 handful fresh thyme
½ cup heavy cream
fresh ground black pepper
Instructions
Preheat the oven to 425°F. Line two rimmed baking sheets with parchment or lightly grease with oil.
While the oven is heating, cut the yellow tomatoes in half and place them cut side up on one of the prepared baking sheets. Cut the beets and carrot into 1½-inch pieces and place them with the onions and garlic on the second baking sheet. Drizzle the vegetables with olive or canola oil and sprinkle them lightly with salt. Roast for 30 to 45 minutes on until tender. If the tomatoes are done before the beets and carrots, remove them from the oven while the other vegetables finish cooking.
In the meantime, bring the chicken stock or vegetable broth to a simmer in a large sauce pan with the thyme sprigs. When the vegetables are done, add them to the hot stock and bring the liquid to a boil. Reduce the heat and simmer for 5 to 10 minutes.
Working in small batches, purée the soup in a blender. To get the soup really smooth, use a standard blender not an immersion blender or food processor. Strain the puréed soup through a fine sieve into a clean bowl. Discard any of the seeds and pulp strained out.
Return the soup to the sauce pan, add the cream and gently warm. Season with salt if needed.
Serve warm with a grinding of fresh black pepper.
Notes
This soup freezes nicely.