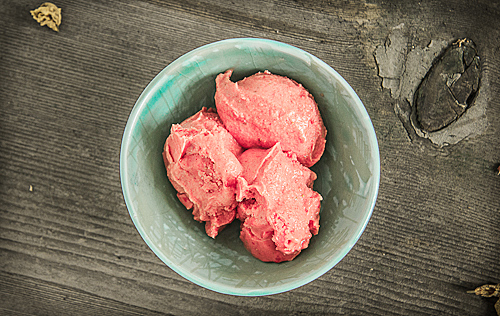 08 Sep

Instant Strawberry Frozen Yogurt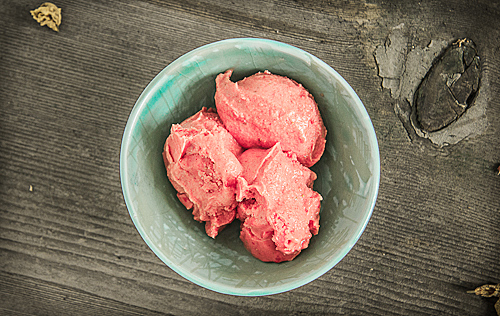 This frozen yogurt has four ingredients. Four healthy ingredients. Yet it tastes like something you'd treat yourself to after a hard afternoon of gardening. Or in my case, after a hard night's sleep. I had it for breakfast the other day instead of my usual smoothie. And I don't feel guilty in the least. I'm sure my neighbours wondered why I was sitting on the patio eating ice cream first thing in the morning. But I wasn't. Really. I was eating Instant Strawberry Frozen Yogurt. Even the cat was envious. (He's a big yogurt fan.)
The recipe comes courtesy of Camilla Saulsbury, creator of the decadent Chocolate Basil Muffin and the take-a-breathalizer-before-you-drive Butter Rum Pound Cake. Based on her two previous books, I thought she was all about the sweets. Turns out she's all about moderation. She's extremely active and stays fit by practising the classic 80/20 ratio to her eating. Don't get too excited. The 80% applies to  healthy food. Fortunately, with Saulsbury this can be quite delicious.
Her latest book, 5 Easy Steps to Healthy Eating: 500 Recipes for Lifelong Wellness (Robert Rose ©2012) sits in stark contrast to the muffin and cake cookbooks. But despite the focus on whole grains, super foods and good fats, it's not all kale chips and tofu pudding. You can breakfast on Walnut Flax Waffles or Quinoa Blueberry Pancakes, which Saulsbury insists freeze well — if you have any left to freeze. Her husband, like mine, hates hummus and baba ghannouj but gobbles the healthy walnut and red pepper combination found in her Muhammara dip. Most of the recipes require few ingredients, are quick to prepare and  family-friendly. What more could you want?
How about a second bowl of strawberry frozen yogurt?
In a couple of weeks I'm lucky enough to be meeting Ms. Saulsbury in person to discuss her upcoming quinoa book. Got any questions about quinoa? Ask me in the comments section and I'll find out for you.
In the meantime, get out your blender and grab a spoon.

Instant Strawberry Frozen Yogurt
Author:
5 Easy Steps to Healthy Cooking
Prep / inactive time:
Total time:
This frozen yogurt requires no ice cream maker. Unlike traditional ice cream, it's low-fat and ready in minutes.
Ingredients
3½ cups frozen strawberries, thawed for 10 minutes
⅓ cup agave nectar or liquid honey
½ cup nonfat plain Greek yogurt
1 tablespoon freshly squeezed lemon juice
Instructions
In a blender, combine the strawberries and agave nectar. Process until coarsely chopped. Add the yogurt and lemon juice. Pulse until smooth and creamy, scraping down the sides once or twice.
Serve immediately in small dessert bowls.
Notes
Although this recipe can be made in either a blender or a food processor, the blender is a better choice because it will produce a creamier dessert.