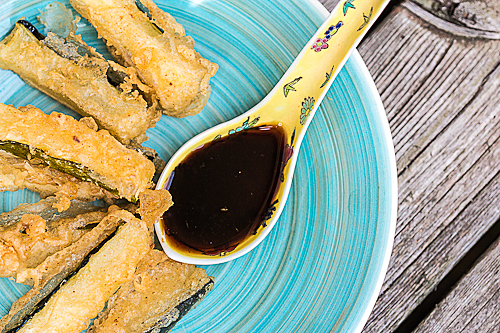 27 Aug

Tempura Zucchini
The zucchinis just keep coming. So I pulled out the big guns and fried the suckers in hot oil. None of this namby-pamby healthy oven-baked stuff. I went deep fried all the way. And I think I just might have scared them off.
To shake things up a bit, I used a tempura batter and a spicy dipping sauce. I got the batter ratio from Michael Ruhlman's Ratio: The Simple Codes Behind the Craft of Everyday Cooking (Scribner ©2009). While tempura is far from everyday in my world,  it is an effective way to use up the zucchini that arrives in relentless waves like zombies.
It is also messy. Not only did I get batter all over the stove and counter, my shoes and hair somehow got into the act. By the time I'd used up all the batter, I looked like I'd lost a paintball match.
According to Ruhlman, tempura is easy. The key to success is low-gluten flour and corn starch. For me, the only tricky part was keeping the oil hot. The zucchini dropped the temperature a good 50°F and I had to keep fiddling with the heat. I used a candy thermometer to monitor the temperature, but if you don't have one, you can eyeball it. When the oil begins to move, put a wooden chopstick in the oil. If it bubbles, the oil is ready.
As with most good food, the clean up took longer than the meal. Andrew The Zucchini Hater ate his share, although I think deep fried toothpicks served with a spicy dipping sauce would have been a hit with him. If you don't like spice, plain old soy sauce will do in a pinch. For me? I'm not huge on soy sauce. Next time, I'll enjoy mine with a side of cilantro dipping sauce and a housekeeper hovering nearby.
How are you coping with the zucchini invasion?
Tempura Zucchini
Author:
Charmian Chrisite
Prep / inactive time:
Cook / active time:
Total time:
Ingredients
Zucchini
2 lb zucchini, sliced in fingers
Dipping Sauce
¼ cup soy sauce
tablespoon fresh ginger root, grated
1 teaspoon sugar
1 clove garlic, minced (optional)
1 teaspoon chili sauce, (optional)
Tempura
⅔ cups cold seltzer water or plain water (approximately)
½ teaspoon fine sea salt
¾ cups cake flour (or cake & pastry flour if you live in Canada)
¼ cup cornstarch
½ teaspoon baking powder
Instructions
Zucchini
If the zucchini is large, remove the seeds with a spoon or melon baller before slicing. Slice the zucchini into fingers about 2 inches long and ½ inch wide. Note: thinner fingers cook faster than thick ones, so think French fries more than potato wedges.
Dipping Sauce
In a small bowl whisk together the soy, ginger, sugar, garlic and chili sauce (if using). Adjust seasoning to taste. Set aside.
Tempura
Mix flour, corn starch, baking powder and salt together with a whisk to blend thoroughly. When the oil reaches 350°F (see note below if you don't have a candy thermometer), whisk in enough cold seltzer water or cold plain tap water to make the batter the consistency of heavy cream.
Dip the zucchini in the tempura batter and gently add to the oil. Fry until golden and cooked all the way through. This takes between 5 and 7 minutes, but will vary with thickness of the zucchini slice and how hot the oil is. The oil's temperature will drop when you add the battered vegetables, so allow the oil to come back up to heat between batches. As soon as the zucchini slices are golden and cooked, remove them from the oil with a slotted spoon or spider. Place on several layers of paper towel to drain.
Eat while still hot. Serve with dipping sauce.
Notes
If you don't have a candy thermometer, heat the oil until it starts to move. Dip a wooden chopstick into the oil. If it bubbles, then the oil is hot enough.