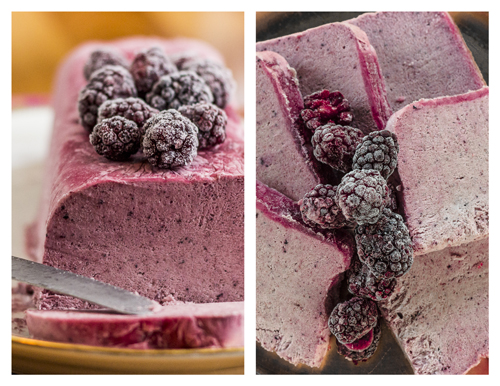 14 Aug

Mixed Berry Semifreddo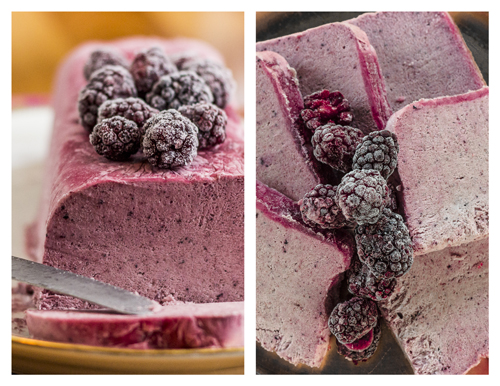 Okay, now I feel guilty. What was I thinking? Posting two recipes in a row that required special equipment. First a food dehydrator, then an ice cream maker. Let's blame the peaches for being so enticing. As an apology, here is a recipe for a frozen treat that requires nothing more elaborate than a loaf pan.
Oh yes, and that pesky blender. You do have one, don't you?
Semifreddo (pronounced seh-mee-FRAY-doh) is a no-churn, ice-creamish dessert that is amazingly silky thanks to whipped cream and eggs. Leave it to the Italians to find a way to make a decadent, sliceable, no-excuses dessert.  Although it's not exactly like ice cream, it won't disappoint. Think "frozen mousse" and you'll be delighted.
Unlike most semifreddos, this recipe doesn't call for yolks. Instead, Italian meringue provides structure while keeping the dessert light. Just freeze,  slice and serve. Like cake. Only frostier.
Fearing you may be all peached-out (if that's even possible), I used berries. Forgiven me yet?

Mixed Berry Semifreddo
Author:
Charmian Chrisite
Recipe type:
Ice Cream & Frozen Treats
This frozen dessert is ice cream in a loaf pan. It requires no churning and is sliced like a cake. All you need is the ability to beat egg whites and cream.
Ingredients
4 cups mixed berries (I used raspberries, blueberries, blackberries, cherries)
1 cup sugar
pinch of sea salt
¼ cup water
2 egg whites
1 cup whipping cream
2 tsp pure vanilla
Instructions
Prepare the loaf pan: Line a loaf pan with plastic wrap, allowing the wrap to overhang the edges on all sides.
Prepare the fruit: In a food process or blender, purée the fruit so that it's crushed but not totally sooth. Press the purée through a food mill or sieve to remove the seeds. Reserve the resulting berry pulp and juices.
Make a simple syrup: In a small pot, dissolve the sugar and salt in the water over medium heat. Increase heat to high and boil the mixture for a couple of minutes to make a simple syrup.
Make the meringue: Beat the egg whites in a large bowl until foamy. It's easiest to do this with a stand mixer, but a handheld electric beater works too. With the beaters set to high, drizzle the hot sugar syrup into the eggs while continuing to beat the whites. Once all the sugar has been added, continue to beat the whites until they have cooled to room temperature. This can take several minutes, so don't be impatient. Warm meringue will melt the whipped cream.
Whip the cream: In a medium-sized bowl, whip the cream and vanilla together until stiff. Set aside.
Combine and chill: Gently fold the berry purée into the egg whites. Then fold the whites into the whipped cream. Pour the mixture into the prepared loaf pan. Cover with more plastic wrap and then freeze for serveral hours or overnight.
Defrost and serve: Invert the semifredd onto a plate and remove the plastic wrap. Let stand 10 minutes to soften, then using a serated knife, slice in 1-inch thick pieces. Serve as is or topped with more berries if you have them.
Notes
This recipe is adapted from Lori Longbotham's Luscious Berry Desserts. (Chronicle Books, 2006).
Now that I've recovered from my dependency on the ice cream maker, what frozen delight should I make next?