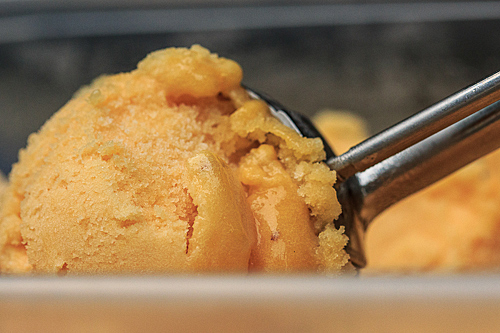 12 Aug

What to Do with Less-than-Perfect Peaches: Peach Sorbet

Posted at 11:28h

in

Dairy-free

,

Desserts

,

Egg-free

,

Fruit

,

Gluten-free

,

Healthy Choice

,

Ice Cream & Frozen Treats

,

Original

,

Recipes

,

Summer

,

Sweet

,

Uncategorized

,

Vegan

,

Vegetarian

6 Comments
The other day I posted about fruit leather (aka fruit roll-ups), which is an easy way to use up fruit that's no longer ready for its close-up. Whether you make it in an oven or dehydrator, the method is embarrassingly easy. Just blend, pour, then abandon for hours on end. It's ideal for lazy people like me. And the results are quite possibly addictive. Just ask my sister.
The astute reader will notice that I had more peaches on hand than a couple sheets of fruit leather required. And you'd be correct. I had enough on-the-cusp peaches for a batch of  peach sorbet. Clean, refreshing peach sorbet. See, it's already beginning to melt in the heat. 
A frosty antidote for summer heat, this sorbet is bursting with fruit flavour. But what it doesn't contain  makes it special. With no eggs or dairy of any kind, it's a dessert you can serve to the lactose-intolerant.
It's also vegan-friendly.
And gluten-free.
And fat-free! Given all these "frees" everyone but the peach-phobic will embrace this dessert. Like fruit leather, it requires ripe peaches and a blender. This time, the extra gadget is an ice cream maker.
Off to justify yet another purchase.
How do you use us the peaches? Got a sorbet trick you care to share? Leave me a comment.

What to Do with Less-than-Perfect Peaches: Sorbet
Author:
Charmian Christie
Recipe type:
Ice Cream & Frozen Treats
Prep / inactive time:
Cook / active time:
Total time:
The fruit-water-sugar ratio is fairly consistent for fruit sorbet, so try this with any stone fruit you have on hand -- or a mix of them. The liqueur won't get you tipsy, but don't skip it as it helps keep the texture soft, not icy.
Ingredients
5 or 6 large, very ripe peaches (2 pounds once peeled, pitted and chopped)
⅔ cup water
¾ cup sugar
1 tsp Cointreau or other orange-flavoured liqueur
Instructions
Peel the peaches and remove any bruises. Chop the peaches over a bowl to catch all the juice. You will need 2 pounds of peaches when you're done.
Put the chopped peaches, their juice and the water into a non-reactive sauce pan (Stainless steel is best. Do not use copper or aluminum.) Cover and cook, stirring occasionally, over medium heat until the peaches are soft, about 10 minutes.
Remove the pan from the heat. Stir in the sugar and let the peaches cool to room temperature. Purée the cooled peaches in a blender or food processor until very smooth, adding the Cointreau at the end to blend well.
Pour the peach purée into a lidded container. Chill thoroughly in the refrigerator for several hours or overnight. About 15 minutes before you are ready to churn the sorbet, put the container in the freezer to get it extra cold. Churn the purée according to your ice cream maker's instructions -- about 20 minutes. Return the churned sorbet to the container and freeze.
Notes
This recipe is adapted from
The Perfect Scoop
by David Lebovitz
(Ten Speed Press 2007).