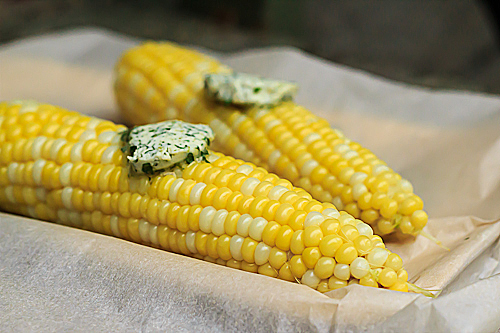 26 Jul

Corn with Cilantro-Lime-Chili Butter
This week's Gastropost challenge was to "recreate or revisit a food experience that will refresh sunny memories of summers past." With strawberries and peaches already covered, my mind went to corn — a food that leaves me conflicted. In season, corn-on-the-cob means both the height of summer and its dreaded end.
The following essay was published in the Globe and Mail a few years ago. I think it's time to pull it out, pluck the corn silk from between its paragraphs and see how it goes. The recipe follows. We never had any exotic toppings when I was a kid. It was just plain butter and salt. And plenty of it.

Lazy Days of Eating Corn
The piping-hot cob drips tears of butter. Its sweet, salty kernels bring a conflicted mix of immediate ecstasy and dull, nagging dread.
Whether I gorge on peaches-and-cream, Illinois Supersweet or Platinum Lady, corn means the long days of summer vacation will soon skid into longer hours in the classroom. The fluorescent lights of Grade 5 hide beneath the bright-as-sunshine kernels.
I want the corn. I want my freedom. I wonder why I can't have both like the grown-ups. I wonder why they laugh when I say this.
As if to fend off impending lessons and homework, the whole family forms a united front for the end-of-summer corn roast. No one quibbles about the rules. Grade schoolers, teenagers and parents all agree.
No store-bought corn with a band of kernels already exposed – only fresh from the farm, fully clothed cobs will do. And although we're all eager, we shun the speedy stovetop in favour of the slower, rarely used open fire pit.
As Dad readies the fire, Mom takes us to a nearby farm. My two sisters and I pile into the back of the new 1973 Buick LeSabre, crank down the windows and head to corn country. As soon as we reach the city limits we all holler, "Hot dog it, Mom! Hot dog it!"
Throwing her customary caution to the wind that whips through our hair, Mom floors it, pushing all eight cylinders into a defiant burst of speed. We whoop as we race along the bumpy dirt road, demanding she take the corners harder, climb the hills faster. These few miles above the speed limit make us feel we're riding roller coasters, not back roads.
Once home, one of us is entrusted with the corn count. "How many are you good for?" No quick answers allowed. Think. Think hard. How hungry are you? How many cobs can you consume? Too few and you feel cheated. Too many and you'll slip from satisfied to nauseated. How many ears will it take when corn is all you'll eat besides a few slices of beefsteak tomato? Remember, Dad cooks only what's ordered. No extras.
The count complete, we husk. Dad pokes the wood in the fire pit, sending sparks into the air and appetites soaring. He sets three steel pipes across the pit, places an oven rack on them and then rests the blackened preserving kettle atop the makeshift stove.
Meanwhile, my sisters and I sit on the back porch, ripping the green leaves from the ears. My hands are too small to husk in one pull, so I strip the cob layer by layer, watching the leaves grow paler as I near the silk. I pluck every golden hair-like strand from between the kernels. As my sisters husk, I inspect their finished cobs for silk, confiscating the stragglers. Once I begin eating, I want nothing to get in my way.
Inevitably we find a worm – and wag it under the other huskers' noses for a gratifying squeal. But even worms don't deter us for long. Mom removes the offender with a paring knife. We don't care. They're fresh. They're ours. And they're five minutes away.
When the water is boiling, Dad submerges the first round in a basket he fashioned from chicken wire. The water dances around the yellow cobs, as excited as we are. Exactly five minutes later, he pulls the ears from the kettle and places them gently on the serving platter.
As the pyramid of corn arrives at the table, all former co-operation wafts away with the steam. My selfish gene kicks in. I don't want a de-wormed cob. I want a perfect one. I don't want small, straw-coloured kernels. I want the biggest, fattest, brightest in the batch. I know I should take the ear with the bare patches, or at least the one closest to me. But Mom doesn't have to go to school in September. I do. So I slide a perfect cob onto my plate and hide my shame by concentrating on corn pick insertion.
My guilt melts as I roll my prize across the pristine surface of a fresh pound of cold butter. I roll and roll and roll, covering every yellow kernel with equally yellow butter. A dash of salt and I pull my lips back for the first bite. I hear the crunch as my teeth tear the kernels from the cob. I take bite after bite, stuffing an entire row into my mouth without stopping. My cheeks strain like a greedy chipmunk's as I chew. One row down, five or six to go before my first cob is stripped clean. I've claimed three, just like the grown-ups. I will eat them all. No matter what.
When my allotment is gone, I am full. Full of corn. Full of butter. Full of summer. Fresh corn will be available for weeks to come, but it won't taste this sweet. Because the perfect cob is boiled over an open fire, under an August sky, when school is still a few intangible tomorrows away.
---
Here's a recipe for Cilantro-Lime-Chili Butter. Plain old corn-on-the-cob will never be the same.
Corn with Cilantro-Lime-Chili Butter
Author:
Charmian Christie
Prep / inactive time:
Total time:
This zesty butter is the perfect accompaniment for fresh corn on the cob. It can also spice up baked potatoes, give bland zucchini a lift, and make almost any vegetable brighter.
Ingredients
2 teaspoons Serrano or jalepeno pepper (optional)
½ cup (generous) cilantro leaves
1 large lime, zest and juice
½ cup salted butter, softened
12 ears of fresh corn, husked with the silk removed
sea salt, as needed
Instructions
Sliver the pepper, if using, on a cutting board. Place the slivered peppers, cilantro and lime zest in a pile on a cutting board and mince together until fine with a chef's knife.
In a medium bowl with high sides, place the butter, minced cilantro, and lime juice. Mix until well combined, being careful not to splash the lime juice. If you are having trouble mixing the juice into the butter, use a whisk. It will combine. Just give it what for.
Place the butter on a sheet of plastic wrap or parchment paper and roll into a log. Refrigerate until firm, at least an hour. The butter may be made ahead of time and will keep in the refrigerator for up to a week.
Cook the husked corn for 5 minutes in a large pot of boiling water. Slice the herbed butter and slather over hot corn. If desired, sprinkle with sea salt.
Rewrap any unused butter and save for the next feast of corn.