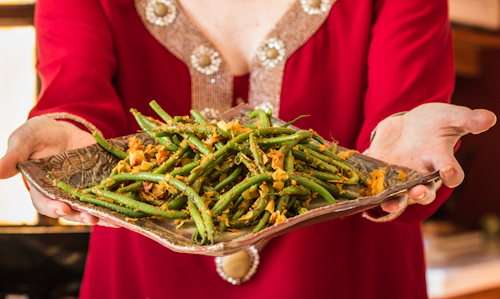 23 Jul

Indian Green Beans

Posted at 13:12h

in

Dairy-free

,

Egg-free

,

Gluten-free

,

Healthy Choice

,

Original

,

Recipes

,

Savory

,

Side Dish

,

Vegan

,

Vegetables

,

Vegetarian

2 Comments
I don't know if there are the Fortex pole beans or the Maxibel French filet beans. I suspect they are a mix. I can't tell because the vines are so thick the leaves obscure the labels. Plus, I was too busy picking beans to bother looking. Regardless of their official name, these are the first crop of beans from my section of  The Family Plot. Back in May, I planted them with one recipe in mind. Today I got to make it.
A few months ago, Monica Bhide made me a variation of her Green Beans Subzi, a spicy vegetable dish with lots of flavour and crunch. She strayed from the version in her cookbook Modern Spice, and added coconut chips for extra crunch because she knows I like texture.  Since that meal, I have searched for coconut chips and come up empty handed. Unable to locate this ingredient, I substituted extra large coconut flakes. They aren't exactly the same, but I'm not about to complain.
Coconut chips weren't the only ingredient to challenge me. I was so focused on the beans I didn't realize I had no red chile powder or baby potatoes on hand until I was standing at the stove, beans in hand. Never mind. Monica describes this dish as "very versatile," so I tested her claim. The results are a potato-free variation of the dish. With fresh beans. Straight from my garden.
My only regret? Monica couldn't be here to taste how good her recipe is with homegrown beans. On the other hand, I didn't have to share them with anyone other than Andrew — if he behaves.
Got so many beans Jack and the Giant would tremble? Try this.
What do you do with your green beans?
Indian Green Beans
Author:
Charmian Christie
Prep / inactive time:
Cook / active time:
Total time:
Warm, crunchy and bursting with flavour, these green beans are perfect summer, or winter. Sweet coconut plays with hot chili and warms cumin. Best of all, it can be on the table in less than half an hour.
Ingredients
2 tablespoons light vegetable oil (I used camelina, but canola or grapeseed work well too)
1 teaspoon cumin seeds
2 cloves garlic, crushed
1 tomato, diced
½ teaspoon ground turmeric
1 teaspoon chili powder
¼ teaspoon red chili flakes
1½ teaspoon ground coriander
½ pound fresh green beans
½ cup coconut slices
salt
water, as needed
Instructions
In a large skillet with a lid, heat the oil over high heat. When the oil begins to shimmer, add the cumin seeds. When the cumin seeds begin to sizzle, add the garlic and tomatoes. Stir and cook until the tomatoes start to soften, about 5 to 7 minutes.
Add the turmeric, chile powder, red pepper flakes, coriander and green beans. Toss to mix well. Add about 1 or 2 tablespoons water. Cover, reduce heat and cook over medium low for about 8 to 10 minutes or until the green beans are cooked to your liking.
Add the coconut flakes. Stir well to distribute. Taste the beans, adding salt as needed. Serve immediately.