19 Jul

Peach, Tomato Salad with Bocconcini

 
When a spring frost destroyed much of the tender fruit crops in Ontario, I was afraid I wouldn't see a local peach this year, let alone one that delivered a true peachy taste. Fortunately, I was wrong. While the size of the crop may not be large, the peaches are beginning to roll in, and they are sweet, flavourful and juicy.
After the intense heat of the past few weeks, I couldn't bring myself to turn on the oven. Too impatient for ice cream (and with a cracked filling that made me temporarily sensitive to hot and cold food), I decided to make something very simple with my first batch of peaches. Something that would also let me experiment with the new basils I have in the garden. Alongside the opal, leaf, and Thai basils, I planted lime basil and — get this — lavender basil. While the lime basil had a bright, citrusy taste, the lavender version was surprisingly mild and had a floral scent that screamed out for peaches. So I obliged.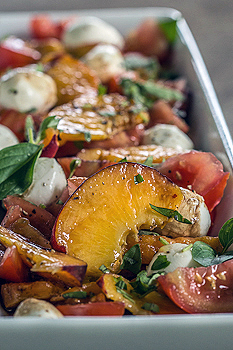 Peach, tomato salad with bocconcini was the result.
With plenty of basil at hand I drew upon the basic combination that made peach and black bean salsa so good. Only this time, I decided to got with an Italian theme.
Bocconcini cheese, balsamic vinegar and olive oil rounded out the dish. Next time, I hope to use heirloom tomatoes from my garden. Unfortunately, they aren't keeping up with the peaches. Not to worry. If the tomatoes aren't ready, I will make this dish again without them. I'll just double up on the peaches. And while I'm fiddling, perhaps I'll give cinnamon basil a try. Which means I'll swap champagne vinegar for the balsamic. And the cheese? Some creamy burrata would be in order…
Oh, the endless possibilities of summer.
Peach, Tomato and Bocconcini Salad
Author:
Charmian Christie
Prep / inactive time:
Total time:
As with all simple dishes, use the best quality ingredients you can afford since there's nothing for inferior food to hide behind.
Ingredients
3 large ripe peaches, peeled and sliced
3 large ripe tomatoes, sliced
1 cup cherry bocconcini (or pearl bocconcini)
¼ cup fresh basil (I used lime basil and lavender basil)
2 to 3 tbsp extra virgin olive oil
2 tbsp good quality balsamic vinegar
fresh ground pepper
sea salt
Instructions
Slice the peaches over a bowl, capturing all the juices for the salad. Place the sliced peaches, their juice, sliced tomatoes and cheese in a large bowl or on a large platter. Sprinkle with fresh basil and toss lightly.
Drizzle with olive oil and balsamic vinegar. Season with a generous grinding of pepper and sea salt.