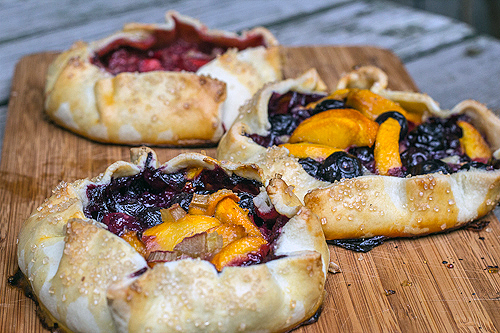 17 Jul

Galettes and The Messy Baker
Hold my hand. I'm very nervous. Today is a big day. A. Very. Big. Day.
First of all, it's my sister's 2nd wedding anniversary. (Happy anniversary, Allison and Dale.) That's not rattling me, although I do shudder when I recall putting her wedding cake together during a heat wave.  Secondly, I'm on CTV's News at Noon today, talking about galettes. Sure, I worry about forgetting a key ingredient or tripping on my way to the car. But that's not making me antsy, either. Being a guest there is always fun.
No. I'm wringing my hands and flapping about like a puffin in a wind storm because I'm about to make It real. Once I announce It there will be no turning back. I can't unring that bell. What exactly is It?
I landed a book deal. With HarperCollins Canada.
There. I said it. So now, I guess it must be true.
It's a baking book — The Messy Baker. If you read this blog I don't have to explain my approach. There will be mess. There will be a flurry of activity in the kitchen. There will be disasters and triumphs and the odd cat wandering through to see what's happening. Expect fur on the camera lens and some changes to the website. Like a new title. (Good-bye Christie's Corner! Hello The Messy Baker!) And a proper recipe index. And other stuff I haven't had a chance to think about.
So to start things off I'm looking at one of the messiest desserts going — galettes. With no walls to reign in these free-from tarts, their outcome can be unpredictable. Pastry can roll unevenly.  Edges curl without warning. Middles make a break fro freedom. But galettes are as flexible as they are unpredictable. And divinely tasty. To make them, all you need is a little imagination and some guidelines.

The Makings of a Good Galette
There is no one way to make a galette. I've gobbled ones sealed with a jam glaze. I've seen versions with sugar-sprinked edges while other remain plain. I've sampled  variations made with stone fruit, berries, apples, and mixed berries — all in the name of research. The only thing galettes have in common is fruit and a wobbly edge.
Here's how I assemble my galettes.
Pastry: You can use your favourite pie pastry. I like a classic butter pastry since it tends to keep its shape. Puff pastry works nicely, too. I've even seen variations made with phyllo. Like most things in life, size doesn't matter if you know what you're doing. You can roll out one large galette or four small ones. That's up to you.
Frangipane: Although not a requirement, this creamy nut filling is worth the extra step. Usually made with butter, sugar, eggs and ground almonds, frangipane takes less than five minutes to make. Veering from the classic recipe, I omit the butter since the pastry is rich enough. Don't like almonds? Try walnuts or hazelnuts instead. Add a bit of citrus (lemon, lime or orange zest) and vanilla for a change of pace.
Filling: If you can bake it into a fruit pie, you can make it into a galette. Use your favourite fruit pie filling or toss a bit of freshly sliced fruit in sugar. For the individual galettes shown at the top of the post, I used 3/4 cup sliced fruit tossed in 1 tbsp white sugar combined with 1/2 tsp corn starch. Dot with butter and you're set.
Egg Wash: Another non-necessity, an egg yolk mixed with 1 tbsp of water gives the galette a lovely colour. If you choose to add a sprinkling of turbinado sugar (aka raw sugar) then you get a delightful crunch as well.
A hot oven: I bake my galettes at 400°F in the lower third of the oven. Large galettes (pastry rolled to 12 inches) take 40 to 45 minutes to bake, small ones (pastry rolled to 7 inches) bake in 35 to 40 minutes.
Still need some inspiration? Here are some of the sweet galettes I've made in the past.
What's your favourite galette? Do you like them big, small or any way you can get them? Feel free to share a link.