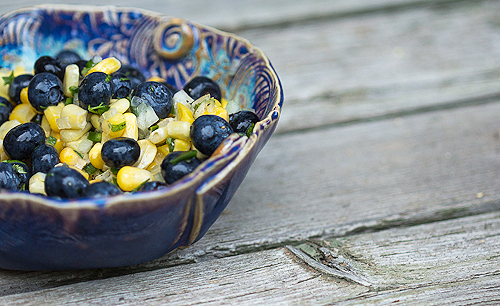 05 Jul

Pecan Milanesas with Corn and Blueberry Salsa
Blueberries and corn? Really? Yes. In salsa? Oh my, yes. Make that a big, fat blueberry yes.
The photographer in me loves the colour contrast. The eater in me loves the crunchy texture and sweet-sour flavours. Add lime and cilantro to the mix? Oh, I'm there. I'm so very, very there.
In retrospect, I wonder why the combination surprised me. After all, cornmeal and blueberries are a natural match, so corn itself isn't a stretch. My surprise merely proves what I have long suspected — I'm missing a lot of culinary opportunities thanks to my near total ignorance of Latin cuisine. But all that's changing thanks to Sandra Gutierrez, author of The New Southern-Latino Table: Recipes That Bring Together the Bold and Beloved Flavors of Latin America & the American South (University of Northern Carolina Press, 2011).
What exactly is New Southern-Latino Cuisine? It's easier to tell you what it's not.
It's not fusion.
It's not heavy, overly-spicy or greasy.
It's not Tex-Mex.
Well, so is cat food, so that's not as helpful as I'd hoped. Allow me to expand.
Southern-Latino cuisine is a meeting place where 21 distinctly different cuisines from across Latin America mesh with the culinary traditions of the American South. Unlike fusion, it's not a deliberate blending of culinary cultures, carefully crafted by innovative chefs in restauraunts. Instead, this elaborate intermingling of styles and flavours developed naturally via homecooks. Despite being around for more than 20 years, Southern-Latino cuisine has gone unheralded. Gutierrez's cookbook is the first to document the exciting results.
"It's a quilt of cultures," Gutierrez says. And how could it be anything else? This quilt is stitched from:
Three ethnic groups (Indigenous South Americans, Europeans from Spain and Portugal, and Africans)
One basket of ingredients (tomatoes, corn, pork, beans)
Common cooking techniques (roasting, poaching, barbecue)
The fresh and flavourful results are exotic yet familiar. Guava Cake with Cream Cheese Frosting is built like a classic southern layer cake yet draws inspiration from a traditional Cuban flavour combination. The ubiquitous Southern buttermilk biscuit gets a boost from chicharrones, a crumbled Latino version of crackling. The Layered  Potato and Egg Salad  is an eye-catching Peruvian take on the classic Southern picnic dish. With Southern rum, bourbon, and pecans meshing with Latino chiles, avocados and cinnamon, the outcomes seem limitless yet well within my wheelhouse.
I offer Pecan Milanesas with Corn and Blueberry Salsa as proof. Although I've had pecan-coated chicken before, it was mostly nuts and little flavour, mired to the plate by a heavy cream sauce. But topped with corn, blueberries and lime? It's almost as if my palate had been asleep and is only now waking up.
Hello, New Southern-Latino cuisine. Pleasure to meet you! I think this could be the start of a beautiful friendship.
Pecan Milanesas with Corn and Blueberry Salsa
Author:
Charmian Christie
Recipe type:
Chicken & Poultry
Prep / inactive time:
Cook / active time:
Total time:
The crunchy crust on this chicken gives way to tender flesh, delicately dressed with a refreshingly sweet salsa embellished with hints of mint and honey. Milanesas, or breaded cutlets, are to Latin Americans what fried chicken is to Southerners. They became ever-present in Latin cuisine after Italian immigrants introduced them to South America in the nineteenth century. German immigrants brought their version, Wiener schnitzel, to the communities that welcomed them in large numbers, but it was the Italian term that has been absorbed into Latin American culinary lingo. They're usually topped with lime juice and often served stuffed into sandwiches. In my version, pecans, which are native to the South, add a satisfying crunch and a touch of sweetness to the crust. Corn and blueberries work together in a colorful salsa that pops with sweet and tart flavors.
Ingredients
For the milanesas
6 boneless, skinless chicken breasts
½ cup all-purpose flour
½ teaspoon salt
½ teaspoon paprika
⅛ teaspoon freshly ground black pepper
1½ cups pecans, toasted and ground (see note)
½ cup dried bread crumbs
2 eggs, lightly beaten
½ cup vegetable oil
For the salsa
1½ cups corn kernels (fresh or frozen and thawed)
1 cup blueberries
¼ cup minced Vidalia onion (or other sweet onion)
1 minced serrano chile (seeded and deveined if less heat is desired)
2 tablespoons finely chopped cilantro (leaves and tender stems)
1 tablespoon finely chopped mint
1 tablespoon lime juice
2 teaspoons honey
Salt and freshly ground black pepper, to taste
Instructions
Preheat the oven to 350°F. Fit a baking sheet with a metal cooling rack; set aside. Pound the chicken breasts with a meat mallet to ¼-inch thickness; set aside. On a plate, combine the flour, salt, paprika, and pepper. On another plate, combine the pecans and bread crumbs. In a medium bowl, whisk together the eggs and 2 tablespoons water. Dredge each cutlet in the flour mixture, shaking off the excess, and dip both sides of the cutlet into the eggs. Dip both sides of the cutlet into the pecans, pressing gently so they adhere well. In a large skillet, heat ¼ cup of the oil over medium-high heat. Working in batches, fry the cutlets for 2–3 minutes per side, or until golden brown (add more oil as needed; reduce the heat if they brown too quickly). Transfer the cutlets to the prepared baking sheet and bake for 10–12 minutes, or until cooked through (no longer pink).
In a medium bowl, combine the corn, blueberries, onions, serrano, cilantro, mint, lime juice, and honey and stir until well incorporated; season with salt and pepper. Serve the chicken topped with salsa.
Notes
Toast pecans on a baking sheet in a 350°F oven for 5–8 minutes, or until fragrant. Transfer them to a plate to cool completely. Once toasted, pecans can be frozen in an air-tight container for up to 4 months. To grind pecans, place them in the bowl of a food processor fitted with a metal blade and pulse on and off until some pieces are ground to a meal and others remain a bit larger (about ten 1-second pulses); don't overgrind, or you'll end up with an oily meal. Alternatively, chop them very finely with a sharp knife.
This recipe excerpt is from
The New Southern-Latino Table: Recipes that Bring Together the Bold and Beloved Flavors of Latin America and the American South.
Copyright © 2011 by Sandra A. Gutierrez. Used by permission of the University of North Carolina Press. www.uncpress.unc.edu
Review in Brief
Target Audience: Southern cuisine lovers. Fresh food lovers. People looking for something new but not complicated. Anyone who isn't afraid of a splash of lime and a sprinkle of chipotle.
Must Try Recipes
Mod-Mex Caesar Salad with Pecans
Lime and Chipotle Roast Chicken
Sweet Corn Ice Cream with Hot Praline Sauce
Biggest Delight: Discovering new flavour combinations that are innovative without being pretentious. The fresh, natural ingredients are cross-over cuisine at its best. My only disappointment is that I discovered this book so late.