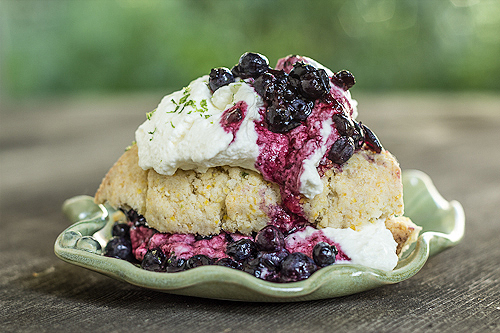 25 Jun

Berry-Lime Cornmeal Shortcakes
By now, you've likely heard a lot about Ripe: A Fresh, Colorful Approach to Fruits and Vegetables written by Cheryl Sternman Rule and photographed by Paulette Phlipot.  You've likely seen some of its in-your-face photographs, read excerpts of the light-hearted writing, and possibly tried one of the delicious yet accessible recipes. If not, you've at least heard it's organized by colour, so the fruits and vegetables appear according to the rainbow, not course.
But what you might not have heard is the story behind the book itself. Yes, Ripe is an unusual book, but not because of the obvious. Yes, the writing is crisp. Yes the photographs make you see food in a new way. Its sum is greater than the whole because of the unusual collaborative relationship between author and photographer. Look at the book's spine. It says "Rule & Phlipot." When I interviewed Cheryl, she explained how Ripe  came into being. And what happened before the writing and photography even began made all the difference to the outcome.
Traditionally, the cookbook author has the relationship with the publisher. The author writes the book and somewhere around the middle to later part of the writing process, a photographer arrives to shoot the pictures on a work-for-hire basis. Yes, they bring the authors vision to light, but it's a limited collaboration. They get paid a one-time fee, and move onto the next gig. They are not involved in the book's concept,  do no promotion, and get no royalities.
But Ripe? "It was a true collaboration from start to finish," Cheryl says. Paulette is a full partner, helps promote the book and is the one who came up with the concept in the first place. Cheryl is insistant that credit it given where it's due. It was Paulette's idea to shoot a fruit and veg book. It was Paulette's idea to organize foods by color. Got it? Good. Now let's talk about Cheryl.
Once the two settled on which fruits and vegetables to include, Cheryl created the recipes. Flavour and ease of cooking were givens, but she had to think of ways to maintain the key ingredient's colour. Each recipe would be photographed with an emphasis on hue. Grey spinach wasn't going to cut it. The resulting recipes are flavorful, show off the main ingredient and make a visual punch. Some, like the Kiwi, Oragnes, and Dates, en masse, leave the ingredients barely touched.
"It was a huge boon to have a partner who is so visual, talented and hardworking," Cheryl said. Now, I know Cheryl and she's all these things herself. Plus modest. "It [Ripe] would not have been what it is without the partnership."
While Cheryl bows to Paulette's photography expertise, she shines in the text. She admits she "tweaks words until the cows come home." And it shows. She writes:
I would like to fill the world's pencil boxes with asparagus. Just once, just for fun. Imagine if schoolchildren everywhere discovered long, slender spears in their backpacks instead of boring number two pencils. Who wouldn't be tickled to find asparagus nestled quietly among the protractors, compasses, and liquid paper? Math classes would be much more interesting.
Even without the photograph, don't you see asparagus in a new light? I do.
Next post, I will share my interview with Paulette. Today, I share my take on one of Cheryl's recipes. It called for blackberries. I had none. I used blueberries. No one complained. Not my mother. Not her friend. Not me.
Berry-Lime Cornmeal Shortcakes
Author:
Charmian Christie
Juicy blackberries, fluffy cream and tender shortcakes collide in this cornmeal and lime-flecked twist on a summer classic.
Ingredients
Shortcakes
1 cup (125g) all-purpose flour
⅓ cup (40g) medium-grind cornmeal
2 teaspoons baking powder
¼ teaspoon kosher salt
3 tablespoons granulated sugar
2 teaspoons finely grated lime zest
4 tablespoons unsalted butter, frozen until hard
½ cup plus 1 tablespoon (120ml) cold heavy cream
11/2 teaspoons Demerara sugar, for sprinkling
Filling:
4 cups (440g) fresh blackberries
¼ cup plus 1 teaspoon (65g) granulated sugar, divided
1 tablespoon fresh lime juice
1 cup (237ml) cold, heavy cream
Additional lime zest, for garnish
Instructions
Preheat the oven to 375°F (190°C). Line a baking sheet with parchment.
To make the shortcakes: In a large bowl, whisk the flour, cornmeal, baking powder, salt, granulated sugar, and zest. Using the large holes on a box grater, grate the butter over the dry ingredients. Fluff gently with a fork. Drizzle with the ½ cup (118ml) of the cream. Stir with a wooden spoon just until the ingredients cohere and no visible floury bits remain.
Transfer the dough to a floured board and form into a 41/2-inch (11.5-cm) diameter, 1-inch (2.50 cm) high disc. Cut into quarters and transfer to the baking sheet. Brush with the remaining tablespoon of cream and sprinkle with the Demerara sugar. Bake the shortcakes until golden, risen, and firm to the touch, 18 to 20 minutes. Transfer to a rack to cool completely. Cut in half horizontally.
To make the filling: Toss the blackberries with ¼ cup (62g) of the sugar and the lime juice. Transfer half of this mixture to a small bowl and set aside. Take a potato masher to the remaining blackberry mixture and mash until pulpy. In a large bowl, whip the cream to soft peaks with the remaining 1 teaspoon of sugar.
To assemble: Lay 1 shortcake bottom on a plate. Dollop with some whipped cream, top with a few whole berries, replace the shortcake cap, and spoon some of the mashed blackberry pulp on top. Garnish with lime zest. Repeat with the remaining shortcakes, berries, cream, and zest. Serve immediately.
Notes
Tip: Grating frozen butter into the dry ingredients yields flaky shortcakes without the need for a pastry blender.

Recipes reprinted with permission from RIPE © 2012 by Cheryl Sternman Rule, Running Press, a member of the Perseus Book Group.

Photography © 2012 by Paulette Phlipot.
Review in Brief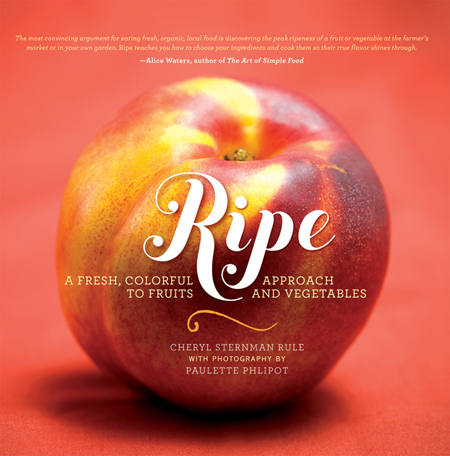 Target Audience: I think it's easier to list who wouldn't be interested in this book. My cat.
Must Try Recipes
Spinach Smoked Gouda Frittata with Tomatoes
Syrupy Nectarine Crêpe Stacks
Green Beans with Smoky Pistachio Dust
Biggest Delight: Other than being able to say, "I know Cheryl and Paulette – in real lifel!"? The pure joy and celebration of the ingredients. No guilt. Not preciousness, no raffia bows or impossible-to-find luxury salt. Now, pass the peas.