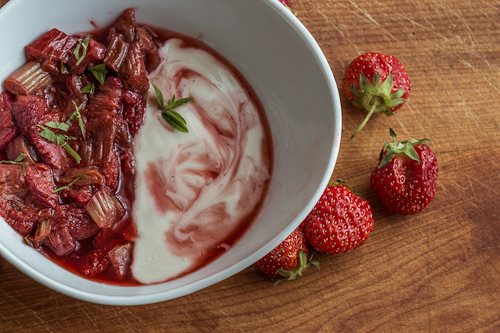 22 Jun

Strawberry-Rhubarb En Papillote

Posted at 07:54h

in

Baking

,

Desserts

,

Egg-free

,

Gluten-free

,

Healthy Choice

,

Original

,

Recipes

,

Spring

,

Summer

,

Sweet

,

Vegetarian

4 Comments

As if Friday isn't reason enough to celebrate. Today is the first anniversary of Lynn Ogryzlo's The Ontario Table, and I'm one of her virtual guests.

I'm pretty chuffed to be asked to take part. Not only do I enjoy a party, I like hanging out with Lynn, even if it is online. First of all, she spells my  name right. Granted, with a surname like Ogryzlo, you're probably sensitive to such things, but it still earns her bonus points. Secondly, she loves my  doughnuts, and last but certainly not least, she takes one of the most sensible approaches to eating local I've ever seen.

Instead of giving you the stink eye if everything on your shopping list doesn't comply with the 100-mile diet, she simply issues a $10 challenge. The concept is easy. Each week, spend $10 of your grocery money on local food. That's it. Small (locally grown) potatoes, right?

Well, assuming Lynn's math is right, if every household in Ontario did this for a year, through some formula I've no chance of understanding, the provincial economy would be $2.4 billion richer and we'd be up 10,000 jobs. All this and you can still eat pineapple, slurp coffee, and nibble chocolate. I'm guessing this concept works for any region, although the ratio likely jumps around a bit.

To celebrate The Ontario Table's first birthday, Lynn has asked her guests to bring a dish to show off local food. In keeping with the $10 Challenge, I created a dish using about $10 worth of local ingredients. Beguiled by the  roasted strawberries I made last fall, I created a late-spring version adding rhubarb from my garden and a few sprigs of lemon verbena. I sweetened things with some of Susur Lee's Vidal Ice Wine Syrup, made in the nearby Niagara Region. Then, because I have been itching to try vanilla bean paste, I added some of that, too. The results — strawberry-rhubarb en papillote.

If the heat wave hadn't consumed the vanilla ice cream, I'd have served the roasted fruit on that. Undaunted, I used vanilla yogurt with a bit of ice wine syrup stirred in for good measure.

Doing the math on the local ingredients….

Strawberries – $5
Rhubarb – free (from my garden)
Ice Wine Syrup – free (I won it as a door prize, but used about $3 worth)
Yogurt from a local dairy – $5

TOTAL – $10 (or $13 if you're a stickler)

The results? I ate one bowl for dessert and had the second for breakfast. No sharesies.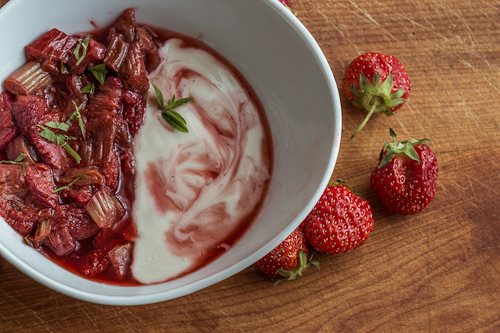 Strawberry-Rhubarb En Papillote
Author:
Charmian Christie
Prep / inactive time:
Cook / active time:
Total time:
Forget pie, this easy recipe delivers strawberry-rhubarb taste without a lot of extra calories. The secret is baking the fruit in parchment.
Ingredients
1 cup rhubarb, cut in ½-inch pieces
1 cup strawberries, hulled and cut in half or quarters, to make them uniform
¼ cup Ice Wine Syrup (or maple syrup)
2 tsp vanilla bean paste (or the seeds from a vanilla pod)
1 tbsp lemon verbena, minced (optional)
vanilla yogurt or vanilla ice cream
good quality aged balsamic vinegar (optional)
Instructions
Preheat oven to 425°F.
Combine rhubarb, strawberries, wine syrup, vanilla bean paste and lemon verbena in a medium-sized bowl. Toss to evenly coat the berries with the syrup and bean paste. Spoon mixture into a parchment cooking bag. To seal the bag, fold the rim over a few times, then crimp to seal. If you don't have a bag, you can improvise with two sheets of parchment paper folded and crimped along the edges. (Alternatively, you can do this using aluminum foil on the grill.) Place the bag on a baking sheet.
Bake 15 minutes. Carefully open the parchment bag so as not to scald yourself on the steam. Transfer the fruit and juices to a bowl and allow the mixture to cool for a few minutes. Serve the warm fruit with vanilla yogurt or on top of vanilla ice cream. Drizzle lightly with some of the berry juice. Add a splash of balsamic vinegar if you like. Or a glug of ice wine syrup. Or both.