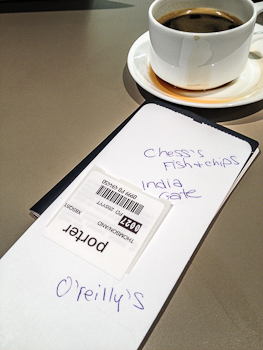 09 Jun

Half an Hour Later in Newfoundland…

When you read the post title, did you hear the authoritative voice of a CBC announcer in your head? If you're Canadian, you probably did. If it simply confused you, you should know that Newfoundland, Canada's easternmost province, not only has its own time zone, it has a unique one. They're half-an-hour ahead of their Atlantic neighbours.

This is my way of telling you I'll be in Newfoundland for the next few days — home of Republic of Doyle, setting of Annie Proulx's The Shipping News, prime iceberg watching territory, puffin haven and birthplace of Great Big Sea (oh yeah!)

Since I've no idea how much time I'll have to update my blog, I'm going to post photos of my time on The Rock via Instagram. These photos will then go out to my Tumblr, Facebook and Twitter accounts. Between these four social networks, you should be able to access updates on my trip. If you hate this kind of thing, hang tight. I'll write some real posts when I get back.

In the meantime, as my smartphone is more savvy than I am, it's going to act as my secretary. Leave me comments, suggestions or ask questions via any of the above networks. I'll be accessing them via my phone.

That said, my responses will likely be riddled with typos. My accuracy on a touchscreen is on a par with my cat's. And autocorrect? I'm convinced its sole purpose in life is to embarrass me.

Regardless, for the next few cool, cloudy, hilly, rocky, music- and fish-and-chips filled days, I invite you to trek along with me. Be sure to wear sensible shoes. We'll be walking one of North America's oldest cities.