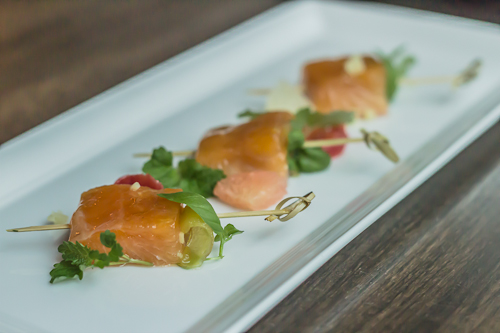 07 Jun

Sustainable Seafood | Citrus-Cured Arctic Char

I hate being "that person." You know, the one who goes out to dinner with a group of friends and holds up everyone's order because she asked the server where the tilapia came from. To ensure no one starved, I stopped asking. By default, I stopped ordering fish.

Whether they occur at a restaurant or the seafood counter, moments like these are problematic for many people. While the red / yellow / green seafood rating system is easy to understand, the answers aren't as straightforward as the colour-coding. Is tuna a good choice? Turning to my SeaChoice app, the answer is…. That depends.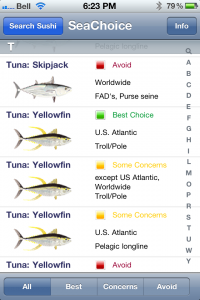 As you can see from the screen shot on the left, tuna falls into all three categories depending on the species, location, and fishing technique. Salmon is even more complicated when you factor in farming systems. Regarding the wallet cards and apps, Mike McDermid, Ocean Wise Partner Relation Manager at the Vancouver Aquarium, says, "Based on consumer feedback, people loved the information, but found it hard to put into practice."  I couldn't agree more.
Fortunately, there is help for people like me. And my friends who were occasionally held hostage by my seafood inquiries. And the poor kid behind the seafood counter who sees me coming and ducks.
In response to the confusion,  Ocean Wise created a sustainable seafood version of the Good Housekeeping Seal of Approval. Now, instead of wondering where you put your wallet card, just look for the Ocean Wise symbol on menues or at the fish counter. If you see the blue fish (pictured left), you know the product came from a sustainable source. No more probing questions. No more blank stares from the 15-year-old who works part-time and the grocery store and is just filling in for afternoon. Blue fish = safe to buy.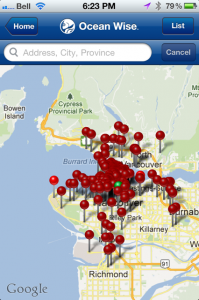 That's the good news. The bad news? Ocean Wise symbols are hard to find in this region. At least they are at the moment. As of today, they have 450+ partners and 3100 active locations, but that's only a small portion of the map, and most of the partnerships are in the west where Ocean Wise began. Using my home location and the Ocean Wise app, I find that only two restaurants near me are Ocean Wise partners. Switching to downtown Toronto, a dozen spots pop up, including a fish monger, a butcher, two community colleges and several restaurants. Vancouver? It's a mass of red Ocean Wise push pins. Lucky Vancouver. In time, Ocean Wise would like to see all of Canada looking like it has a case of the measles.
To help spread the word in Toronto, Ocean Wise hosted a sustainable seafood tasting at Luma. "Chefs educate and change our menues," McDermid says. "They create the catalyst for change." And if the dishes we sampled are any indication, the change will come quickly.
The following dishes were presented at the tasting. Created by Jason Bangerter, Executive Chef of Luma, they showcased the flexibility of fish and seafood. Dishes ranged from upscale po-boys to amazingly tender spot prawn tartare. Not only was each dish based on sustainable seafood, each was absolutely delicious and nearly too pretty to eat. But that didn't stop me.
The cured Arctic char was my hands-down favourite. Chef Bangerter designed the recipe with home use in mind. "Salmon takes 17 to 24 hours to cure. The smaller fillet of Arctic char takes about 5 hours," he says. The eager can start the curing in the morning and come home to cured fish after work.
A "cousin" to salmon, char is a bit less fishy and has a slightly different texture. Bangerter says the fishy flavor that turns some people off comes from the oils in the flesh. High-fat fish, like sockeye salmon, has lots of oil and therefore a fishier taste. Being leaner, char has less oil and is therefore less intense. "You can trick people with char," Bangerter says. But why would you? I'm now asking for it by name.
Like with all food, when you swap one ingredient for another, you need to make adjustments. Less oil makes char less fishy, but it also makes it easier to over-cook. Bangerter says, "If the char is fresh, barely cook it. Leave the center rare." I say, don't cook it at all. Try it cured. Bet you can't eat just one. I know I can't.

Citrus-Cured Arctic Char
Author:
Chef Jason Bangerter
Recipe type:
Fish & Seafood
Prep / inactive time:
Cook / active time:
Total time:
This recipe is the key to a burst of flavour when curing fish. It is the first step of cold smoking your own salmon but after this step, it tastes so good that I eat it right away! To really showcase the freshness of the ingredients, I serve the cured fish with the fresh products used in the cure.
Ingredients
Citrus Cure
500g (1 pound or 2 cups cups)sea salt
500g (1 pound or 2 cups) white sugar
3 lemons, peels only, using a vegetable peeler
3 limes, peels only, using a vegetable peeler
3 oranges, peels only, using a vegetable peeler
6 pieces lemon grass, crushed and cut on a thin bias (about ⅛" to ¼" thick)
20g (1/4 cup) white peppercorns
20g (1/4 cup) coriander seeds, crushed
1 bunch fresh coriander, washed and chopped with roots
1 bunch fresh tarragon, washed and chopped (my note: at the Luma tasting, they used lemon verbena)
8 star anise, crushed
Fish
3 to 4 pounds Arctic char or salmon fillets
Instructions
Leaving the skin on, fillet, scale and clean the fish.
Mix all the cure ingredients. Line a non-reactive pan with some of the mixture.
Place the prepared fillets skin side down on the mixture, being careful not to overlap them.
Top with more cure mixture and continue until all the fillets are covered.
For a 3-4 lb fillet (salmon) allow to cure for 18-20 hours in the fridge. Wipe off cure when the fish has the desired texture and flavour. For smaller fish you would adjust the time in the cure. For a thin fillet of Arctic char, 4-6 hours would be fine.
To serve, wash off the cure and thinly slice or cut the fish. Serve with a light salad of mixed greens, shaved raw fennel, citrus segments, coriander leaves and good quality olive oil.
Tip: For a bigger punch of flavour, blend the cure in a food processor before curing.
Notes
This recipe is generously shared by Executive Chef Jason Bangerter, Luma and O&B Canteen